Thread lift & Dermal Fillers treatment
A thread lift is a type of procedure wherein temporary sutures are used to produce a subtle but visible "lift" in the skin. Instead of removing the patient's loose facial skin surgically, this cosmetic technique effectively tightens and lifts up drooping skin of cheeks, eyelids, jowls, neck and also helps in reducing the roundness of the face. This has the effect of pulling the skin back slightly and therefore lifting and tightening the face. The threads used in the procedure are made of Polydioxanone (PDO).
Skin areas that can be treated with thread lift procedures: –
Cheeks (upper & lower)
Eyebrow Lift
Neck
Jawline
Skin folds from nose to mouth
The line at the corners of the mouth
Arm Lift
Buttocks
Abdomen
Dermal fillers, otherwise called "Injectable" or "soft-tissue fillers" do exactly what their name recommends: they fill in the zone under the skin. They all work to improve the presence of maturing skin in the following ways:
Filling in wrinkles, barely recognizable differences, and profound wrinkles
Improving facial shape flaws
Rounding out slender or wrinkled lips
Plumping up cheeks
Forming the stunning and different territories of the face
Thread lift & Dermal Fillers treatment, Radiant Skin Clinics ensure all strategies are finished with wellbeing and accuracy by prepared specialists. Albeit symptoms are inconceivable, we ensure you get a specialist conference before treatment.
Essentially, dermal fillers full your skin similarly you may stout a pad or pad, leaving the skin all overlooking more full and progressively energetic. As the tissue ends up plumper, the skin crosswise over it fixes, which smooths out shallow wrinkles what's more, scarcely discernible differences. Human skin is comprised of two primary layers – the epidermis and the dermis. The epidermis sits on the top and is the place you will discover shallow flaws and other minor imprints.
Underneath this layer is the dermis, which is thicker and contains a greater amount of the skin's natural parts –, for example, blood vessels, hair follicles, and collagen-delivering cells.
As we age, these cells become less and less successful at delivering collagen, and the epidermal layer turns out to be progressively slender, prompting a matured impact. Dermal fillers are infused into the dermal layer to help advance the generation of collagen and to make the skin seem plumper.
Our Specialist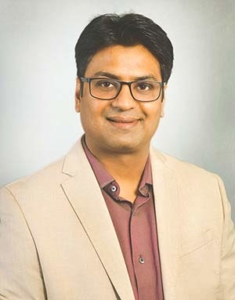 Dr. Abhishek Malviya
Dr. Abhishek Malviya is a Dermatologist, Cosmetologist, Laser Surgeon Specialist and Hair Transplant Surgeon in Pipliyahana, Indore and has experience in these fields. Dr. Abhishek Malviya practices at Radiant Skin Hair & Laser Clinic in Pipliyahana, Indore. He completed MBBS from Rani Durgawati Vishwa Vidyalaya, Jabalpur in 2010 and MD – Dermatology from Government Medical College Patiala Punjab.