Acne scars are very normal as many suffer from acne outbreaks. Acne is a major skin condition which we witness now. Most adolescents are the primary victim of acne outbreaks. Cosmetics, medications, sunrays, season changes, are a few of the reasons for acne.
Acne scars can be notorious, and they tend to stay. Acne scars can be the reason for low confidence, depression, stress, performance anxiety. It can also lead an individual away from social gatherings.
Dr. Abhishek Malviya of Radiant Skin Clinic is a dermatologist and one of the best skincare experts who have been treating acne patients for many years. He is a well-known skincare practitioner who approaches therapy scientifically and systematically. To aid customers with acne scars, he employs snipping technology and a customized treatment strategy. He has been named the world's top skin care specialist.
Welcome to Radiant Skin Clinic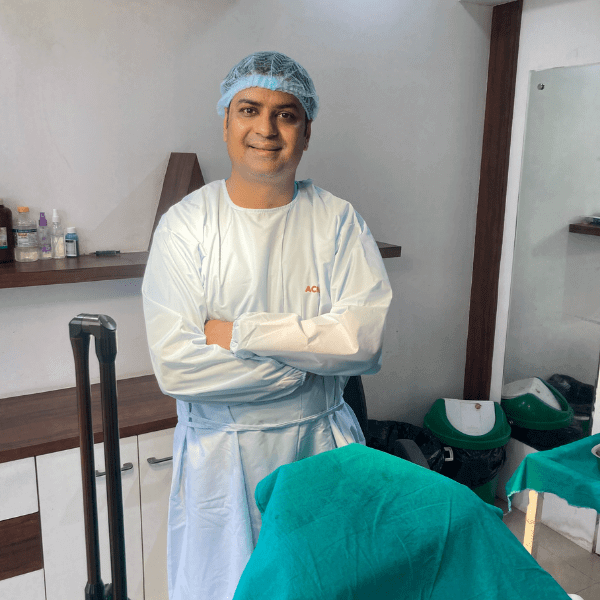 Reasons why Dr. Abhishek Malviya is the Best for Acne Scar Treatment in Indore
Dr. Abhishek Malviya is an Indore dermatologist, surgeon, and skin expert. His talent has been impressive since the onset of his career. He has always gone out of his way to help others, no matter their age. Dr. Abhishek Malviya is the best for acne scar treatment in Indore for the following reasons:
He schedules multiple meetings with his clients to educate them on their types of acne scars.
It follows with diagnoses and study of the medical history of the client.
He creates a personalized treatment and follow-up schedule for the clients.
To treat acne scars, he uses cutting-edge technologies and depends upon the clients' skin type.
He creates a daily schedule for the client to follow after the 1st set of treatments is done.
He also prescribes products to use and not to use before and after the treatment.
Testimonials of Patients
Dr. Abhishek Malviya has given such great services to his patients that they were compelled to give their reviews on him and his treatments. Here are a few of the testimonials of his patients:
Mr. Rudresh writes, "I would highly recommend Dr. Abhishek Malviya for dermal fillers. I got young and fresh skin. Thank you so much for the awesome treatment. Value for Money."
Mr. Aniket writes, "Dr. Abhishek Malviya is the best cosmetologist in India. The cost is a bit high but provides desired results. I met him for laser treatment. It improved the pigmentation of my face and it removed the wrinkles as well. I got all the attention and care from the doctors and staff."
Dr. Abhishek Malviya has given such great services to his patients that they were compelled to give their reviews on him and his treatments. Here are a few of the testimonials of his patients:
Mr. Rudresh writes, "I would highly recommend Dr. Abhishek Malviya for dermal fillers. I got young and fresh skin. Thank you so much for the awesome treatment. Value for Money."
Mr. Aniket writes, "Dr. Abhishek Malviya is the best cosmetologist in India. The cost is a bit high but provides desired results. I met him for laser treatment. It improved the pigmentation of my face and it removed the wrinkles as well. I got all the attention and care from the doctors and staff."
Acne Scar Treatments
Laser Treatment for Acne Scars
The goal of laser therapy for acne scars is to reduce the visibility of scars from previous acne outbreaks. 95 percent of acne sufferers have some form of scarring.
To break up scar tissue, laser therapy for acne scars concentrates light on the top layers of your skin. At the same time, the therapy fosters the growth of new, healthy skin cells to replace the scar tissue.
While this therapy does not fully erase acne scars, it can help to diminish their look as well as the pain associated with them.
You may not be a suitable candidate for this therapy if you have aggressive acne, a darker skin tone, or severely wrinkled skin. Dr. Abhishek Malviya can advise you on whether laser therapy for acne scars is an appropriate option for you.
Here are two Laser treatments – MNRF and Fractional Co2 Treatment for Acne scars.
MNRF Treatment for Acne Scars
RF Microneedling is a modern procedure that improves skin texture. It improves the appearance of your skin by renewing it and significantly reducing acne scars, wrinkles, open pores, sagging, stretch marks, and dullness.
RF Microneedling (MNRF) is a less invasive method that efficiently blends standard micro-needling with the element of rf signals to revitalize the appearance of your skin. By encouraging the creation of both collagen and elastin, the RF pulse delivered deep into the dermis improves skin tightness and eliminates acne scars. Because the technique produces little damage to the higher layers of skin, there is little downtime.
Can you Treat Acne Scars with Microneedling?
If you have already tried several products to treat acne scars, but have failed, you might want to look into micro-needling to get rid of your acne scars. This procedure, also known as skin needling or derma rolling, is performed by a dermatologist or skin care specialist to treat a wide range of skincare conditions. It also is applicable to treat acne scars, and clinical studies have yielded excellent outcomes overall.
Book an Appointment
With Best Dermatologist in Indore
To avoid the complexities of the hospitals, you can directly come to Dr. Abhishek Malviya's Clinic at Pipliyahana, Indore.
Book your Consultation
What are the Effects of Microneedling on Acne Scars?
Microneedling involves the use of fine needles that penetrate your skin. Your skin creates more collagen during the skin-pricking procedure to mend the microscopic wounds caused by the needles.
The notion is that the newly generated collagen will help smooth out your skin's appearance by filling in fine lines, wrinkles, and scars. Skin needling may be done for the following purposes:
Acne scars
Hair loss
Wrinkles
Melasma
Surgical Marks
Stretch Marks
Sagging Marks

Large Pores

Burn Scars
Microneedling works best for acne scars that are sunken rather than elevated. This is due to the collagen-inducing abilities. You already have extra collagen in the area if you have elevated acne scars.
Side Effects of Microneedling
Minor adverse effects are to be anticipated at first with this therapy. Redness, bruising, and inflammation are examples of these. However, symptoms will diminish in a few days.
Prevent direct sun exposure and strenuous exercise for the first few days after your micro-needling treatment. Alcohol-based skin creams can potentially exacerbate negative effects, so avoid them.
Acne outbreaks are also possible following skin needling. These, on the other hand, should be moderate and clear up on their own. Picking at your skin will lead to further damage.
The degree of severity of micro-needling side effects is partly determined by how well you prepare for the treatment. Tanning or direct sun exposure might irritate your skin, exacerbating the irritation. Staying hydrated the day before and throughout the hours preceding your treatment can also help to lessen the likelihood of bruising and inflammation. You should also avoid wearing cosmetics to your appointment.
Is Microneedling Convenient?
Microneedling, as compared to more intrusive skin procedures, is thought to be rapid. Depending on their side effects, many people choose to return to work the day after their treatment. If you want to conceal any bruising or redness, you might use a light powder.
Virtual Consultation at 20% off
Opt for an online Consultation from comfort of your home
How to Improve Microneedling Results with Aftercare?
Dr. Abhishek Malviya will provide the required aftercare routine after you have been through Microneedling to treat your acne scars. The general ways to enhance the results are:
Vitamin C
Niacinamide
Epidermal growth factors
HA
Types of MNRF Treatment
There are three major types of Microneedling Radio Frequency treatment:
Unipolar:

 The unipolar/mono-polar RF device, which uses a single electrode and a grounding pad on the skin, is the most basic of the 3 therapies. This RF technique leads to deeper penetration of the dermis at the expense of increased pain and suffering for the patient.

Bipolar:

 Due to the necessity to utilize less energy to accomplish the same thermal impact, bipolar RF offers an option to unipolar/mono-polar RF in that it can send a more focused current to the dermis with less pain.

Fractional:

 Fractional RF makes use of a variety of electrodes to create zones of thermal wounds between sections of unaffected zones, promoting dermal remodeling and providing a supply of reservoir cells to aid recovery. There are fractional RF variations that use micro-needles to transmit electrical current to a specific depth within the dermis, reducing epidermal damage.
Which MNRF Treatments Show the Best Result?
The greatest results for acne scar resolution appear to be bipolar fractional microneedle and fractional bipolar RF.
With these therapies, a real change in cosmetic appearance can be expected in between 25% and 75% of affected skin.
For these outcomes to be completely appreciated, three to four therapy sessions with one to two passes and three months after treatment are required.
The radiation makes its way into the dermis (middle layer of the skin) with this process, addressing a variety of skin issues while also improving the overall appearance.
Benefits of MNRF Treatment
Below are the benefits of MNRF Treatments:
Skin Support:

 Our skin is designed to heal itself, but as we get older and are exposed to more toxins, our skin's support system decreases. Radiofrequency uses regulated energy to target the underlying skin's support system and cure the damage. It boosts this support system even more to offer you a more young and radiant complexion.

Delays Aging Procedure:

 While aging is unavoidable, it is possible to slow down the process. MNRF does this by eliminating wrinkles and fine lines, which are particularly noticeable around the eyes and neck.

Tightens the Skin:

 The moderate heating of the skin helps to tighten the skin by stimulating the formation of collagen and elastin.

Improves Skin Texture:

 The procedure helps to lighten scars and pigmentation caused by a variety of skin issues, such as acne. As a result, the skin's texture improves dramatically.
The procedure of MNRF Treatment
Microneedling with Radiofrequency at Dr. Abhishek Malviya's Radiant Skin Clinic is a routine procedure in which Dr. Malviya assesses your acne scars and then schedules you for the treatment, which includes the procedures below:
The scars area is cleaned thoroughly.
On the affected area, a topical anesthetic is given.
Following that, the derma roller is pushed on your skin. The needles puncture the surface of your skin and deliver radiofrequency radiation.
Fractional Co2 for Acne Scars
For acne scarring, fractional laser therapy has been another most preferred option. The focus is to enhance the texture of the skin while also reducing the appearance of acne scarring.
How Fractional Co2 Treatment Works?
A Co2 laser's laser beam is fragmented (fractionated) into numbers of very narrow beams of light that form pinholes on the skin's surface. As the skin recovers, new collagen is formed, tightening the skin and smoothing out the acne scars.
The procedure of Fractional Co2 Treatment
Fractional Co2 Treatment at Dr. Abhishek Malviya's Radiant Skin Clinic is a routine procedure in which Dr. Malviya assesses your acne scars and then schedules you for the treatment, which includes the procedures below:
Patients will be asked to arrive at the clinic an hour before the treatment commences.
Anesthesia will be applied.
During the treatment, a stream of cold air will be blown across the area, and this, along with the numbing lotion, will provide relief.
After Effects of Fractional Co2 Treatment
After you will be treated with Fractional Co2 Laser Therapy, your skin will have the appearance and feel of mild sunburn. For the first 24 hours, it will be puffy and slightly oozy, and then the skin surface will peel for 3 to 7 days. The skin may seem pink for a further 3 to 6 weeks after it has healed, which takes around seven days.
Side Effects of Fractional Co2 Treatment
Following fractionated CO2 laser treatment, skin pigmentation may lighten or darken. This is normally just transient, but it has the potential to become permanent. Darker skin types are more prone to skin darkening, which can be remedied with topical whitening products.
Scarring is possible following CO2 laser treatment, however, it is rare. On the skin's surface, acne patches or white lumps (milia) can flare-up.
Infection can occur following CO2 laser treatment, however, it is unusual. If you have a record of cold sores, you will be given antiviral medication to consume before your therapy to avoid a cold sore outbreak.
Chemical Peeling
A chemical peel is a process that involves applying a chemical solution to the skin and removing the top layers. The regenerated skin is smoother. You may need to repeat the technique with a light or medium peel to achieve the desired results.
Chemical peels are typically used on the face to remove wrinkles, damaged skin, and scars. They can be performed on their own or in conjunction with other cosmetic treatments. They can also be done at various depths, ranging from light to deep. Chemical peels that are deeper in-depth produce more incredible effects, but they also take time to eventually recover from.
What Conditions does Chemical Peeling Serve?
Chemical peels are used to address certain skin conditions in the face, neck, and hands. They can help in the prevention or treatment of:
Sun marks, age spots, liver spots, freckles, and uneven skin.
Acne
Scarring
Sun damage, aging, and inherited causes generate fine lines around your eyes and wrinkles around your lips.
Rough skin, scaly areas, and a drab appearance.
Melasma (dark patches) is caused by pregnancy or birth control medications.
Actinic keratosis, a precancerous scaly patch.
Dr. Abhishek will walk you through the steps of determining the depth of your peel. You may need to make a joint decision based on the state of your skin and your treatment goals.
On sags, bulges, deep scars, deep facial lines, and more severe wrinkles, chemical peels are ineffective. If these are your concerns, other cosmetic surgery procedures such as carbon dioxide laser resurfacing, a facelift, brow lift, eye lift, or soft tissue filler will be better possibilities. Dr. Abhishek Malviya can help you figure out the best way to solve your difficulties.
Benefits of Chemical Peeling on Acne Scars
Some of the potential benefits of chemical peels for acne-prone skin are as follows:
Texture and tone are more consistent.
Dark parts are illuminated.
Unclogging of pores to help in the prevention of future breakouts.
It might be tough to select the right sort of chemical peel, especially when a solution can go wrong and be overly harsh. Knowledge, on the other hand, is a type of defense.
Dr. Abhishek Malviya can assist you in selecting the best chemical peel for your skin and acne. His tailored therapy is the secret to his high success rate.
Cautions Before and After Chemical Peeling
Do not manually exfoliate your skin for at least 24 hours before and after using this product.
Do not use Retin-A, acids, or acne-clearing treatments 3–5 days before or after using them.
To inflamed skin, use the product cautiously.
How is Chemical Peeling Performed?
A chemical peel can be performed as an outpatient procedure at a doctor's office or a surgical center. Your skin will be thoroughly cleansed with an oil-removing substance, and your eyes and hair will be protected. Following that, a chemical solution is applied to your skin. Glycolic acid, trichloroacetic acid, salicylic acid, lactic acid, and carbolic acid are some of the most often utilized chemical solutions (phenol). The different chemicals cause controlled harm by entering the skin to differing depths before peeling away to reveal a fresh layer of skin.
Different chemical solutions create different results. Your purpose determines the chemical you utilize. Dr. Abhishek Malviya will decide the depth of your peel during your consultation.
A light chemical peel (sometimes known as a "lunchtime peel") provides progressive improvement over time and is typically performed in a series. The top layer of skin is removed. This choice may be ideal for you if you have fine wrinkles, acne, uneven skin pigmentation, or dry, rough sun-damaged skin. With little to no downtime, this type of peel might take anywhere from a few hours to a few days to recover from.
Medium chemical peel will smooth out and rejuvenate your skin. The outermost layer of your skin and the top part of your middle skin layer are removed. This choice could be appropriate for you if you have irregular or moderate skin discoloration, age spots, acne scars, or fine-to-moderate wrinkles. This sort of peel can take up to a week to heal and will necessitate some downtime.
A thorough chemical peel produces the most noticeable effects. This material enters the lowest middle layer of your skin. It takes longer to heal from a deep peel

. This choice may be appropriate for you if you have major lines and wrinkles, substantial sun damage, deep acne scars, blotchy skin, and/or precancerous growths called actinic keratosis. Preparation for a severe chemical peel might take up to eight weeks.

Dr. Abhishek Malviya will offer specific instructions. A deep chemical peel is a one-time-only procedure with substantial downtime when done to the face.
Skin Polishing
Skin polishing is a professional technique that exfoliates your skin deeply, eliminates dead skin cells and reveals the beautiful skin beneath. It is accomplished by cleaning your skin with portable equipment or chemicals and infusing important nutrients into the top layer. The technique is excellent for reducing hyperpigmentation, age spots, photo-aging indications, and crow's feet around the eyes. Skin polishing, which is suitable for all skin types, helps to enhance the look of dull skin from within.
Benefits of Skin Polishing
Below mentioned are a few of the benefits of skin polishing:
Even skin tone:

Explicit treatment of skin polishing can help remove dark spots and hyperpigmentation while also leveling out your skin tone.

Removal of dead skin cells:

Skin polishing aids in the removal of dead skin cells from the surface and promotes the creation of new skin cells.

Deep exfoliation:

The process exfoliates your skin deeply, eliminating build-up and boosting blood circulation in the face.
Types of Skin Polishing
There are 2 major types of skin polishing treatments that Radiant Skin Clinic provides:
Crystal Microdermabrasion:

 Crystal dermabrasion removes dead skin cells from the skin's surface using aluminum oxide crystals. The handheld gadget releases these crystals at high speeds, while a gentle suction sucks away the filth and grime that has accumulated on your face.
Benefits
In nature, aluminum oxide is non-toxic. As a result, it is an allergy-free medication with few adverse effects. The technique is suitable for sun-damaged and aging skin that needs a little aid to seem younger. It aids in the reduction of acne, the lightening of acne scars, and the polishing of wrinkles and fine lines around the nose and mouth.
Crystal Microdermabrasion aftercare
Even though the stones are light, you may notice moderate redness and sun sensitivity for a few hours. This normally disappears within 24 hours. To protect the skin, utilize hypoallergenic products and an SPF. For a few days, avoid using any acne treatments, hair colorants, hot showers, or other irritants on your face.
Diamond Microdermabrasion:

 Diamond dermabrasion employs a portable instrument with a diamond tip to gently scrape the top layer of skin. In contrast to crystal dermabrasion, this procedure is best suited for delicate areas such as the under-eye and adjacent areas. The gadget also suctions dead skin cells away, revealing smoother skin beneath.
Benefits
Because diamond dermabrasion is softer than crystal dermabrasion, it is frequently advised for young brides. This process polishes delicate parts of your face such as the area around your eyes and lips, providing thorough exfoliation to younger and firmer skin. It improves the overall texture and smoothness of your skin.
Diamond Microdermabrasion Aftercare
This process, unlike crystal dermabrasion, requires longer downtime to recuperate. In the meanwhile, make sure you're not touching your skin, avoid wearing cosmetics for a few days, and don't use any topical treatments on your skin. Avoid exercise and hot showers for 24 to 48 hours, as elevated body temperatures might cause your treated skin to go into overdrive. To speed up the recovery process, avoid touching your face and remain hydrated.
Mesotherapy
Mesotherapy is a procedure that employs injections of vitamins, enzymes, hormones, and plant extracts to renew and tighten skin while also removing unwanted fat.
Mesotherapy is also used to reduce acne scars and markings over time, especially if your skin layer is pitted. The solution contains hyaluronic acid, which helps to generate volume in the skin, while other antioxidants and amino acids provide an anti-inflammatory impact that promotes healing.
Which Conditions Does Mesotherapy Treats?
Mesotherapy treats a handful of conditions such as:
Fat removal
Eliminating cellulitis
Fading wrinkles and lines
Tightens skin
Lightens pigmented skin
Alopecia
Side Effects of Mesotherapy
There are a few side effects of Mesotherapy, which includes:
Nausea
Swelling
Sensitivity
Pain
Scars
Infection
Rash
Redness
Bruising
Itching
How is Acne Scars Treated with Mesotherapy?
In its deepest layers, the skin contains hyaluronic acid, a glue-like compound. This glue holds the skin's components together while also supplying water to the skin. It hydrates the skin, making it smooth and supple. Acne patients with ice-pick scars (scars that resemble larger open pores) are good candidates for this therapy. Small quantities of hyaluronic acid are injected into the skin's surface. This attracts water to the skin, making it plump. As a result, the open pores seem smaller and shallower.
To maintain the advantages, the injection must be repeated. Multiple sessions are necessary; the regularity of injections ranges from weekly to monthly, depending on the substance used and the severity of the condition.
There is some sensitivity during the shot, which is reduced by using a tranquilizing gel before the surgery. If a superficial blood artery is injured during therapy, there may be some bruising. The bruising should go away in a week, and there are no long-term negative effects from the surgery. To minimize pigmentation induced by healing pimples, hyaluronic acid can be used with skin lightening treatments if necessary.
How do we Solve Acne Scar Issues?
The Radiant Skin Clinic is proud of its offerings. Dr. Abhishek Malviya, a well-known Dermatologist, offers his finest services to Acne scar patients. Our clinic was recognized as the best in Indore, and our famous Skin Clinic was recognized as the best in the city.
Our therapy is of the greatest caliber, and we go out of our way to put our patients at ease. Customers have more trust in us when they come in for an examination or treatment since our services are reasonably priced.
How do we Work to get the Best Result in Acne Scar Treatment in Indore?
Dr. Malviya treats acne scars by concentrating on each patient as an individual and extensively examining each treatment plan to ensure that no aspect is overlooked. After that, he utilizes the most appropriate therapeutic strategy for the current situation. He employs modern technologies to attain the greatest results.
The radiant skin clinics in Indore provide the best Acne scar treatment outcomes. We are pleased to be regarded as one of the best acne scar treatment institutes in Indore. We have dermatologists with years of expertise as well as medically certified individuals on our staff.
What is the Success Rate of Acne Scar Treatment in Indore?
Dr. Abhishek Malviya, a competent skin expert in Indore who treats a wide spectrum of skin disorders, runs this skin specialist clinic. He adopts novel methods to maximize his chances of achievement. Radiant Skin Clinics provides the most effective acne scar treatment available. It is widely regarded as one of the best skin specialty clinics in the country. We advise our customers on what to expect from the procedure and how effective it will be based on their unique circumstances.
Dr. Abhishek Malviya's skin expert clinic has a 95–100% success record in giving the best acne scar treatment options. We think that to provide the finest therapy possible, we must thoroughly analyze each step in the best interests of the patients and use best-in-class technology. Dr. Abhishek Malviya is Indore's most experienced skin specialist, well-known for his ability to cure skin without inflicting harm. Radiant Skin Clinic in Indore is always ready to give comprehensive treatment and the finest outcomes for each patient.