Every time you leave the house, you expose yourself to the sun, pollution, bacteria, and a range of other harmful elements. As a result, your skin will become dull, rough, dry, and dark. You may start to look older than you are which may be damaging to one's self-esteem. This problem, fortunately, has a remedy.
In Indore, Dr. Abhishek Malviya is a well-known dermatologist. For the past ten years or more, he has been servicing his patients. His knowledge and accomplishments have earned him notoriety and feathers in his cap. To achieve the best outcomes, he creates a unique treatment plan for each of his clients.
Welcome to Radiant Skin Clinic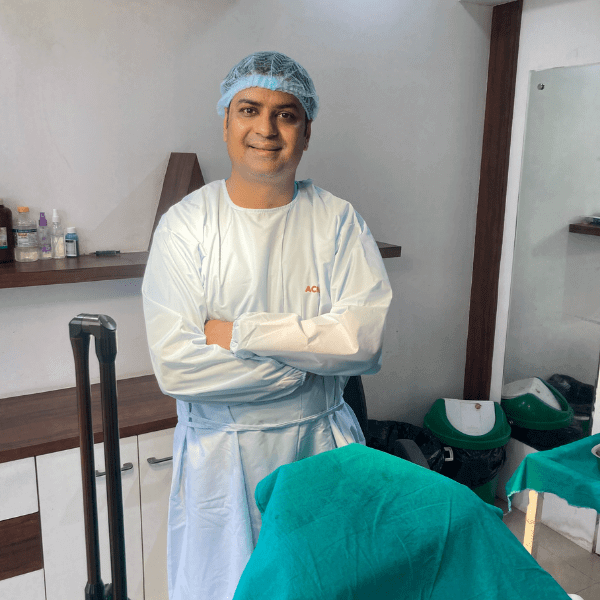 Reasons why Dr. Abhishek Malviya is the Best Dermatologist in Indore
Dr. Abhishek Malviya is an Indore dermatologist, surgeon, and skin expert. His talent has been impressive since the onset of his career. He has always gone out of his way to help others, no matter their age. Dr. Abhishek Malviya is the top skin expert in Indore for the following reasons:
 He has been one of the most successful dermatologists and surgeons.
 He offers advanced dermatology treatment in Indore.
 He provides numerous sittings before proceeding with treatment.
 He has experience of above 10 years without a failed treatment
 He helps in boosting confidence in patients who are demoralized due to their falling dermatological health.
 His history of treating patients has an exponential career graph.
 He studies your health history thoroughly to come up with a treatment course, i.e., his treatment course is personalized for every patient.
 He has the best facilities for cosmetic surgeries and solutions for reshaping facial organs, extra fats in the body, et cetera.
Why Choose Radiant Skin Clinic if you are Looking for a Dermatologist in Indore?
Dr. Abhishek Malviya's Radiant Skin Clinic has been named one of the top dermatologist clinics in Indore. Radiant Skin Clinics offer quality service and a 100% recovery rate to its patients.
Radiant Skin Clinic provides the following services:
 Best Acne Scar Treatment
 Best Hair Transplant Service
 Expert Skin Consultation and Treatment
 Expert Diseases Consultation and Treatment
 Best Chemical Peeling Service
 Skin Tightening and Anti-Ageing Treatment
Thread Lift and Dermal Fillers
Dermaroller/Dermapen
PRP Therapy \Best
Laser Treatment
Ear Lobe Repair and
Ear Piercing
Where can you Find Dr. Malviya's Dermatological Treatment in Indore?
You've picked the greatest dermatologist in town to help you with uneven skin tone. Dr. Malviya's competence and experience have resulted in a thriving practice in town. In addition to Radiant Skin Clinic, he may be seen in the following locations:
 Dewas: Kothari medical opposite MG Hospital on Wednesdays.
 Manawar: Kailash hospital Chaitanyadham on every 2nd and 4th Sunday
 Ratlam: Arogyam hospital college road near civil hospital on every 1st and 3rd Saturday.
Book an Appointment
To avoid hospital complications, Dr. Abhishek Malviya's Radiant Skin Clinic is located on the third floor of the Krishna Tower, ICICI and Baroda Bank Building, Greater Brijeshwari, Opposite IDA Scheme 140, Pipliyahana Indore. You can book a consultation with Dr. Abhishek Malviya by clicking here.
Dr. Abhishek Malviya has given such great services to his patients that they were compelled to give their reviews on him and his treatments. Here are a few of the testimonials of his patients:
Mr. Rudresh writes, "I would highly recommend Dr. Abhishek Malviya for dermal fillers. I got young and fresh skin. Thank you so much for the awesome treatment. Value for Money."
Mr. Aniket writes, "Dr. Abhishek Malviya is the best cosmetologist in India. The cost is a bit high but provides desired results. I met him for laser treatment. It improved the pigmentation of my face and it removed the wrinkles as well. I got all the attention and care from the doctors and staff."
Uneven Skin Tone
Texture difficulties, blotchy skin, face flushing, and hyperpigmentation all fall under the umbrella phrase "uneven skin tone."
Pigmentation disorders are a term used by some to describe these illnesses. Many different disorders can damage the pigment cells in the skin, known as melanocytes, resulting in discolored areas.
Causes of Uneven Skin Tone
Several factors cause uneven skin tone, which includes:
Sun damage:

 Sun exposure causes melanin formation to protect the skin, which is a typical cause of an uneven skin tone. In the near term, this results in a tan. Sun damage, on the other hand, can cause dark patches and blotchy skin over time.

Acne and scars:

 Acne can cause skin inflammation and redness, resulting in an uneven complexion. Some people call this discoloration acne or post-inflammatory pigmentation.

Hormonal changes:

 Melasma is a kind of hyperpigmentation caused by excessive hormone production. This is most frequent during pregnancy, although it can also happen to women who are on hormonal contraception.

Aging:

 For a variety of reasons, including sun exposure and the use of drugs that may promote skin hyperpigmentation, older persons may have more uneven skin tone than younger adults. According to certain studies, hyperpigmentation disorders, such as post-inflammatory discoloration and Melasma, can affect people of all skin types as they age.

Skin damage:

 Post-inflammatory hyperpigmentation can also be caused by bug bites, burns, and other types of skin damage.

Other skin damages:

 Certain skin diseases, such as rosacea or eczema, can induce flushing and make the skin seem uneven.
Treating Uneven Skin Tone
Radiant Skin Clinic provides several pigmentation treatments to treat uneven skin tone.
Medicine
There are several Over Counter medicines that Dr. Abhishek Malviya will prescribe according to the client's condition.
Vitamin C:

 This powerful antioxidant can prevent skin from UV damage and inhibit melanin production.

Glycolic Acid:

 For acne-prone skin, this is a frequent skincare component. It works by removing dead skin cells to expose younger-looking skin beneath. According to certain studies, it can help with acne, scarring, Melasma, post-inflammatory discoloration, and UV damage.

Salicylic Acid:

 This operates in the same way as glycolic acid does. Because of its anti-inflammatory properties, it may be especially effective for post-inflammatory hyperpigmentation.

Retinol:

 Retinol accelerates the development of healthy, fresh skin by increasing cell turnover. It can help to balance out skin tone and lessen the appearance of sun damage. Retinoids can aid with skin aging as well as correcting pigmentation issues.

Niacinamide:

 This type of vitamin B3 lowers inflammation, which helps to prevent acne and other skin disorders from causing flushing. It may also aid in the treatment of hyperpigmentation and the reduction of age symptoms.
Chemical Peeling
Vitamin C, Glutathione, Retinoic Acid, Kojic Acid, Phenol, TCA, and Salicylic Acid are among the ingredients that make up a chemical peel. They collaborate to address a wide range of skin problems, leaving you with gorgeous, glowing skin for at least a month. Here's everything you need to know about chemical peel therapy and how it may assist with skin lightening treatment.
Chemical Peeling: Condition it serves
Chemical peels are applied to the face, neck, and hands to address skin issues. They can help with the prevention and treatment of the following illnesses:
Sun marks, age spots, liver spots, freckles, and uneven skin.
Acne
Scarring
Sun damage, aging, and inherited causes generate fine lines around your eyes and wrinkles around your lips.
Rough skin, scaly areas, and a drab appearance.
Melasma (dark patches) is caused by pregnancy or birth control medications.
Actinic keratosis, a precancerous scaly patch.
Dr. Abhishek will walk you through the process of determining how deep your peel should be. You may need to make a joint decision based on your skin's health and treatment goals. Dr. Abhishek Malviya can help you figure out the best way to solve your difficulties.
Virtual Consultation at 20% off
Opt for an online Consultation from comfort of your home
Types of Chemical Peel
Chemical peels come in three different varieties, depending on the severity of discoloration:
Superficial Chemical Peel:

 This chemical peel targets the top layers of the skin, gently removing undesirable dead skin cells.

Medium Peel:

 By targeting the skin's intermediate and outermost layers, this chemical peel helps the procedure enhance.

Deep Peel:

 Because laser skin resurfacing is both safer and more effective, this chemical peel is no longer widely used. It is only acceptable for severely injured skin.
It is essential to schedule an appointment with Dr. Abhishek Malviya for skin lightening. He'll look at your skin, inspect it, and advise you on whether or not chemical peeling is right for you.
How Many Sessions are Required to Lighten the Skin With Chemical Peeling?
One to three treatments are normally recommended, with at least four weeks between them. Once you've lightened your skin to the point where you're satisfied with the appearance, you might want to consider getting a chemical peel facial two or three times a year to maintain the appearance for as long as possible.
How to Prepare Your Skin for Chemical Peeling?
Pre-treatment methods for chemical peeling will be set up by Dr. Abhishek Malviya. However, it is preferable to minimize sun exposure, exercise, and a hectic schedule in the open air in general, as these activities will dirty your skin. You should also moisturize your skin every day after cleansing it.
Following your chemical peeling, you can continue your regular activities while limiting sun exposure, make-up, and strenuous activity.
Avoid Chemical Peels Which are Readily Available in the Market
Applying acid solution to your skin appropriately is a key chore that only a professional can do! The improper application might cause severe harm to your skin that may not be reversible. As a result, Radiant Skin Clinic is the perfect place for you to receive chemical peeling to lighten your skin.
If you want to make some changes to your personality, having flawless skin is something worth seeking.
Benefits of Chemical Peeling for Skin Lightening
Chemical peeling has several advantages for skin whitening, including:
 Consistent textures and tones
 Skin rejuvenation
Laser Facial
Dr. Malviya uses a focused beam of light to reduce melanin accumulation in the target region while conducting laser therapy. The skin's immune system gradually eliminates the pigment remains. As a consequence, the skin seems to be healthier and more radiant than it was previously. The skin that has been rebuilt is perfect. Laser therapy, also known as laser peel or lasabrasion, serves to efficiently reduce skin pigmentation, black patches, sun tanning, and dull skin. For whitening the skin tone of the face and particular body parts, laser therapy is safe.
PRP Therapy
Microneedling is a procedure that pierces the epidermis using minuscule needles. The size of these needles ranges from 0.5 mm to 2.5 mm. Make that the needles are the only epidermis and that they are little specks. The pricks cause damage to the skin, which causes it to mend by creating elasticity and collagen, allowing the PRP to enter deeper.
After the micro-needling operation, PRP is given directly to your epidermis. PRP (platelet-rich plasma) is concentrated platelet-rich protein plasma made from body fluid. PRP contains several signaling pathways that aid tissue repair and regeneration.
PRP Procedures
Microneedling with PRP is done in medical practice. The first step is to take a blood sample, which is rather straightforward. Centrifugation separates the plasma and platelets in your blood from the RBCs.
Before the micro-needling component of the therapy begins, a subcutaneous tranquilizing ointment is given to the skin to relieve any discomfort from the needling.
The PRP is administered topically after the tranquilizing lotion has been applied and the micro-needling has been done. To get the optimum benefits, leave the PRP on your skin for the remainder of the day. For the first few days after treatment, patients' skin will be dry, red, and sensitive, akin to a light sunburn.
Advantages of PRP Therapy
PRP Therapy provides a number of advantages like:
Stops Ageing
Enhances Skin Tone and Texture
Increase Skin Cells
Reduces Fine Line and Wrinkles
How do we Solve Uneven Skin Tone Issues?
The Radiant Skin Clinic takes pride in what it has to offer. Dr. Abhishek Malviya, a well-known Dermatologist, is available for consultation. Our clinic was named the finest in Indore, and our well-known Skin Clinic was named the best in town.
Our treatment is of the highest quality, and we go out of our way to make our patients feel comfortable. Because our services are fairly priced, customers have more faith in us when they come in for an inspection or treatment.
How do we Work to get the Best Result in Dermatological Treatment in Indore?
Dr. Malviya proceeds with uneven skin tone by focusing on each patient individually and thoroughly evaluating each treatment plan to ensure that no detail is missed. Then, depending on the scenario, he employs the most appropriate treatment method. To achieve the best outcomes, he uses cutting-edge technology.
The best dermatological treatment outcomes may be found at Indore's radiant skin clinics. We are honored to be acknowledged as one of Indore's top skin treatment centers. On our team, we have dermatologists with years of experience as well as medically qualified personnel.
What is the Success Rate of Pigmentation Treatment in Indore?
This skin specialist clinic is run by Dr. Abhishek Malviya, an experienced skin expert in Indore who treats a wide range of skin disorders even practices pigmentation treatment. To increase his chances of success, he employs creative tactics. The most effective pigmentation treatment is provided at Radiant Skin Clinics. It is highly considered as one of the country's top skin specialty clinics. Based on their specific circumstances, we advise our customers on what to expect from the process and how successful it will be.
The skin specialist clinic of Dr. Abhishek Malviya has a 95–100% success rate in providing the finest pigmentation treatment choices. We believe that to deliver the best possible treatment, we must carefully consider each step in the best interests of the patients and employ best-in-class technology. Dr. Abhishek Malviya is Indore's most experienced skin doctor, renowned for his ability to treat skin problems without harming them. Radiant Skin Clinic in Indore is always prepared to provide thorough care and the best possible results for each patient.