You expose yourself to the sun, pollution, germs, and a variety of other dangerous substances every time you leave the house. Your skin will become dull, rough, dry, and black as a result of them. You may begin to appear older than you are which can be detrimental to one's self-esteem. Fortunately, there is a solution to this issue.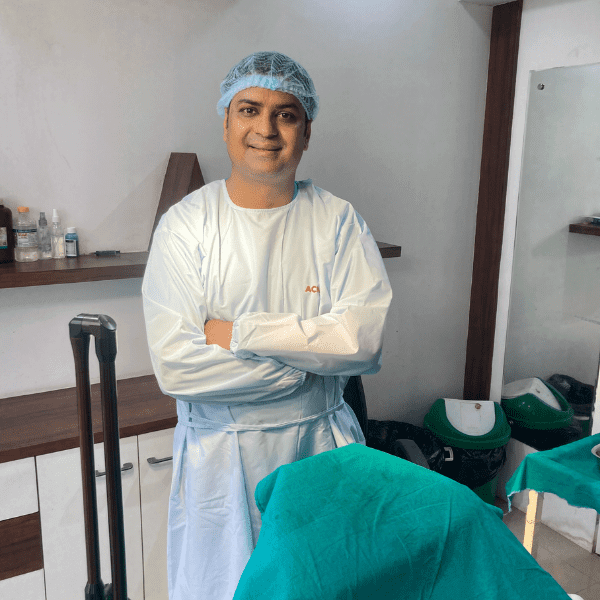 Reasons why Dr. Abhishek Malviya is the Best for skin Lightening Treatment in Indore
Dr. Abhishek Malviya is a famous dermatologist in Indore. He has been serving his patients for the past 10 years and above. His expertise and excellence have garnered him fame and feathers in his cap. He designs personalized treatment for his clients to get proper results.
The best dermatological treatment outcomes may be found at Indore's radiant skin clinics. We are honored to be acknowledged as one of Indore's top skin treatment centers. On our team, we have dermatologists with years of experience as well as medically qualified personnel.
What is Skin Lightening?
Skin lightening is the process of reducing the pigment melanin in the skin to get a lighter complexion. Melanin is more abundant in people with dark complexions, and the amount of melanin affects the color of a person's skin. Melanin is produced by cells known as melanocytes. The amount of melanin in a person's skin is determined by their genetic structure. Exposure to the sun, the degree of skin injury, and chemical exposure all influence melanin formation.
Skin lightening treatments are frequently used to treat issues such as freckles, age spots, scars, moles, acne, and birthmarks, as well as by those who want to have light skin, particularly those with darker skin tone. Bleaching creams, fading creams, chemical peels, and laser therapy are examples of whitening or lightening treatments used by people.
Let's have a look at the many possibilities for rejuvenating your facial skin.
Types of Skin Lightening
Radiant Skin Clinic offers a range of skin-lightening treatments to its clients.
Medifacials:
A medi-facial is a medical-grade facial that is used to treat a variety of skin issues and is typically safe for all skin types. Medi-facials employ a variety of technologies and ingredients, like peels, microdermabrasion, Photorejuvenation LED treatment, microcurrents, and so on. Because they may enter the skin thoroughly, they are more effective than traditional spa facials. This provides you with longer-lasting results.
Chemical Peels:
Chemical peels remove the top layer of your skin, allowing a healthier and finer layer to emerge in its place. This procedure is helpful for persons who wish to correct facial discoloration. Chemical peels, on the other hand, may not be the best course of therapy for you if you've recently taken certain drugs, have a darker complexion, aberrant skin pigmentations, a history of cold sore breakouts, or have enlarged scar tissues in the designated areas. The outcome varies depending on the depth of epidermal peeling and the client. We do a thorough skin assessment to identify each patient's health and the optimal peel type for them, ensuring maximum impact with the least amount of irritation and discomfort.
Spectra-Carbon Peel:
Most types of skin can benefit from this modern skin lightening procedure, which is both safe and effective. It equalizes the skin tone and decreases pigmentation. You are an ideal candidate if you have brown spots on your skin, particularly on the forehead, bridge of the nose, chin, cheeks, and above the upper lip. Reduced pigmentation, enhanced skin tone, reduced enlarged and clogged pores, reduced skin dullness, increased collagen synthesis, no downtime, concept mapping with other treatments, and more are all advantages of the Spectra Carbon Peel.
Anti-Clock Facial:
It's a seven-step facial for dehydrated, sagging, and dry skin. We start the treatment by washing the face with a mild vitamin C cleanser to remove any debris and makeup, then using a high-speed micro-jet spray to exfoliate and moisturize the skin at the same time. The face is then massaged with an enzymatic peel containing pineapple extract and vitamin C. A brightening radiance lotion is used to boost the brightness factor. Scutellaria Extract fights free radicals, while licorice lightens the skin.
Hydradermabrasion:
Hydradermabrasion may be a fantastic option if you're seeking non-invasive skin lightening procedures. It exfoliates the top layer of your skin with a serum and a water-based pressurization process. It resurfaces a healthier, more moisturized, and younger-looking skin layer after the damaged and dead skin cells are removed. At our clinic, we employ a diamond-tip device to adjust the water pressure and properly treat the targeted regions. The process is painless, quick, and effective, and it improves skin tone, pore size, hydration, and brightness.
Microdermabrasion:
Microdermabrasion was one of the most effective skin whitening procedures for improving the texture and tone of your skin. It can treat a variety of skin problems, including a lackluster complexion. This is a painless technique that works on nearly all skin kinds. As a result, according to the Indian Journal of Dermatology, Venereology, and Leprology, it is ideal for anybody who wishes to lighten their skin tone and regain their youthfulness.
Glutathione Skin Lightening:
This is one of the most extensively used skin lightening treatments for darker complexion. Glutathione is an antioxidant that has earned the moniker "wonder chemical" because of its ability to successfully brighten any skin tone. It may be used in a variety of ways to brighten your skin tone. Your dermatologist can tell you if you need a Glutathione IV Therapy injection, tablet, or lotion. Rashes, allergies, dizziness, and vomiting are some of the possible adverse effects. Glutathione usage can cause kidney and liver damage, as well as cancer, in extreme situations. The treatment's effectiveness is primarily determined by how deeply pigmentation has impacted your skin.
After Care Procedure
We usually recommend that you start utilizing chemical-free products to cleanse your face after skin lightening procedures. To soothe your skin throughout the recuperation phase, use petroleum jelly or aloe vera gel in the treated regions. After the therapy, your epidermis becomes more delicate, so start wearing good sunscreen and avoid touching or cleaning your face forcefully for a few days.
Following a nice easy skin regimen daily is a fantastic thing to do for your skin. To increase the benefits, apply a decent face cleanser, a sunscreen you like, a Vitamin C serum, and a Retinol or lightening cream like azelaic acid, glycolic acid, or Kojic acid every night.
Virtual Consultation at 20% off
Opt for an online Consultation from comfort of your home
How do we Practice Skin Lightening Treatment in Indore?
The Radiant Skin Clinic takes pride in what it has to offer. Dr. Abhishek Malviya, a well-known Dermatologist, is available for consultation. Our clinic was named the finest in Indore, and our well-known Skin Clinic was named the best in town.
Our treatment is of the highest quality, and we go out of our way to make our patients feel comfortable. Because our services are fairly priced, customers have more faith in us when they come in for an inspection or treatment.
How do we Work to get the Best Result in Skin Lightening Treatment in Indore?
Dr. Malviya proceeds with skin lightening treatment by focusing on each patient individually and thoroughly evaluating each treatment plan to ensure that no detail is missed. Then, depending on the scenario, he employs the most appropriate treatment method. To achieve the best outcomes, he uses cutting-edge technology.
Dr. Abhishek Malviya has given such great services to his patients that they were compelled to give their reviews on him and his treatments. Here are a few of the testimonials of his patients:
Mr. Rudresh writes, "I would highly recommend Dr. Abhishek Malviya for dermal fillers. I got young and fresh skin. Thank you so much for the awesome treatment. Value for Money."
Mr. Aniket writes, "Dr. Abhishek Malviya is the best cosmetologist in India. The cost is a bit high but provides desired results. I met him for laser treatment. It improved the pigmentation of my face and it removed the wrinkles as well. I got all the attention and care from the doctors and staff."
What Is the Success Rate of Skin Lightening Treatment in Indore?
This skin specialist clinic is run by Dr. Abhishek Malviya, an experienced skin expert in Indore who treats a wide range of skin disorders even practices skin lightening treatment. To increase his chances of success, he employs creative tactics. The most effective skin lightening treatment is provided at Radiant Skin Clinics. It is highly considered as one of the country's top skin specialty clinics. Based on their specific circumstances, we advise our customers on what to expect from the process and how successful it will be.
The skin specialist clinic of Dr. Abhishek Malviya has a 95–100% success rate in providing the finest skin-lightening treatment choices. We believe that to deliver the best possible treatment, we must carefully consider each step in the best interests of the patients and employ best-in-class technology. Dr. Abhishek Malviya is Indore's most experienced skin doctor, renowned for his ability to treat skin problems without harming them. Radiant Skin Clinic in Indore is always prepared to provide thorough care and the best possible results for each patient.