Moles and warts are very annoying. Moles can turn up to be cancer, and warts can make moving difficult. Hence, people with moles and warts are now demanding to remove them through various treatments. There is a sudden growth of CO2 Laser therapy and Immunotherapy for Moles and Warts removal.
Dr. Abhishek Malviya at Radiant Skin Clinic serves his patients with moles and warts. He has been one of the successful dermatologists in Indore with 10+ years of experience. His excellence in this field has helped him earn the trust of clients across the country. He designs personalized treatments for his clients to make them comfortable and heal them as soon as possible.
Welcome to Radiant Skin Clinic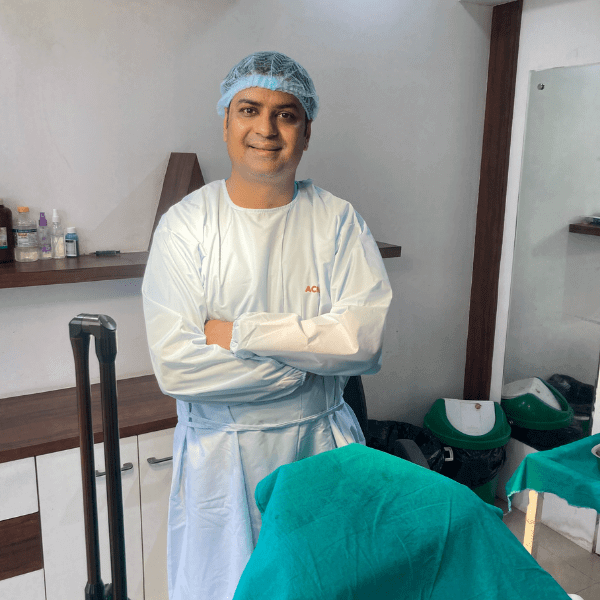 Reasons why Dr. Abhishek Malviya is the Best Skin Care Specialist in Indore
Dr. Abhishek Malviya is an Indore dermatologist, surgeon, and skin expert. His talent has been impressive since the onset of his career. He has always gone out of his way to help others, no matter their age. Dr. Abhishek Malviya is the top skin expert in Indore for the following reasons:
 He has been one of the most successful dermatologists and surgeons.
 He offers advanced dermatology treatment in Indore.
 He provides numerous sittings before proceeding with treatment.
 He has experience of above 10 years without a failed treatment
 He helps in boosting confidence in patients who are demoralized due to their falling dermatological health.
 His history of treating patients has an exponential career graph.
 He studies your health history thoroughly to come up with a treatment course, i.e., his treatment course is personalized for every patient.
 He has the best facilities for cosmetic surgeries and solutions for reshaping facial organs, extra fats n the body, et cetera.
Why Choose Radiant Skin Clinic if you are Looking for a Dermatologist in Indore?
Dr. Abhishek Malviya's Radiant Skin Clinic has been named one of the top dermatologist clinics in Indore. Radiant Skin Clinics offer quality service and a 100% recovery rate to its patients.
Radiant Skin Clinic provides the following services:
 Best Acne Scar Treatment
 Best Hair Transplant Service
 Expert Skin Consultation and Treatment
 Expert Diseases Consultation and Treatment
 Best Chemical Peeling Service
 Skin Tightening and Anti-Ageing Treatment
Thread Lift and Dermal Fillers
Dermaroller/Dermapen
PRP Therapy Best
Laser Treatment
Ear Lobe Repair and
Ear Piercing
Where can you Find Dr. Malviya's Dermatological Treatment in Indore?
You've picked the greatest dermatologist in town to help you with skin allergies. Dr. Malviya's competence and experience have resulted in a thriving practice in town. In addition to Radiant Skin Clinic, he may be seen in the following locations:
 Dewas: Kothari medical opposite MG Hospital on Wednesdays.
 Manawar: Kailash hospital Chaitanyadham on every 2nd and 4th Sunday
 Ratlam: Arogyam hospital college road near civil hospital on every 1st and 3rd Saturday.
Book an Appointment
To avoid hospital complications, Dr. Abhishek Malviya's Radiant Skin Clinic is located on the third floor of the Krishna Tower, ICICI and Baroda Bank Building, Greater Brijeshwari, Opposite IDA Scheme 140, Pipliyahana Indore. You can book a consultation with Dr. Abhishek Malviya by clicking here
Dr. Abhishek Malviya has given such great services to his patients that they were compelled to give their reviews on him and his treatments. Here are a few of the testimonials of his patients:
Mr. Rudresh writes, "I would highly recommend Dr. Abhishek Malviya for dermal fillers. I got young and fresh skin. Thank you so much for the awesome treatment. Value for Money."
Mr. Aniket writes, "Dr. Abhishek Malviya is the best cosmetologist in India. The cost is a bit high but provides desired results. I met him for laser treatment. It improved the pigmentation of my face and it removed the wrinkles as well. I got all the attention and care from the doctors and staff."
What is Moles?
Moles are skin growths that are generally brown or black. Moles can occur alone or in bunches anyplace on the skin.
The majority of moles appear throughout childhood and the first 25 years of a person's life. By the time you reach maturity, you should have anything from 10 to 40 moles.
Moles frequently change color and/or get elevated over time. Hairs might grow in the mole at times. Some moles may remain unchanged, while others may fade out over time.
What are the Causes of Moles?
Moles form when skin cells cluster together instead of spreading evenly over the surface. Melanocytes are the cells that produce the pigment that gives skin its natural color. Moles can deepen after sunlight exposure, during adolescence, and pregnancy.
What are the Types of Moles?
Moles that are present at birth are known as congenital nevi. Congenital nevi affect around one out of every 100 persons. These moles are significantly more likely than moles that form after birth to develop into melanoma (cancer). If a mole or freckle has a diameter larger than a pencil eraser, it should be examined.
Dysplastic nevi are irregularly shaped moles that are bigger than typical. They feature an uneven color pattern, with deep brown cores and lighter, irregular margins. Melanoma is more prone to develop in these nevi. People with ten or more dysplastic nevi have a 12-fold increased risk of acquiring melanoma, a deadly form of skin cancer.
When your skin is contaminated with one of the several viruses in the human papillomavirus (HPV) family, warts emerge as tiny, non – malignant growths. The virus causes additional cell development, thickening and hardening the outer layer of skin in that area. While they may grow on any part of your body with skin, they're more likely to appear on your hands or feet. The type of wart is determined by its location and appearance.
Virtual Consultation at 20% off
Opt for an online Consultation from comfort of your home
What are the Types of Warts?
Warts are divided into five categories. Each variety has a particular look and occurs in a different place of the body.
Common warts:

 Common warts normally form on your fingers and toes, but they can also appear on other parts of your body. They have a rounded top and a rough, grainy look. Common warts are darker in color than the skin around them.

Plantar warts:

 Plantar warts are warts that form on the bottoms of the feet. Plantar warts, unlike other warts, develop into your skin rather than out of it. If you discover what looks to be a pinhole leak in the bottom of your foot surrounded by a tough skin, you may have a plantar wart. Plantar warts can make it difficult to walk.

Flat warts:

 Flat warts are most commonly found on the face, thighs, and arms. They're little and unnoticeable at first. The tops of flat warts are flat as if they've been scrapped. They come in a variety of colors, including pink, brownish, and somewhat yellow.

Filiform warts:

 Filiform warts appear around the lips and nose, as well as on the neck and beneath the chin. They're tiny resemble a tiny skin flap or tag. The color of filiform warts is the same as the color of your skin.

Periungual warts:

 Warts that form beneath and around the toenails and fingernails are known as periungual warts. They can be painful and harm nail development.
Treatment for Moles and Warts
Co2 Laser Therapy and Immunotherapy
Co2 Laser Therapy
Patient Selection, Patient Counseling, and Consent
Patient selection is critical, as it is for any aesthetic operation.
The presence of fibrosis, past laser resurfacing, dermabrasion, or deep phenol peel should be documented because these operations might potentially delay the wound healing response. To lessen the risk of delayed or impaired wound healing, patients should be discouraged from smoking before and after surgery, if relevant.
Scarring, dyschromia, rhytid development, and skin type should all be carefully recorded on the skin to be treated. Patients who want to have periorbital laser therapy should have their eyes checked for the scleral show, lid lag, and ectropion.
Above all, patients should have reasonable expectations and valid justifications for undergoing cosmetic laser surgery. Other cosmetic treatment alternatives should also be considered so that the patient may make an educated choice.
The patient should be aware that there is a 1-2 week postoperative healing period with erythema and crusting. It's important to underline the need of avoiding sunlight during surgical recovery. It's a good idea to provide precise instructions in the permission form to that effect.
While CO 2 laser resurfacing is often a one-time operation, many patients may require further treatments.
Anesthesia
For minor lesions, 30-60 minutes of EMLA cream placed under occlusion is sufficient. Local infiltration with 1% lidocaine and epinephrine is generally sufficient to generate effective anesthetic in small regions. Nerve blocks are used for bigger regions, such as full-face resurfacing.
Post-Operative Care and Complications
Denuded skin suffers thermal damage as a result of co 2 laser resurfacing. Almost all patients have modest side effects, such as postoperative discomfort and edema, as well as itching and tightness.
Edema can occur after surgery, but it normally goes away with the use of cold compresses and nonsteroidal anti-inflammatory medicines.
 On the second or third postoperative day, a moderate serous (watery) discharge appears which disappears spontaneously.
 Excessive sun exposure must be avoided, and wide-ranging sunscreens must be used.
The Procedure of Fractional Co2 Treatment
Fractional Co2 Treatment at Dr. Abhishek Malviya's Radiant Skin Clinic is a routine procedure in which Dr. Malviya assesses your moles and warts and then schedules you for the treatment, which includes the procedures below:
 Patients will be asked to arrive at the clinic an hour before the treatment commences.
 Anesthesia will be applied.
 During the treatment, a stream of cold air will be blown across the area, and this, along with the numbing lotion, will provide relief.
Immunotherapy
The patient's immune system is used to combat warts and moles in this treatment. When warts persist despite previous treatments, this therapy is used. One kind of immunotherapy includes the application of a chemical to warts, such as diphencyprone (DCP). Around the treated warts, a minor allergic response ensues. Warts may disappear as a result of this response.
Getting interferon injections is another sort of immunotherapy. The injections can help the body's immune system, allowing it to fight the infection more effectively.
How do we Solve Moles and Warts?
The Radiant Skin Clinic takes pride in what it has to offer. Dr. Abhishek Malviya, a well-known Dermatologist, is available for consultation. Our clinic was named the finest in Indore, and our well-known Skin Clinic was named the best in town.
Our treatment is of the highest quality, and we go out of our way to make our patients feel comfortable. Because our services are fairly priced, customers have more faith in us when they come in for an inspection or treatment.
How do we Work to get the Best Result in Dermatological Treatment in Indore?
Dr. Malviya treats moles and warts by focusing on each patient individually and thoroughly evaluating each treatment plan to ensure that no detail is missed. Then, depending on the scenario, he employs the most appropriate treatment method. To achieve the best outcomes, he uses cutting-edge technology.
The best dermatological treatment outcomes may be found at Indore's radiant skin clinics. We are honored to be acknowledged as one of Indore's top skin treatment centers. On our team, we have dermatologists with years of experience as well as medically qualified personnel.
What is the Success Rate of Moles and Warts Treatment in Indore?
This skin specialist clinic is run by Dr. Abhishek Malviya, an experienced skin expert in Indore who treats a wide range of skin disorders. To increase his chances of success, he employs creative tactics. The most effective moles and warts treatment is provided at Radiant Skin Clinics. It is highly considered as one of the country's top skin specialty clinics. Based on their specific circumstances, we advise our customers on what to expect from the process and how successful it will be.
The skin specialist clinic of Dr. Abhishek Malviya has a 95–100% success rate in providing the finest moles and warts treatment choices. We believe that to deliver the best possible treatment, we must carefully consider each step in the best interests of the patients and employ best-in-class technology. Dr. Abhishek Malviya is Indore's most experienced skin doctor, renowned for his ability to treat skin problems without harming them. Radiant Skin Clinic in Indore is always prepared to provide thorough care and the best possible results for each patient.