For thousands of years, tattoos have been a part of human society, with a vast diversity of patterns and symbolic meanings. Tattooing was not as common in human history as it is now, with millions of individuals having tattoos or wanting to have one. The need to express one's unique individuality appears to be fundamental. However, many tattoo clients have misgivings about their tattoos at some point in their lives, leading to an increase in global demand for effective and safe tattoo removal methods.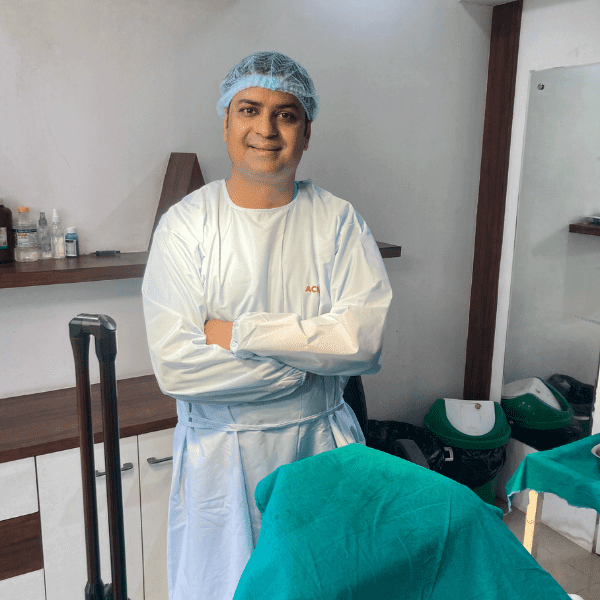 Reasons why Dr. Abhishek Malviya is the Best for Tattoo Removal Treatment Using Q - Switched Nd Yag Laser in Indore
Dr. Abhishek Malviya has the best solution for tattoo removal in the Radiant Skin Clinic. With 10+ years of experience, he has been serving many clients regardless of age and gender. He is a well-known dermatologist and surgeon in Indore. He uses modern technologies to treat his clients with tattoo removal and other skin and dermatological issues.
Indore's radiant skin clinics provide the greatest dermatological treatment outcomes. We are happy to be named one of Indore's best skincare clinics. Dermatologists with years of expertise, as well as medically certified staff, make up our team.
Q-Switched Nd: YAG
The Q-Switched Nd: YAG laser operates by TARGETING damaged skin cells in the treatment region by targeting particular pigments in the epidermis. When it comes to tattoo removal, the Q-Switched Nd: YAG laser targets ink pigment and uses intense bursts of light to break it up into chunks.
The Q-Switched Nd: YAG laser has two power frequencies: 1064 nanometers for deeper layers of the skin and 532 nanometers for more surface ones.
What Does Q-Switched Nd: YAG Treats?
The Q-Switched Nd: YAG laser is used by Radiant Skin Clinic to treat pigment-related issues such as moles, freckles, and pigmented lesions. Laser tattoo removal is also done with a Q-Switched Nd: YAG laser.
Most tattoo colors may be dramatically lightened with it, although it works best on deeper inks. This laser wouldn't be the most effective solution when it comes to yellow and green tattoo ink.
Is Q-Switched Nd: YAG Laser Safe?
When performed by the experts at Radiant Skin Clinic, the Q-Switched Nd: YAG laser is a safe technique. We go to great efforts to guarantee that our laser skin treatment specialists have comprehensive training with laser technology and can safely and efficiently deliver the most up-to-date treatment approaches.
How Long Does The Treatment Last?
To attain the best results, the average Radiant Skin Clinic patient will require many sessions with the Q-Switched Nd: YAG laser. The number of treatments required will be determined by the precise problem you're trying to solve as well as the size of the treatment area.
Treatment of hyperpigmentation concerns, like dark spots caused by sun exposure, requires fewer treatments than tattoo removal, for example.
Virtual Consultation at 20% off
Opt for an online Consultation from comfort of your home
What can you Expect During the Tattoo Removal Treatment Using Q - Switched Nd Yag Laser in Indore?
When you come to one of our offices for treatment with the Q-Switched Nd: YAG laser, Dr. Abhishek Malviya will do a thorough examination of your skin issues to ensure that this laser is the best option for you.
He will numb the region with a topical lotion or use general anesthesia to further lessen discomfort once the therapy begins. Protective eyewear will be given as well.
Dr. Abhishek Malviya and his team will use a laser to direct it across the treatment region, delivering intense bursts of radiation to break down the pigment. Because the laser causes micro-damage to the skin, some pain is usual at this period. Most patients, on the other hand, do quite well with this surgery, and our clinicians work hard to ensure that they are as comfortable as possible.
Q-Switched Nd: YAG Laser Side Effects
You may detect redness and swelling in the treated region after the operation. A little amount of blood may occur at the surgical site in some people.
After treatment, apply aloe vera to the skin to relieve any soreness. It's also a good idea to wrap the area with gauze to speed up the healing process.
As the skin begins to recover, you may observe some crusting at the treatment site in the days ahead. Allowing the scab to heal itself without excising it is critical to reducing the risk of scarring.
How is Tattoo Removal Treatment Using Q - Switched Nd Yag Laser in Indore Different from Other Treatments?
Laser tattoo removal is the only way to properly erase undesired tattoos without scars. Until recently, the only way to get rid of a tattoo was to have it surgically removed which is expensive and leaves a huge scar in its stead.
Patients began receiving laser therapy for their tattoos with CO2 lasers in the 1970s and 1980s. C02 lasers, unlike contemporary tattoo removal techniques, would leave a big scar in the place of the tattoo. While it did remove the ink, it did so at the expense of skin damage.
Additional "alternative" ways for removal that are not practical have become increasingly popular in recent decades. The injection technique of tattoo removal, which involves injecting acids and other solutions into the tattoo in a grid pattern, sometimes results in extensive scarring and only partial ink eradication. Tattoo removal creams, which are now available online and in stores, are just repackaged bleaching creams that are ineffectual at lightning tattoo pigments trapped in the skin's dermal layer.
In the late 1990s, Q-switched lasers were first used for laser tattoo removal, and the technology has advanced significantly since then to provide faster removal and better outcomes for a wider variety of ink colors and skin tones.
How do we Solve Dermatological Issues?
The Radiant Skin Clinic is proud of the services it provides. A well-known dermatologist, Dr. Abhishek Malviya, is available for consultation. Our clinic has been voted the best in Indore, and our well-known Skin Clinic has been voted the best in the city.
Our service is of the finest standard, and we go out of our way to ensure that our patients are at ease. Customers have more trust in us when they come in for an inspection or treatment since our services are reasonably priced.
How do we Work to get the Best Result in Dermatological Treatment in Indore?
Dermatological issues are treated by Dr. Malviya by concentrating on each patient individually and meticulously examining each treatment plan to ensure that no aspect is overlooked. Then, based on the situation, he chooses the best treatment option. He employs cutting-edge technologies to attain the greatest results.
Dr. Abhishek Malviya has given such great services to his patients that they were compelled to give their reviews on him and his treatments. Here are a few of the testimonials of his patients:
Mr. Rudresh writes, "I would highly recommend Dr. Abhishek Malviya for dermal fillers. I got young and fresh skin. Thank you so much for the awesome treatment. Value for Money."
Mr. Aniket writes, "Dr. Abhishek Malviya is the best cosmetologist in India. The cost is a bit high but provides desired results. I met him for laser treatment. It improved the pigmentation of my face and it removed the wrinkles as well. I got all the attention and care from the doctors and staff."
What is the Success Rate of Dermatological Treatment in Indore?
Dr. Abhishek Malviya, an established skin expert in Indore who treats a wide spectrum of skin conditions, runs this skin specialist clinic. He adopts innovative strategies to improve his chances of success. Radiant Skin Clinics give the best effective skin treatment. It is widely regarded as one of the best skin specialty clinics in the country. We educate our customers on what to expect from the procedure and how effective it will be based on their circumstances.
Dr. Abhishek Malviya's skin specialist clinic has a 95–100% success record in offering the best dermatological treatment options. We think that to provide the greatest possible therapy, each step must be carefully considered in the best interests of the patients, and best-in-class technology must be used. Dr. Abhishek Malviya is Indore's most experienced dermatologist, known for his ability to cure skin disorders without causing injury. Radiant Skin Clinic in Indore is always ready to serve each patient with comprehensive treatment and the finest possible outcomes.