The majority of infants will develop a skin infection at some point in their lives. In basic care and dermatology, skin infections are a typical reason for consultation. Parents worry about the health of their infants, especially if the conditions are related to skin. However, it is believed to be natural for a baby to undergo skin condition due to their tender skin, and lack of knowledge about preventing skin infection in infants by the parents.
We take up a responsibility to educate new parents about pediatric dermatology. Dr. Abhishek Malviya and the team from Radiant Skin Clinic have been rewarded as the best pediatric dermatological clinics in Indore. Dr. Abhishek Malviya is an excellence in the field of pediatric dermatology. With his personalized treatment, he has cured hundreds and thousands of infants with a success rate of 95% – 100%.
Welcome to Radiant Skin Clinic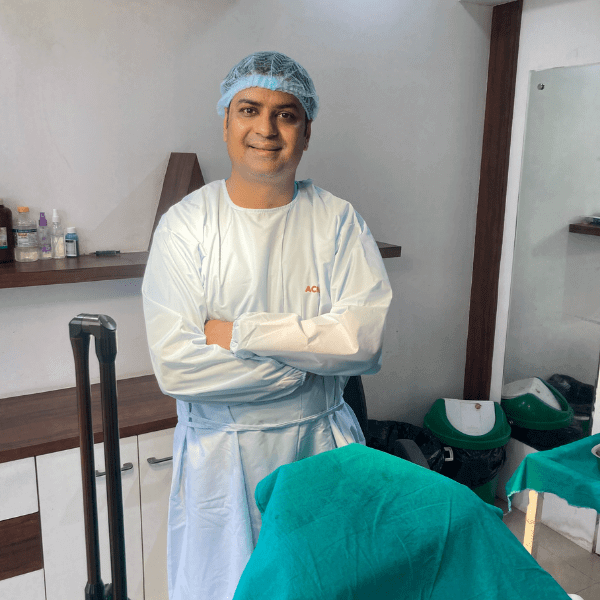 Reasons why Dr. Abhishek Malviya is the Best Dermatologist in Indore
Dr. Abhishek Malviya is an Indore-based dermatologist, surgeon, and skin expert. His talent has been impressive since the onset of his career. He has always gone out of his way to help others, no matter their age. Dr. Abhishek Malviya is the top skin expert in Indore for the following reasons:
 He has been one of the most successful dermatologists and surgeons.
 He offers advanced dermatology treatment in Indore.
 He provides numerous sittings before proceeding with treatment.
 He has experience of above 10 years without a failed treatment
 He helps in boosting confidence in patients who are demoralized due to their falling dermatological health.
His history of treating patients has an exponential career graph.
He studies your health history thoroughly to come up with a treatment course, i.e., his treatment course is personalized for every patient.
He has the best facilities for cosmetic surgeries and solutions for reshaping facial organs, extra fats in the body, et cetera.
Why Choose Radiant Skin Clinic if you are Looking for a Dermatologist in Indore?
Dr. Abhishek Malviya's Radiant Skin Clinic has been named one of the top dermatologist clinics in Indore. Radiant Skin Clinics offer quality service and a 100% recovery rate to its patients.
Radiant Skin Clinic provides the following services:
Best Acne Scar Treatment
Best Hair Transplant Service
Expert Skin Consultation and Treatment
Expert Diseases Consultation and Treatment
Best Chemical Peeling Service
Skin Tightening and Anti-Ageing Treatment
Thread Lift and Dermal Fillers
Dermaroller/Dermapen
PRP Therapy \Best
Laser Treatment
Ear Lobe Repair and
Ear Piercing
Where can you Find Dr. Malviya's Dermatological Treatment in Indore?
You've picked the greatest dermatologist in town to help your baby with skin infection. Dr. Malviya's competence and experience have resulted in a thriving practice in town. In addition to Radiant Skin Clinic, he may be seen in the following locations:
Dewas: Kothari medical opposite MG Hospital on Wednesdays.
Manawar: Kailash hospital Chaitanyadham on every 2nd and 4th Sunday
Ratlam: Arogyam hospital college road near civil hospital on every 1st and 3rd Saturday
Book an Appointment
To avoid hospital complications, Dr. Abhishek Malviya's Radiant Skin Clinic is located on the third floor of the Krishna Tower, ICICI and Baroda Bank Building, Greater Brijeshwari, Opposite IDA Scheme 140, Pipliyahana Indore. You can book a consultation with Dr. Abhishek Malviya by clicking here.
Dr. Abhishek Malviya has given such great services to his patients that they were compelled to give their reviews on him and his treatments. Here are a few of the testimonials of his patients:
Mr. Rudresh writes, "I would highly recommend Dr. Abhishek Malviya for dermal fillers. I got young and fresh skin. Thank you so much for the awesome treatment. Value for Money."
Mr. Aniket writes, "Dr. Abhishek Malviya is the best cosmetologist in India. The cost is a bit high but provides desired results. I met him for laser treatment. It improved the pigmentation of my face and it removed the wrinkles as well. I got all the attention and care from the doctors and staff."
Common Pediatric Skin Infections
Many common skin infections need the medical attention of a physician or other health care provider.
The following are some of the most common skin conditions:
Fungal skin infections
Viral skin infections
Rashes
Parasitic skin infection
Fungal Skin Infections
In the moist parts of the body, such as between the toes or the groin and diaper area, skin fungus dwells in the top layer of the epidermis. When the usual balances that keep the fungus in check are disrupted, an infection occurs.
Some fungal infections produce just little discomfort, whereas others go deeper and cause itching, swelling, blistering, and scaling.
Fungal infections can also trigger responses in other body parts. A rash on the finger or hand of a kid can be caused by an infection of the scalp or foot, for example.
Tinea Infections (Ringworms):
A fungus causes ringworm, which is a type of skin disease. It seems to be a red skin rash that develops a ring around otherwise healthy skin. Ringworm comes in a variety of forms.
Cause of Ringworm in a Child:
Ringworm is an infection, caused by a fungus rather than a worm. Dermatophytes, which are fungus that lives on the skin, hair, and nailbeds, cause it. Distinct Dermatophytes have different effects on different regions of the body. They produce a variety of symptoms.
Children at Risk:
Uses shared locker room and bathroom
Plays wrestling
Dwells in a warm climate
Comes in contact with pets and children affected with ringworm
Have a weak immune response
Malnourished
Poor immune system
Symptoms of Ringworm in a Child:
Ringworm has different symptoms depending on where the area of the body is afflicted. Below is a list of the most prevalent forms of ringworm.
Scaling of feet
Whitening between the toes
Itchy feet
Blisters on feet
Red, ring-patches in the groin area
Itchy groin
Inflamed groin
Body rash
Hair loss
Itchy scalp
Yellow stains on nails
Nail corner thickening
Diagnosis of Ringworm:
A healthy physical examination of your child is generally used to diagnose ringworm. The ringworm rash is one of a kind. This makes physical examinations simple to diagnose. Dr. Malviya may also prescribe a rash culture or skin scrapes to confirm the diagnosis.
Rashes
Viral exanthemas are a term used to describe a variety of pediatric viral illnesses. Exanthema is a Greek word that denotes rash or skin eruption. The following are examples of viral exanthemas from childhood:
Measles
Rubella
Chickenpox
Fifth disease
Roseola
Viral Skin Infections
Children also get various types of viral skin infections, which include:
Pityriasis Rosea
Warts
Molascum Contagiosum
Parasitic Skin Infections
Small insects or worms that burrow into the skin to live or deposit their eggs are known as skin parasites.
There are a variety of parasite skin infections that need medical attention from a doctor or other health care provider. Here are the parasitic infections which affect children the most:
Treatments for Skin Infection in Children
Skin infections may come back after a few treatments. The treatment may need to be redone. Your child's treatment will be determined by his or her symptoms, age, and overall health. It will also be determined by the severity of the ailment.
How do we Solve Skin Infection in Children?
The Radiant Skin Clinic is proud of the services it provides. A well-known dermatologist, Dr. Abhishek Malviya, is available for consultation. Our clinic has been voted the best in Indore, and our well-known Skin Clinic has been awarded the best in the city.
Our care is of the finest standard, and we go out of our way to ensure that our patients are at ease. Clients have more trust in us when they come in for a checkup or treatment since our services is reasonably priced.
How do we Work to get the Best Result in Dermatological Treatment in Indore?
Dr. Malviya begins treating children with skin infections by concentrating on each kid individually and meticulously assessing each treatment plan to ensure that no aspect is overlooked. Then, based on the situation, he chooses the best treatment option. He employs cutting-edge technologies to attain the greatest results.
Indore's radiant skin clinics provide the greatest dermatological treatment outcomes. We are happy to be named one of Indore's best skincare clinics. Dermatologists with years of expertise, as well as medically certified staff, make up our team.
What is the Success Rate of Pediatric Skin Treatment in Indore?
Dr. Abhishek Malviya, an experienced skin expert in Indore who treats a wide spectrum of pediatric skin illnesses, runs this skin specialist clinic. He adopts innovative strategies to improve his chances of success. Radiant Skin Clinics offers the most effective pediatric skin treatment. It is widely regarded as one of the best skin specialty clinics in the country. We educate our clients on what to expect from the procedure and how effective it will be based on their circumstances.
Dr. Abhishek Malviya's skin specialist clinic has a 95–100% success record in offering the best pediatric skin treatment options. We think that to provide the greatest possible therapy, each step must be carefully considered in the best interests of the patients, and best-in-class technology must be used. Dr. Abhishek Malviya is Indore's most experienced dermatologist, known for his ability to cure skin disorders without causing injury. Radiant Skin Clinic in Indore is always ready to serve each patient with comprehensive treatment and the finest possible outcomes.
Virtual Consultation at 20% off
Opt for an online Consultation from comfort of your home