If you are looking for the best skin specialist in Indore, it is best to visit the Radiant skin clinic for a checkup and treatment. Dr. Abhishek Malviya, an experienced, compassionate, surgeon and dermatologist will guide you through the treatment window to the recovery window with his personalized treatment.
What are your thoughts on skin that is clean and clear? Clean and clear skin needs proper skincare that reaches under the surface to identify the source of the problem. Expert skin disease consultation and skin treatment in Indore are required to determine the core cause of the problem. A better regular skincare regimen may make a huge difference in the overall quality and texture of your skin. It helps with uneven pigmentation, suppleness, and other skin issues. Indian skins suffer a lot due to pollution, sunrays, underlying health issues, allergens, and a lot more. It is important to treat them with proper care and hygiene. Indians tend to neglect their skin issues, as there is a thought process that skin is not that important. However, it is very important to treat your skin issues, as the smallest of symptoms can lead to severe disease.
Dr. Abhishek Malviya, best skin specialist in Indore, has served numerous patients who have recovered and are enjoying their healthy skin. His treatment has brought back the confidence people lost after getting affected by skin infections or other diseases.
Welcome to Radiant Skin Clinic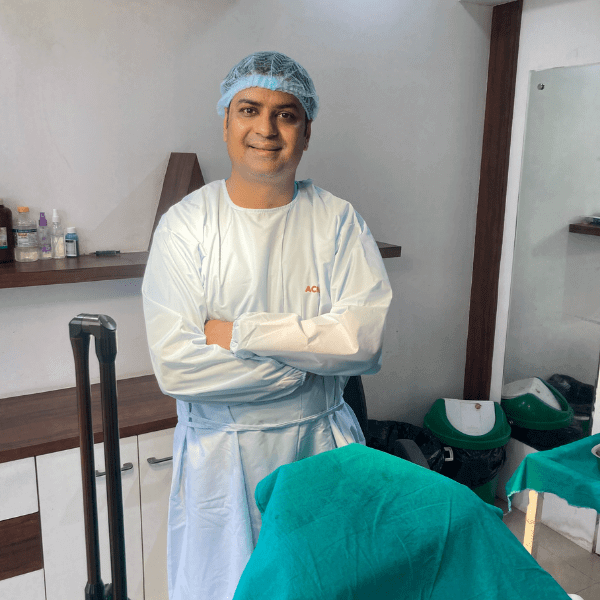 Reasons why Dr. Abhishek Malviya is the Best Skin Specialist in Indore
As already said, Dr. Abhishek Malviya is an experienced skin specialist in Indore. He has been granted the best skin specialist in Indore because of the way he treats.
He prefers educating his patients about the disease initially and then proceeds to treatment.
His advanced facilities bring out the best treatment.
Before treatment starts, Dr. Abhishek Malviya arranges numerous appointments with the patient.
He offers personalized treatment, which is patient-specific according to their skin issues.
Not only he treats his patient's skin issues but also boosts confidence in them. He studies the health history of a patient before proceeding to the treatment.
He has 10+ years of experience, without a failed case.
He has the best facilities for cosmetic surgeries and solutions for reshaping facial organs, extra fats in the body, et cetera.
He is very comprehensive about his treatment procedure.
Why Choose Radiant Skin Clinic if you are Looking for the best Skin Specialist in Indore?
In Indore, India, Radiant Skin Clinics is a well-known skin treatment clinic. We take pleasure in
providing customized skin consultations, dermato-surgical procedures, and other dermatological treatments to help you achieve smooth, supple skin. We have a team of expert nurses and therapists that assess our skin problems and provide the best skin care program for you as an industry leader in skincare and consulting.
We offer our patients individualized skin care treatments. We have the greatest skin specialist doctor in Indore who gives the proven and safest skin rejuvenation therapy to heal any skin condition, whether it is a little pimple or a birthmark. We guarantee you unique techniques which would enhance your skin condition.
Dr. Abhishek Malviya at Radiant Skin Clinic is known for providing skin care treatment.
At Radiant Skin Clinic, we provide a wide range of services that are designed to meet the needs of our clients. Some of these include:
Expert Skin Consultations and Treatment
Best Chemical Peeling Service
Best Acne Treatment
Skin Tightening and Anti-Ageing Treatment
Where can you Find Dr. Malviya's Skin Treatment in Indore?
Yes, you have chosen the best skin specialist in the town for your skin issues. Dr. Malviya's expertise has resulted in his flourishing services in the town. Apart from Radiant Skin Clinic, you can also find him in:
Dewas: Kothari medical opposite MG Hospital on
Wednesdays.
Manawar: Kailash hospital Chaitanyadham on every 2nd and 4th Sunday
Ratlam: Arogyam hospital college road near civil hospital on every 1st and 3rd Saturdays.
Book an Appointment
To avoid the complexities of the hospitals, you can directly come to Dr. Abhishek Malviya's chamber at Radiant Skin Clinic at 3rd floor Krishna Tower, ICICI and Baroda Bank Building, Greater Brijeshwari, Opposite IDA Scheme 140, Pipliyahana Indore. To book an appointment with Dr. Abhishek Malviya you can request
Why do you Need to see a Skin Specialist?
Skin specialists have knowledge about skin, its issues, how it works, how it heals et cetera. Dr. Abhishek Malviya is a skin expert and is packed with dermatological knowledge. The question is why do you need to see a skin specialist? If you start to notice a minute change in your skin, you must immediately visit a skin specialist. If you have eczema, acne, wrinkled skin, stained skin, scars, moles, viral and bacterial skin infection, itchiness, dryness in your skin, you must visit a skin specialist.
Dr. Abhishek Malviya can cure all your skin related issues with a proper course of treatment and medications. All you need to do is, follow what Dr. Abhishek Malviya says, and get treated accordingly.  He has been very ardent in his profession and has been treating patients suffering from skin cancer as well. Get yourself diagnosed and treated. Dr. Abhishek Malviya has great hands in treating patients with oncological issues.
Dr. Abhishek Malviya has given such great services to his patients that they were compelled to give their reviews on him and his treatments. Here are a few of the testimonials of his patients:
Mr. Rudresh writes, "I would highly recommend Dr. Abhishek Malviya for dermal fillers. I got young and fresh skin. Thank you so much for the awesome treatment. Value for Money."
Mr. Aniket writes, "Dr. Abhishek Malviya is the best cosmetologist in India. The cost is a bit high but provides desired results. I met him for laser treatment. It improved the pigmentation of my face and it removed the wrinkles as well. I got all the attention and care from the doctors and staff."
Major Skin Diseases Witnessed
Here are a few of the major skin diseases which are frequently diagnosed:
Acne: Acne is a common skin problem, majorly observed in young and teenagers. But sometimes the aged people also face the issue. Majorly this occurs due to the accumulation of oils on the hair follicles and pores of the epidermal skin. Dead epidermal cells are also regarded as common causes of acne. In India, every year more than 10 million individuals are recorded to have acne. With proper medical diagnoses, this issue can be cured entirely. The symptoms generally include blackheads, pimples, red bumps, sometimes filled with pus. Visit Dr. Abhishek Malviya for the best treatments against acne in Indore.
Eczema: Eczema is a dermatitis issue that causes roughness, irritation, and inflammation on the epidermis. If undiagnosed it may even cause blisters. Open sores are regarded as common symptoms of eczema. The symptoms vary in different age groups. In infants rashes with pus are observed. In children, lichenification leading to an itchy spot is observed. Neck, ankles, and Buttocks are common spots for eczema in children. In adults, the rashes may appear in the entire body. The itchy spots found there are more scaly than the children. Although this skin condition has no proper treatment, skin specialists have medical procedures to condition the affected spots and prevent the further generation of the condition. Dr. Malviya can give you a personalized treatment if you seek his consultancy.
Psoriasis: Psoriasis is regarded as an immunological disorder affecting dermatitis health. This issue directly induces excess generation of epidermal cells, resulting in scaly skin, irritation, patches, and dryness. This disease is regarded as a vital chronic disease. Sometimes pathogenic tests are needed to detect the issue. Proper diagnoses can cure the affected areas, although the condition is nearly incurable. Often the rashes are found to grow on the nails and joints too. Although the disease is incurable, Dr. Malviya will help the disease to be less uncomfortable, by conditioning the skin.
Vitiligo: Vitiligo is a medical condition when the pigment-generating cells proceed towards apoptosis. Hence, the somatological condition leads to a loss in epidermal color in the form of patches. This condition can be majorly found on the mouth, hair, and eyes. For individuals with darker skin shades, the issue becomes more prominent. This is such a type of chronic disease that has no proper treatment. But, medical diagnosis under an experienced practitioner, Dr. Abhishek Malviya, can minimize this skin disease and sustain it from further spread.
Hives: Hives are a type of skin rash induced by food allergy, medication, and lifestyle. In this skin condition irritation, and red sores on the epidermis is commonly found. It may occur due to external irritants also. This is not as dangerous as the previous ones. With proper diagnoses, it can be resolved within a week. Book an appointment with Dr. Malviya to treat Hives with advanced medication and techniques.
Seborrheic Dermatitis: It is a dermatological issue targeting the oily spots of the skin especially facial skin, and upper chest. In this condition scales, patches and red skins are generally found as symptoms. Additionally, it may even lead to dandruff on the pores. Sometimes, imaging is needed to detect this issue. It generally takes around a month to recover completely. Dr. Abhishek Malviya is the best skin specialist in Indore, and treated many patients with Seborrheic Dermatitis. Book an appointment to get yourself treated.
Rosacea: It is a common skin disease found in aged women with fair complexion. It looks similar to acne. Red bumps causing pus is a common symptom of this disease. If it is swollen heavily then sometimes small blood vessels are visible. It is considered a chronic disease. Although no treatment can completely heal this, proper diagnoses can cure the affected areas. Dr. Malviya, the expert skin specialist can treat you against Rosacea, smoothly without any hassle.
Ichthyosis: Commonly found ichthyosis is considered to be a genetic disorder but sometimes it is induced by Hodgkin's Lymphoma also. Dryness and scales are found on the skin in this disease. In severe cases, it may even cause pain. Epidermis gets thickened in this skin issue. Although regarded as a chronic disease, diagnoses can cure the affected spots. Consult Dr. Malviya for Ichthyosis treatment.
Your skin specialist, Dr. Abhishek Malviya can help you identify potential issues with your skin. They can also advise on how to improve the appearance of these natural features
How do we Treat These Issues?
Radiant skin clinic is very particular about the treatment they provide. Our renowned skin specialist Dr. Abhishek Malviya offers the best of his services to treat patients with skin issues and illnesses. We have been granted the best clinic, and our esteemed skin specialist has been regarded as the best skin specialist in Indore.
Our treatment is world-class, with a patient-friendly environment. Our services are cost-effective, which makes us more reliable for the patients who come for checkups and treatment.
Boost Your Confidence
It is very natural to stay aloof from friends, family, acquaintances if you suffer from skin issues. You may also restrict yourself from joining your friends at a party, or going to university farewell! It is time you bid goodbye to your insecurities and boost your confidence by treating
your skin under the skin specialist Dr. Abhishek Malviya in Radiant Skin
Clinic.  He is known for understanding your skin issues deeply and also boosting your confidence. Healthy skin helps in elevating your confidence and being the show's topper! Good health is the key to relishing the world!
A proper skin treatment will help you regain your confidence and enhance your skin at the same time. Hence, hurry up, get your checkup done.
A conventional FUT procedure involves the physician removing a big slab of tissue from the donor site of the top of the head and then separating the donor band into specific follicular components before actually implanting them.
The follicle components are derived independently and explicitly out from the scalp during an FUE process, which is typically performed to use an automation process. A series of small, shaped perforations or puncture wounds are dispersed throughout the donor site as part of the extraction technique. FUE can also be used to cultivate body hair as a donor area in certain instances.
The method used to cultivate donor tresses is critical as it can have a significant effect on both your expertise and the outcome of your transplant.
Advantages of Skin Care Treatment
Are you thinking about what will be the outcome after skin treatment? Drop the thought as there are lists of advantages if you undergo skincare treatment. Skincare does not only mean you need to prep your skin, it also means treating deadly diseases like skin cancer. It is a huge spectrum, which needs to be talked of.  Therefore, what we get through skin treatments are the advantages that we would later feel good about. The advantages are:
• It slows down the ageing of the skin
• It helps in preventing allergen attacks
• It prevents bacterial and viral infection
• If prevents in settling up of skin cancer
• It helps in giving you a radiant look
• It rejuvenates your skin quality and mood
• It cuts down on the chances of wrinkles, moles, scars
• It helps in removing toxins and gives a healthy skin
• It helps in preventing the scope of any deadly skin diseases
Virtual Consultation at 20% off
Opt for an online Consultation from comfort of your home
Dos and Don'ts After Skin Treatment
There is always a post-care skin routine, which you need to follow To avoid adverse effects on your skin. Let us know how to take a post-treatment care of our skin:
Treatments and procedures are a wonderful opportunity to illustrate your greatest features, but be careful how you care for your skin afterwards. At least two weeks following your consultation, avoid strong chemicals, peels, waxes, or other laser treatments. By avoiding them, your skin will be able to recover and return to its original form. Because your skin will be inflamed and sensitive than normal, keep it simple by bathing, moisturizing, and letting it alone.
It's important to give the skin rest after it's free of dead cells, toxins, hair, or any other skin problem the treatment is addressing. Makeup and topical treatments should not be used on the treated region. When these chemicals are applied to the afflicted region, they clog the pores, causing irritation and damage to the skin.
The skin's protective barrier is reduced after therapy. Because the protective barrier is weaker, the skin is more susceptible and prone to injury. You must avoid the sun for at least seven days following your treatment. Due to the severe effects of UV radiation, direct contact with the sun is harmful to the skin and slows the healing process. This is caused by increased skin sensitivity as a result of a therapy that causes you to become more inflamed and irritated than usual. The skin's fragility after treatment necessitates low temperatures and little heat exposure. Excessive heat from hot showers, tubs, heating pads, or saunas should be avoided.
Drinking water is the most important thing after the treatment. It keeps your skin hydrated and acts as a healer. It keeps the pores activated to allow normal functioning of the epidermal cell. It also helps in preventing any other external elements from hitting your skin.
Side Effects of Skin Treatment
No treatment comes without its added side effects. Skin treatment has its side effects. It depends on how strong the medication or the doses are. The side effects are:
Skin dryness and inflammation are the most prevalent adverse effects. These symptoms, thankfully, are just transitory. They usually become better as your body adjusts to the medicine.
Antibiotics can cause stomach discomfort as well as dizziness and lightheadedness.
The medication might also affect liver function.
How do we Work to get the Best Result in Skin Treatment in Indore?
Dr. Malviya treats skin problems by focusing on each patient individually and meticulously analyzing each treatment plan to ensure that no detail is overlooked. He  then implements the appropriate treatment strategy. For the finest outcomes, he employed advanced technologies.
Radiant skin clinics in Indore provide the best skin treatment outcomes. We are proud to be regarded as one of Indore's best hair transplant clinics. We have dermatologists with years of expertise and medically educated staff.
What is the Success Rate of Skin Treatment in Indore?
Our expert and experienced hair surgeon, Dr. Abhishek Malviya, performs the hair transplant in Indore at Radiant Skin Clinics using advanced techniques that provide a high success rate.
Radiant Skin Clinics is one of the most renowned hair transplant clinics for hair transplant in Indore, which has been enlisted among the top hair transplant clinics. We clearly inform our patients about how much they can expect from the procedure and how successful it will be according to their conditions.
Dr. Abhishek Malviya's hair transplant clinic provides the best possible hair transplant results with a success rate of 95 – 100 %. We believe in carefully considering every small step in the best interest of the patients and leverage best-in-class technology to deliver the best. Dr. Abhishek Malviya is the most experienced hair transplant surgeon in Indore, and he is well known for his mastery in performing hair transplants with a minimal damage rate of less than 1%. Radiant Skin and laser clinic is always here to serve every patient with a world-class hair transplant in Indore,  providing you the maximum possible hair density and extremely natural-looking results.