Fine lines and wrinkles may appear as you grow older. These undesirable flaws appear as a result of aging, which causes weaker, rougher, and stretchy epidermis that has yet to defend itself from harmful agents such as heat, tension, or repetitive motions such as frowning. Furthermore, time and sun damage reduce the formation of collagen and elastin, protein molecules crucial for maintaining skin young and beautiful.
Thankfully, there are non-invasive treatments for fine lines and wrinkles that do not necessitate operation or extensive downtime. Continue reading to learn how to reduce fine lines and wrinkles.
Welcome to Radiant Skin Clinic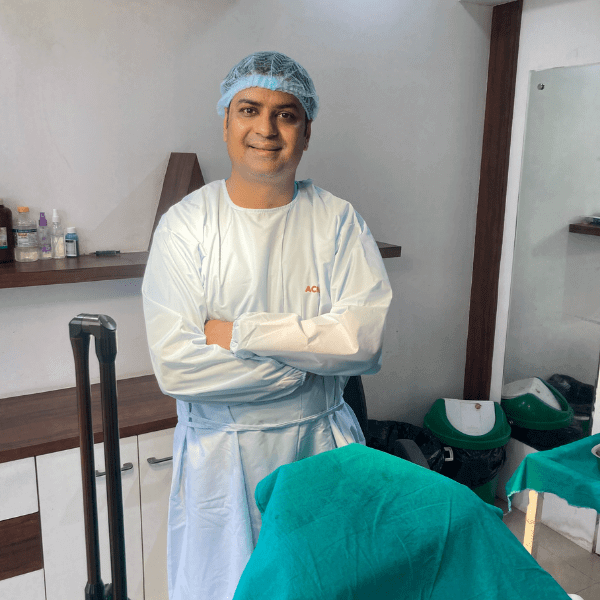 Reasons why Dr. Abhishek Malviya is the Best Skin Care Specialist in Indore
Dr. Abhishek Malviya is an Indore dermatologist, surgeon, and skin expert. His talent has been impressive since the onset of his career. He has always gone out of his way to help others, no matter their age. Dr. Abhishek Malviya is the top skin expert in Indore for the following reasons:
He has been one of the most successful dermatologists and surgeons.
He offers advanced dermatology treatment in Indore.
He provides numerous sittings before proceeding with treatment.
He has experience of above 10 years without a failed treatment
He helps in boosting confidence in patients who are demoralized due to their falling dermatological health.
His history of treating patients has an exponential career graph.
He studies your health history thoroughly to come up with a treatment course, i.e., his treatment course is personalized for every patient.
He has the best facilities for cosmetic surgeries and solutions for reshaping facial organs, extra fats in the body, et cetera.
Why Choose Radiant Skin Clinic if you are Looking for a Dermatologist in Indore?
Dr. Abhishek Malviya's Radiant Skin Clinic has been named one of the top dermatologist clinics in Indore. Radiant Skin Clinics offer quality service and a 100% recovery rate to its patients.
Radiant Skin Clinic provides the following services:
Best Acne Scar Treatment
Best Hair Transplant Service
Expert Skin Consultation and Treatment
Expert Diseases Consultation and Treatment
Best Chemical Peeling Service
Skin Tightening and Anti-Ageing Treatment
Thread Lift and Dermal Fillers
Dermaroller/Dermapen
PRP Therapy Best
Laser Treatment
Ear Lobe Repair and
Ear Piercing
Testimonials of Patients
Dr. Abhishek Malviya has given such great services to his patients that they were compelled to give their reviews on him and his treatments. Here are a few of the testimonials of his patients:
Mr. Rudresh writes, "I would highly recommend Dr. Abhishek Malviya for dermal fillers. I got young and fresh skin. Thank you so much for the awesome treatment. Value for Money."
Mr. Aniket writes, "Dr. Abhishek Malviya is the best cosmetologist in India. The cost is a bit high but provides desired results. I met him for laser treatment. It improved the pigmentation of my face and it removed the wrinkles as well. I got all the attention and care from the doctors and staff."
Where can you Find Dr. Malviya's Acne Scar Treatment in Indore?
You've picked the greatest skin specialist in town to help you with your acne scars. Dr. Malviya's competence and experience have resulted in a thriving practice in town. In addition to Radiant Skin Clinic, he may be seen in the following locations:
 Dewas: Kothari medical opposite MG Hospital on Wednesdays.
Manawar: Kailash hospital Chaitanyadham on every 2nd and 4th Sunday
Ratlam: Arogyam hospital college road near civil hospital on every 1st and 3rd Saturday.
Book an Appointment
The address of Dr. Akhishek Malviya's Radiant Skin Clinic is on the 3rd floor of the Krishna Tower, ICICI and Baroda Bank Building, Greater Brijeshwari, Opposite IDA Scheme 140, Pipliyahana Indore, to circumvent hospital issues. You may schedule an appointment with Dr. Abhishek Malviya by clicking here.
Dr. Abhishek Malviya has given such great services to his patients that they were compelled to give their reviews on him and his treatments. Here are a few of the testimonials of his patients:
Mr. Rudresh writes, "I would highly recommend Dr. Abhishek Malviya for dermal fillers. I got young and fresh skin. Thank you so much for the awesome treatment. Value for Money."
Mr. Aniket writes, "Dr. Abhishek Malviya is the best cosmetologist in India. The cost is a bit high but provides desired results. I met him for laser treatment. It improved the pigmentation of my face and it removed the wrinkles as well. I got all the attention and care from the doctors and staff."
Types of wrinkles
Wrinkles are among the most visible indicators of aging. You can classify wrinkles into two categories:
Dynamic Wrinkles:

 While you grin, giggle, or frown, the muscles in your face flex, causing dynamic wrinkles. We can observe wrinkles all-around lips, also on the forehead, as well as between brows. If they appear at the edge of your eyes, they are also known as "crow's feet". Everybody has dynamic wrinkles, and as we become older, they become even more noticeable. bo-to-x lessens the severity of such wrinkles.

Fine Line and Wrinkles:

 Fine lines and wrinkles form whenever the collagen in the skin begins to weaken. Collagen is a protein found immediately under and deeper inside the surface of the epidermis. Collagen depletion is triggered by aging and degradation resulting from excessive solar radiation. Whenever the epidermis on the face expands and droops, fine wrinkles form.
bo-to-x Treatment for Fine Lines and Wrinkles

Introduction about bo-to-x:

 bo-to-x, officially referred to as Botulinum Toxin Type A, is produced by the microorganisms that cause botulism. Botulinum toxin temporarily reduces muscular activity by inhibiting neural activation in the tissues. bo-to-x is also reported to be utilized to cure cervical dystonia and muscular contractions in the upper and lower limbs. It is often used to alleviate excessive armpit perspiration. bo-to-x is also used to treat some eye diseases that are caused by neural abnormalities. It is often used to cure lower urinary tract symptoms and leakage caused by neurological problems such as spinal cord damage, among other things. bo-to-x can also be used in beautification techniques to effectively smooth out wrinkles on the face.

Working Procedure:

 bo-to-x is mostly used to cure dynamic wrinkles. bo-to-x is a combination derived from botulinum toxin, which momentarily debilitates muscular action. It prevents your neurons from interacting with the specific tissues, resulting in a reduction in the development of dynamic wrinkles. Static wrinkles can also be reduced by bo-to-x, although not as successfully as dynamic wrinkles. When you have static wrinkles, you must think about dermal fillers, which are injectables that either pump your epidermis with hyaluronic gel or stimulate collagen synthesis to momentarily patch in the existing wrinkles and fine lines.
Botulinum toxin is administered in extremely tiny dosages. The material is dissolved with a solution before being infused straight through into neuromuscular muscle. It takes 24-72 hours for the Botulinum toxin to take measures. This also represents the time necessary to interrupt the synaptosomal mechanism. In extremely rare cases, it may take approximately 5 days for the full impact of the botulinum toxin to be apparent. This toxin should not be used by pregnant or nursing females, or by people who have previously encountered adverse responses to the medicine.
Botulinum toxin operates by stopping nerve impulses from reaching the tissues. This helps stop the muscles from flexing, resulting in paralysis. At the junction of the nerve terminals and the muscle tissue, the neurons produce the chemical acetylcholine, which causes muscular contractions. Acetylcholine, the chemical messenger, binds to myocytes' sensors, causing the muscles to contract or shrink. Again when the Botulinum toxin has been administered, the emission of acetylcholine is inhibited. As a consequence, the muscle fibers are unable to tighten.
Ideal Candidate:

 The best person for bo-to-x treatment must be in good physical health and over the threshold of 18. The treatment's success can differ in different individuals.

Care after bo-to-x:

 It is essential to take care of your skin following a bo-to-x treatment. Here are several skin-care recommendations.

Do not contact the area that has been treated for at least 24 hours. Massaging or touching the treatment region may cause the bo-to-x to spread to other muscles that were not planned.
Avoid engaging in any strenuous physical exercise.
Large quantities of alcohol should be avoided.
Avoid having any type of face or chemical peels for the following 24 hours after the procedure.
If you have any adverse effects, contact your doctor right once.
Benefits: Several individuals use bo-to-x therapy to enhance their facial appearance because of its numerous benefits. Several ladies desire beautiful skin without the need for cosmetic augmentation. bo-to-x is an intrusive procedure that can help cure wrinkles and fine lines on your face, collar, also around your lips.
Abnormal armpit perspiration affects both men and women, causing humiliation. A modest bo-to-x therapy can assist to address this and reduce the frequency with which it occurs.
Few people have experienced a reduction in migraine symptoms. This can thus be advantageous for persons who endure persistent migraines.
Chemical Peeling for Fine Lines and Wrinkles
A chemical peel's key lies in the combination of chemicals, which includes Vitamin C, Glutathione, Retinoic Acid, Kojic Acid, Phenol, TCA, and Salicylic Acid. They work together to treat a variety of skin issues, leaving you with beautiful, glowing skin for months at least. Here's everything you need to understand concerning chemical peel therapy and how it may help with fine lines and other skin issues.
Chemical Peeling: Condition it Serves
Chemical peels are used to treat skin problems that affect the face, neck, and hands. They can aid in the prevention or treatment of the following conditions:
Sun marks, age spots, liver spots, freckles, and uneven skin.
Acne
Scarring
Sun damage, aging, and inherited causes generate fine lines around your eyes and wrinkles around your lips.
Rough skin, scaly areas, and a drab appearance.
Melasma (dark patches) is caused by pregnancy or birth control medications.
Actinic keratosis, a precancerous scaly patch.
Dr. Abhishek will guide you through the process of calculating the depth of your peel. Based on the condition of your skin and your treatment goals, you may need to make a mutual choice. Dr. Abhishek Malviya can assist you in determining the best solution to your problems.
Types of Chemical Peeling
Three types of chemical peels are available, depending on the severity of your fine lines:
Superficial Chemical Peel:

 This chemical peel concentrates on the skin's uppermost part, delicately exfoliating unwanted dead skin cells.

Medium Peel:

 This chemical peel improves deeper fine wrinkles by targeting the skin's intermediate and outermost levels.

Deep Peel:

 This chemical peel is no longer extensively used since it is only appropriate for badly damaged skin because laser skin resurfacing is both safer and more effective.
For treating Fine Lines and Wrinkles, it is best to book an appointment with Dr. Abhishek Malviya. He will observe, examine your skin, and suggest if you should go with chemical peeling or not.
How Many Sessions are Required to Treat Fine Lines and Wrinkles with Chemical Peeling?
One to three treatments are usually advised, and they should be spaced at least four weeks apart. Once you've properly erased the fine lines to the point where you're happy with the aspect of your skin, you may want to consider getting a chemical peel facial twice or three times a year to keep the appearance as long as feasible.
Book an Appointment
With Best Dermatologist in Indore
To avoid the complexities of the hospitals, you can directly come to Dr. Abhishek Malviya's Clinic at Pipliyahana, Indore.
Book your Consultation
How to Prepare Your Skin for Chemical Peeling?
Dr. Abhishek Malviya will set up pre-treatment procedures for chemical peeling. However, in general, it is best to avoid sun exposure, exercise, hectic schedule in the open air, as it will make your skin dirty. Also, you should moisturize your skin after cleaning it every day.
After your chemical peeling is done, you can resume your normal works, while avoiding sun exposure, make-up, exercises.
Avoid Chemical Peels Which Are Readily Available in the Market
Applying acid solution correctly onto your skin is a crucial task, which a professional is only the best at! Improper application can damage your skin coarsely and may not be curable. Hence, Radiant Skin Clinic is the best option for you to get your fine lines and wrinkles treated with chemical peeling.
Flawless skin free of fine lines and wrinkles may enhance your personality significantly, so it's worth pursuing if you want to make some adjustments.
Benefits of Chemical Peeling on Fine Lines and Wrinkles
Some of the benefits of chemical peeling on fine lines and wrinkles are:
Mesotherapy
Mesotherapy is a procedure that employs injections of vitamins, enzymes, hormones, and plant extracts to renew and tighten skin while also removing unwanted fat.
Mesotherapy is a non-invasive, non-surgical procedure that involves injecting medicinal and homeopathic formulations, plant extracts, vitamins, and other compounds into subcutaneous fat.
Which Conditions Does Mesotherapy Treats
Mesotherapy treats several conditions such as:
Fine Lines and Wrinkles
Cellulite reduction
Fat reduction
Acne-scar removal
Tighten loose skin
Lighten pigmented skin
Side Effects of Mesotherapy
There are a few side effects of Mesotherapy, which includes:
Nusea
Swelling
Sensitivity
Pain
Scars
Infection
Rash
Redness
Bruising
Itching
Benefits of Mesotherapy
Whilst Mesotherapy is used for a variety of ailments, it has lately gained popularity when applied on the face to give a young appearance. The benefits of Mesotherapy hereby are:
Smoothens Wrinkles, and Fine Lines
Stimulates collagen production
Targets cellulite
Improves symmetry of the face
How to Prepare for Mesotherapy?
You will have to discontinue consuming aspirin to prevent excess bleeding during the treatment. You should also stop using retinol-containing products several days before your treatment since they might irritate the skin and make it extra sensitive. It's also a wise idea to avoid alcoholic beverages for at least 24 hours before therapy. After your procedure, you should apply sunscreen to protect your skin and avoid any further operations until your skin has fully healed.
Virtual Consultation at 20% off
Opt for an online Consultation from comfort of your home
How do we Solve Fine Lines and Wrinkle Issues?
The Radiant Skin Clinic is pleased with its services. Dr. Abhishek Malviya, a well-known Dermatologist, provides his patients with the best care possible. Our clinic was named the finest in Indore, and our well-known Skin Clinic was named the best in the city.
Our therapy is of the highest standard, and we go out of our way to make our patients feel comfortable. Customers trust us more when they come in for an inspection or treatment since our services are fairly priced.
How do we Work to get the Best Result in Fine Lines and Wrinkle Removal Treatment in Indore?
Dr. Malviya addresses fine lines and wrinkles by focusing on each patient as an individual and thoroughly reviewing each treatment plan to ensure that no detail is ignored. Following that, he employs the best therapeutic technique for the existing scenario. He makes use of cutting-edge technology to achieve the best outcomes.
The greatest treatment outcomes are provided by Indore's radiant skin clinics. We are honored to be considered one of the best in Indore. On our crew, we have dermatologists with years of experience as well as medically qualified experts.
What is the Success Rate of Fine Lines and Wrinkles Reduction Treatment in Indore?
This skin specialist clinic is managed by Dr. Abhishek Malviya, a professional skin expert in Indore who treats a wide range of skin ailments. To increase his chances of success, he employs creative tactics. Radiant Skin Clinics offers the most effective skin treatment on the market. It is highly considered as one of the country's top skin specialty clinics. Based on their specific circumstances, we advise our customers on what to expect from the process and how successful it will be.
Dr. Abhishek Malviya's skin specialist clinic has a success rate of 95–100% in providing the best skin treatment solutions. To give the greatest therapy possible, we believe that we must thoroughly evaluate each step in the best interests of the patients and apply best-in-class technology. Dr. Abhishek Malviya is Indore's most experienced skin doctor, and he is well-known for his ability to heal the skin without causing injury. Radiant Skin Clinic in Indore is always ready to provide thorough care and the best possible results for each patient.