Dandruff is very prevalent in today's time. Almost individuals of all ages face this problem. It is a kind of dermatitis, which needs to be treated as early as possible as it may result in other health conditions. It doesn't only lead to other severe health conditions, but also leads to depression, anxiety, social awkwardness, loss of confidence and so on.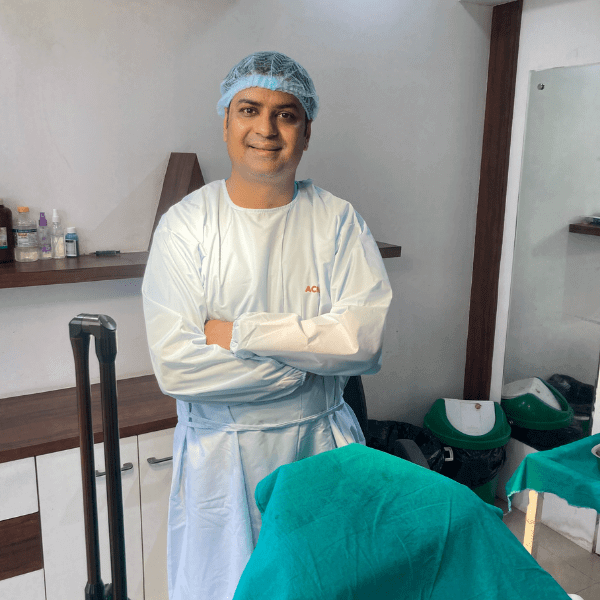 Reasons why Dr. Abhishek Malviya is the Best Dandruff Treatment in Indore
Dr. Abhishek Malviya is a prominent hair care specialist who practices at Radiant Skin Clinic. Because of his individualized approach to therapy, he has been named the top hair expert. To treat his patients, he uses advanced technology. He has treated people with hair problems for over ten years and has never had a case fail. He works with a variety of hair problems, including dandruff, itchy scalp, frizzy hair, greying hair, hair loss, and more. His genuine and tailored therapy will restore your self-assurance.Dr. Abhishek Malviya provides several remedies to his patients, depending on their severity and other conditions.
What is Dandruff Treatment?
Dandruff is one of the most concerning and growing problems in Indore and around India. It can be caused by a variety of factors, including stress, environmental changes, climatic conditions, dietary habits, lifestyle, workloads, and depression. To address the problem, contact Dr. Abhishek Malviya
Causes of Dandruff?
There are numerous reasons behind the formation of dandruff. Let us understand thoroughly:
Microbial Theory + AJY
The most commonly recognized theory is the microbial theory. It claims that dandruff is caused by a bacterium called Malassezia Globosa, which is typically found in everyone's scalp. Sebum (natural scalp oils) is believed to nourish the organism, which keeps the hair and scalp skin moisturized.
When sebum degrades, a by-product known as oleic acid is formed, which most individuals are allergic to. The scalp becomes itchy and inflamed as a result of this sensitivity. As a result of the inflammation, the brain instructs the skin cells to shed more quickly. Dandruff is the term for this type of shedding.
The Corneocyte Theory
The stratum corneum (SC), the epidermis' topmost layer, serves as a barrier against water loss as well as the invasion of microbes and other environmental factors. The SC is made up of many layers of "corneocytes" covered in lipid lamellae and bound together by corneodesmosomes, which are specialized intercellular cell adhesion structures. The epidermal permeability barrier function is affected by changes in lamellar lipid content, corneocyte size or shape, corneodesmosome number, and SC thickness.
This intercellular organization is generally influenced by sebum to assist exfoliation. Changed corneodesmosomal hydrolysis, on the other hand, affects lipid structure and the exfoliation process in dandruff, resulting in abnormal barrier function. Dandruff sufferers are more receptive to topical administrations of histamine or oleic acid to the scalp than controls (greater itch perception or flaking). These findings suggest that a disturbed epidermal barrier function contributes to dandruff exacerbation.
Apart from these theories, other conditions causes dandruff, those are:
Dry Skin
The scalp can become itchy and flaky as a result of dry skin. These dry flakes are widespread throughout the winter and in areas where the temperature is chilly all year.
Oily Scalp
If you have an irritable and oily scalp, as well as itchy, red rashes on your brows, eyelids, around your nose, or in the center of your chest, you may have seborrheic dermatitis, which is an extreme version of dandruff. The scalp becomes oily as a result of this illness, and white flakes and yellow scales appear around the brows, eyelids, and nose.
Dirty Scalp
If you don't clean your scalp regularly, the debris, dust, and oils that collect as a result of air pollution and natural oil secretion might cause dandruff. Shampooing regularly is necessary to maintain the scalp clean and dandruff-free.
Stress
Stress is another chief problem of dandruff because it weakens the immune system and allows the bacterium Malassezia Globosa to proliferate. It also causes a vicious cycle of itching and scratching, where the more you scratch your scalp, the itchier it becomes.
Treatments of Dandruff
Because the reasons differ, the therapy differs from patient to patient. To proceed to the next phase of therapy, Dr. Abhishek Malviya will conduct a complete analysis of the patients' activities, health problems, eating habits, and lifestyle.
At Radiant Skin Clinic, you will receive first-rate treatments for dandruff using tailored treatment methods and advanced technology.
PH Balanced Shampoos
Always opt for shampoos that are pH balanced. This will help you attain a healthy scalp. Always check for the following ingredients in your shampoo for a better scalp:
Ketoconazole
Salicylic acids
Selenium sulfide
Tea-tree oil
Healthy Diet
A healthy diet is very essential to keep your scalp healthy. Fibres, vitamins, minerals, proteins keep your scalp healthy.
Book an Appointment
With Best Dermatologist in Indore
To avoid the complexities of the hospitals, you can directly come to Dr. Abhishek Malviya's Clinic at Pipliyahana, Indore.
Book your Consultation
Why do you Need to see Dandruff Treatment Specialist?
Hair specialists are knowledgeable about hair, its problems, how it functions, and how it heals, among other things. Dr. Abhishek Malviya specializes in hair care and is a dermatologist. You might be asking why you should seek the advice of a hair specialist. If you observe any changes in your hair, you should see a hair professional as soon as possible. You should see a hair expert if you have dandruff, frizzy hair, thin hair, itchy scalp, scalp inflammation, hair loss, grey hair, or bald spots.
How do we Solve Dandruff Issues?
Radiant Skin Clinic takes pride in the services it offers. Our well-known hair specialist, Dr. Abhishek Malviya, provides the best of his services to individuals suffering from hair difficulties and diseases. Our clinic was named the finest in Indore, and our well-known hair specialist was named the best in the city.
Our therapy is of the highest quality, and we create a comfortable environment for our patients. Our services are fairly priced, which gives customers more confidence in us when they come in for testing or treatment.
Virtual Consultation at 20% off
Opt for an online Consultation from comfort of your home
How do we Work to get the Best Result in Dandruff Treatment in Indore?
Dr. Malviya addresses hair issues by concentrating on each patient individually and thoroughly evaluating each treatment plan to ensure that no detail is missed. He then employs the most appropriate therapy method for the circumstances. To achieve the best results, he uses current and innovative technology.
Indore's radiant skin clinics provide the greatest hair treatment results. We are honored to be considered one of Indore's top hair transplant clinics. On our crew, we have dermatologists with years of experience as well as medically trained people.
Dr. Abhishek Malviya has given such great services to his patients that they were compelled to give their reviews on him and his treatments. Here are a few of the testimonials of his patients:
Mr. Rudresh writes, "I would highly recommend Dr. Abhishek Malviya for dermal fillers. I got young and fresh skin. Thank you so much for the awesome treatment. Value for Money."
Mr. Aniket writes, "Dr. Abhishek Malviya is the best cosmetologist in India. The cost is a bit high but provides desired results. I met him for laser treatment. It improved the pigmentation of my face and it removed the wrinkles as well. I got all the attention and care from the doctors and staff."
What is the Success Rate of Dandruff Treatment in Indore?
At this skin specialist clinic, Dr. Abhishek Malviya, an expert hair specialist in Indore who treats a wide range of hair disorders, practices. He employs innovative procedures to ensure the maximum possible success rate. Radiant Skin Clinics provides the most effective hair treatment accessible. It has a reputation as one of the greatest hair specialist clinics in the country. Based on their unique circumstances, we advise our customers how much they may expect from the operation and how successful it will be.
Dr. Abhishek Malviya's skin specialist clinic has a success rate of 95–100% in providing the best possible hair treatment solutions. We believe in carefully examining each step in the best interests of the patients and employing best-in-class technology to deliver the best possible treatment. Dr. Abhishek Malviya is Indore's most experienced hair expert, and he's famed for his ability to manage hair without hurting it. Radiant Skin Clinic is always ready in Indore to give complete treatment and the best possible results for each patient.