Best Dermatologist in Indore
Indian skin undergoes severe environmental issues which include pollution, extreme sun rays and heat. A lot can be done to take care of the dermatological issues Indian skin faces. We can take down the allergen attacks on our skins. Dr. Abhishek Malviya, Dermatologist and Surgeon with 10+ years of experience provide stupendous treatments on dermatological issues. If your skin is undergoing moles, scars, persistent rashes, warts, Dr. Malviya will provide you with the best treatments in Indore. He also serves his patients with cosmetic solutions reshaping the nose, reducing excess fat, et cetera.
Welcome to Radiant Skin Clinic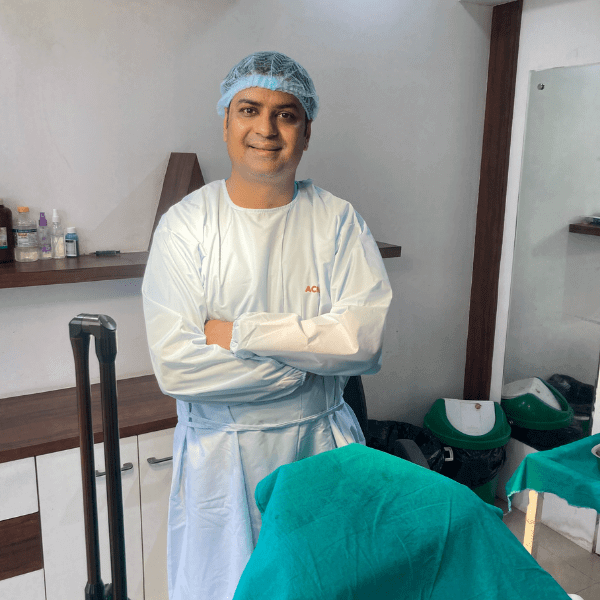 Reasons Why Dr. Abhishek Malviya is The Best Dermatologist in Indore
Dr. Abhishek Malviya is a famous and renowned dermatologist, Surgeon in Indore. His expertise has been a class apart since the beginning of his career. Dr. Abhishek Malviya serves people regardless of age. Here are 10 reasons why he is the best dermatologist in Indore:
Why Choose Radiant Skin Clinic If You Are Looking for a Dermatologist in Indore?
Radiant Skin Clinic has been rated as one the best clinics for dermatological treatments in Indore, under the guidance of Dr. Abhishek Malviya. Radiant Skin Clinic ensures the patients with quality treatment with a 100% successful recovery rate.
If you are looking for the best dermatologist in Indore, you must choose Radiant Skin Clinic because of the service we provide. They are:
Best Hair Transplant Service

Expert Skin Consultation and Treatment

Expert Se Diseases Consultation and Treatment

Best Chemical Peeling Service

Best Acne Scar Treatment

Skin Tightening and Anti-Ageing Treatment
Thread Lift and Dermal Fillers

Dermaroller/Dermapen

PRP Therapy

Best Laser Treatment

Ear Lobe Repair and Ear Piercing
Get World-Class Treatment by Dermatologist in Indore
At Radiant Skin Clinic, we provide world-class dermatological treatment. Dr. Abhishek Malviya is an experienced and renowned dermatologist in Indore. He has been serving his patients for 10 years and above. His compassion towards his patients not only makes him a good doctor but also the patients can believe in his personalized treatments. He used advanced techniques and plans the treatment course for every patient individually. The medications he provides are dispatched before numerous studies on the disease and the dermatological condition of the affected.
We are proud to regard ourselves as the best skin clinic n Indore, as the performance by far has been top-notch. No patients have complained anything post-treatment, rather has informed how changed their life is now.
Get Effective and Inexpensive Treatment by Most Renowned Dermatologist in Indore
We in the dermatological field provide our patients with cost-effective treatment. Dr. Abhishek Malviya believes, health is wealth. Hence the treatment procedure is designed to be pocket friendly for our patients. None should go back due to the fees, treatment cost. We have been serving for more than 10 years now; our profit is determined by the good health of our patients.
Our promising and renowned dermatologist ensures that the treatment must be imparted to all within a range which will be affordable and advantageous.
We don't visit doctors in India, due to the sky-rise visits and treatment expenditure. Hence, we must provide a patient-friendly environment.
Dr. Abhishek Malviya has given such great services to his patients that they were compelled to give their reviews on him and his treatments. Here are a few of the testimonials of his patients:
Mr. Rudresh writes, "I would highly recommend Dr. Abhishek Malviya for dermal fillers. I got young and fresh skin. Thank you so much for the awesome treatment. Value for Money."
Mr. Aniket writes, "Dr. Abhishek Malviya is the best cosmetologist in India. The cost is a bit high but provides desired results. I met him for laser treatment. It improved the pigmentation of my face and it removed the wrinkles as well. I got all the attention and care from the doctors and staff."
100% Safe Dermatology Treatment
We at Radiant Skin Clinic believe treatment procedures must be hygienic, and without any structural damage to the body. Our dermatology Treatment is 100% safe and secured. Specifically, in the Covid-19 situation, we ensure to wear a mask, sanitize our clinic from the front to the back, including patients' chairs, reception, waiting room, patients' bed, doctor chamber.
The patients are only allowed if they are properly maintaining the covid protocols. We are providing masks at the entry; we also sanitize every person coming in.
Apart from the Covid protocols, the medical tools, machines, clinic supplies, are regularly cleaned and replaced after a certain period to maintain cleanliness.
We offer the safest dermatology treatment in Indore and are proud to regard ourselves as the best Skin clinic.
Branches of Dermatology
To have a basic idea of how you can approach treatment, you must know the different branches of dermatology and its fields.
Dermatology can be divided into 4 branches, they are:
Dermatopathology: This field merges both dermatology and pathology. In Dermatopathology, your hair, skin and nail samples are collected or used for diagnosing a disease in its later or early stages.
Pediatric Dermatology: This field deals with children who are facing skin, hair, and nail ailments as a side effect of persistent disease.
Mohs Surgery: This field deals with skin cancer, for which the Mohs Treatment may recommend. Mohs Surgeon practices Mohs Surgery to treat skin cancer solely.
Cosmetic Dermatology: This field does not necessarily deal with maintaining dermatological health, but it deals with Botox, dermal fillers, smoothening fine lines, wrinkles, hair removal, hair transplant, laser therapy.
Book an Appointment
With Best Dermatologist in Indore
To avoid the complexities of the hospitals, you can directly come to Dr. Abhishek Malviya's Clinic at Pipliyahana, Indore.
Book your Consultation
10 Reasons Why You Should See a Dermatologist
Indian skin faces a lot of issues that must be treated as early as possible. Skin is one of the most neglected areas which too need to be healthy to maintain a healthy lifestyle. The most common skin issues are blemishes, acne, wrinkles. However, several conditions lead to skin issues. Here is a list of 10 reasons why you should see a dermatologist:
Acne: If the oil glands in your skin produce too much sebum, you will face acne issues. Acne also includes blackheads, whiteheads, pimples, and cysts. Acne may also occur due to bacterial infection. Blemishes commonly appear on your face, shoulder, chest, neck, back. You must see a dermatologist to rule out acne as it can be unruly and can make permanent scars in the areas of acne. There are various medications to treat acne. The dermatologist will diagnose the affected area and treat it accordingly.
Eczema: It is a chronic skin condition that results in skin inflammation. The symptoms of eczema are redness, itchy and dry skin. Atopic dermatitis is one of the most common types of eczema, which affects infants and children. These rashes may also leak puss which can be disturbing for children. The treatments include a skin exam, few tests, oral medicines and ointments. Eczema can turn out to be severe if not treated accordingly.
Psoriasis: Psoriasis occurs due to issues related to the immune system. This is a condition where the skin cells are formed too quickly. The skin cells get accumulated on the skin surface which is referred to as plaques. They are thick, red, and have silver scales. They are painful and itchy, and largely affect the elbows, legs, face, knees, face and scalp. Although uncommon, they may also affect the genitals, fingernails, or inner part of the mouth. The diagnosis is done by examining skin samples under the microscope. Psoriasis needs dermatologist help to heal, and must not be neglected.
Signs of Aging: With age, your skin changes. It undergoes wrinkles, discoloration, and dryness. The ultraviolet ray helps these to occur faster and ages you before time. A healthy diet can help you from locking the age. You can also seek dermatological help to get the skin treatment done.
Skin Cancer: It is one of the most common kinds of cancer, and also if diagnosed early can be treated and cured. Melanoma is the most dangerous cancer and can be deadly. Any signs of abnormal skin growth, irregular colors, thickening of the skin and change in texture must a call a need of consulting a dermatologist.
Hair Loss: Hair loss is a persistent problem for the majority. An individual loses 100 hairs per day. However, if bald patches or hair are thinning, there might be underlying health issues or scalp issues which need dermatological help.
Rosacea: This is a skin condition that also affects the eyes. The nose appears to be red and the rest of the face looks pale. This skin condition might take its reign to the neck and chest. Skin bumps and swelling are common. In harsh cases, the skin turns thick. Women are prone to this condition and also people with lighter skin are prone to the condition. This calls for dermatological help without a second thought.
Spider Veins: It is also known as Varicose. In this condition, the veins are swollen, twisted. This occurs due to the weakening or damaging of the valves in the veins. This usually occurs in the legs, which makes the area look bulgy. This condition accelerates the risk of blood clots and skin sores. Excess weight and increasing age are major factors in facing varicose veins.
Infection: If your skin is infected by fungus, viruses, bacteria, then you will need to see a dermatologist. Skin conditions like athlete's foot, herpes, and cellulitis can become serious and may become deadly if not treated on time.
Poison Ivy, Oak, and Sumac: These are plants and they pose oily allergen referred to as urushiol. Coming in contact with this can cause rashes, blisters. The symptoms of the infection will display on your skin after 72 hours of its contact. Seeking dermatological help is essential as it may lead to severe bacterial infection.
A conventional FUT procedure involves the physician removing a big slab of tissue from the donor site of the top of the head and then separating the donor band into specific follicular components before actually implanting them.
The follicle components are derived independently and explicitly out from the scalp during an FUE process, which is typically performed to use an automation process. A series of small, shaped perforations or puncture wounds are dispersed throughout the donor site as part of the extraction technique. FUE can also be used to cultivate body hair as a donor area in certain instances.
The method used to cultivate donor tresses is critical as it can have a significant effect on both your expertise and the outcome of your transplant.
How Seeking Dermatological Help Can Change your Life?
The majority of people in India are suffering from various dermatological issues. Whether the problem is generated genetically or may have been generated due to other underlying health conditions, needs a proper checkup to rule out the issue. Your skin, nails, and hairs are as important as your heart, liver, kidney. Therefore getting yourself treated can change your life entirely. There are other reasons such as malnutrition, depression, change in hormone levels, hepatic dysfunction, unhealthy lifestyle et cetera, which leads to dermatological issues. Apart from hairs, nails, and skin, it can also affect the neck, back, chest, shoulder, eyelids.
According to your condition, the dermatologist will prescribe a course of treatment, which apart from having medicines, ointments, and laser treatment will have, diet. Maintaining a proper diet can prevent any kind of dermatological problems. This will not only improve you're your dermatological health, but will also strengthen you emotionally, and increase your confidence.
Virtual Consultation at 20% off
Opt for an online Consultation from comfort of your home
Book a Consultation

Contact us on Whatsapp
Boost Your Confidence Level with Dermatological Help
Having bad health doesn't make your feel confident. Skin issues make you feel vulnerable in front of your friend circle, colleagues, family. It prevents you from socializing and this gradually leads to depression. It is time to make an appointment with a dermatologist to treat your skin issues. Once you witness that skin quality and the rest of your dermatological issues start to improve, you will feel content within and feel confident.
Even though the treatment might take time, the procedure will be soothing for you to witness the positive transformation of the skin and mental health.
Common Skin Condition in Children
Development of skin issues in infant and adolescents are quite normal. A few of the skin conditions they face are:
Vascular and pigmented birthmarks

Atopic dermatitis

Contact dermatitis

Rashes

Skin infections

Moles and warts

Genodermatoses – inherited skin condition

Psoriasis

Acne eruptions
Services Provided by Pediatric Dermatologist
According to the skin conditions of a child, a pediatric dermatologist offers the following services:
Accurate diagnosis

Prescriptive treatment

Surgical operations like biopsies

Laser treatment for vascular birthmark