Hair Transplant in Indore
Get a Permanent Solution to your Baldness with Best Hair Transplant in Indore at lowest cost by Dr. Abhishek Malviya. Book an appointment now for the best hair transplant in Indore.
Get A treatment plan
We will send you an individual solution
for the best hair transplant result
Welcome to the Best Hair Transplant Clinic in Indore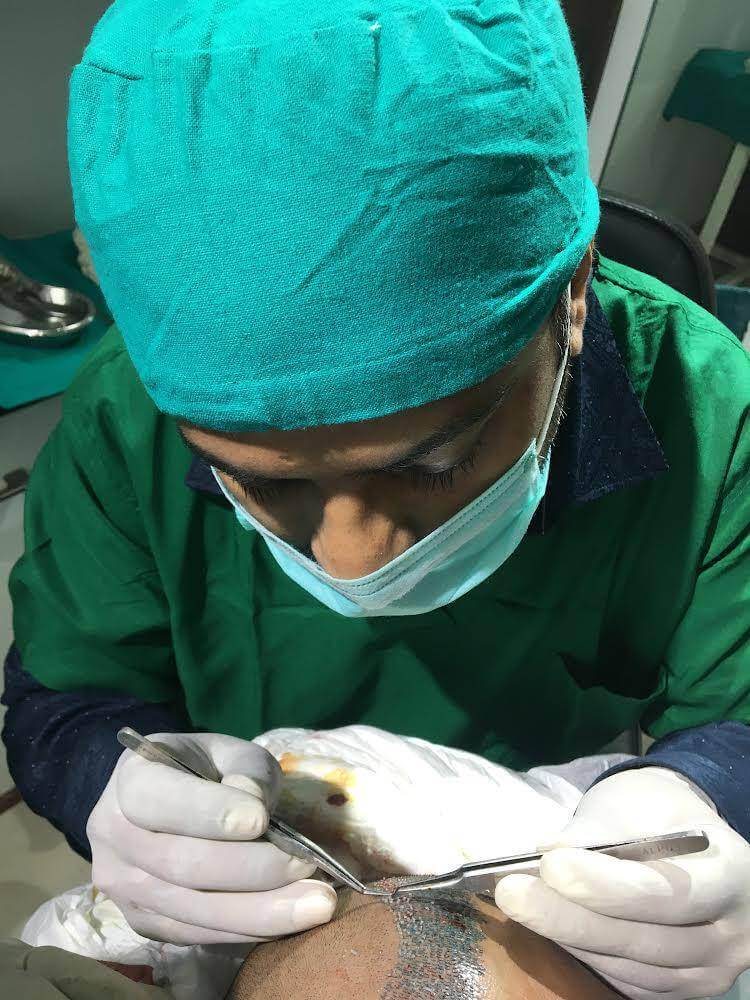 Dr. Abhishek Malviya : Best Hair Transplant Surgeon in Indore
Radiant Skin Clinics provides the most advanced and effective hair transplant in Indore. Dr. Abhishek Malviya, the Best Hair Transplant Surgeon in Indore, having experience of 10+ years in Hair Transplant and Hair Care treatments specializes in FUE Hair Transplants to patients of all ages and gender across the country. Radiant Skin Clinic with its best facilities for hair transplant in Indore transforming the lives of millions under Dr. Maliviya's guidance with personalized treatment programs.
The need for a transplant can be for cosmetic reasons or for a severe medical ailment. Dr. Abhishek Malviya, the Best hair transplant surgeon in Indore, makes sure that the treatment plan is thoughtfully created and well communicated to patients. Properly educating patients has always been a priority at Radiant Skin Clinic that makes us the best hair transplant clinic in central India. With modern hair transplantation techniques at Radiant Skin Clinics, you can regain thicker, healthier hair and restore your youthfulness once again.
Why choose Dr. Abhishek Malviya for Hair transplant in Indore?
Dr. Abhishek Malviya's Hair transplant clinic makes sure that every patient who is coming for the hair transplant treatment understands the procedure and benefit of the FUE technique. After thorough investigation and understanding of attributes like from when the hair fall started, age of the patient, reasons that would be leading to thinning or baldness, Dr. Abhishek Malviya creates a personalized treatment plan which is clearly communicated to the patient with all pros and cons. The hair transplants are done with the highest degree of delicacy and quality to give long-term results. We work for 100 % patient satisfaction.
Here are ten more reasons why you should choose Dr. Abhishek Malviya for Hair Transplant in Indore
Experience of more than a decade

Over 10,000 happy patients

Stronghold on hairline artistry to make perfect undetectable hairlines

Professional team of highly skilled experts

Most advanced equipment and infrastructure for FUE hair transplant

Offering best advice and patient education, sharing knowledge so that patients is confident and well aware

End to end services to get your hairline back

Bard certified and US FDA approved methodology, techniques, instruments, and in-house specialists to make sure that the patient is safe and healthy

Reasonable pricing with no hidden costs

Smooth procedures to get delicate and high-quality transplants
Why Dr. Abhishek Malviya is best for Hair transplant in Indore
Dr. Abhishek Malviya is a renowned name in the field of hair transplant. He is one of the most admired professionals in the industry. Also, he treats his patients with compassion and commitment and brings a personalized approach to his practice. Dr. Abhishek Malviya, the best hair doctor in Indore, provides the highest quality of care to his patients. Similarly, Dr. Abhishek Malviya, the best Hair doctor in Indore, believes in providing high quality and compassionate care and utmost respect to his patients.
How do we work to give the best results in hair transplants in Indore?
In order to perform the best hair transplant, Dr. Malviya focuses on every patient separately and every treatment plan is thoroughly analyzed so that no point is missed. The right treatment and transplant plan is then executed by highly qualified and experienced Hair Transplant expert Dr. Abhishek Malviya. Most updated technology is used to bring further preciseness in every hair transplant. Radiantskinclinics is giving the best results for hair transplant results in Indore. We take pride in saying that we are recognized among the top clinics for hair transplant in Indore. We have experienced dermatologists and medically-trained staff. We strive to serve the patients with the best results & services in the case of FUE and Bio FUE hair transplants, along with compassion and care. We try our best to give optimal outcomes even in higher grades of baldness. We recommend you to see our "hair transplant before and after results photos" once!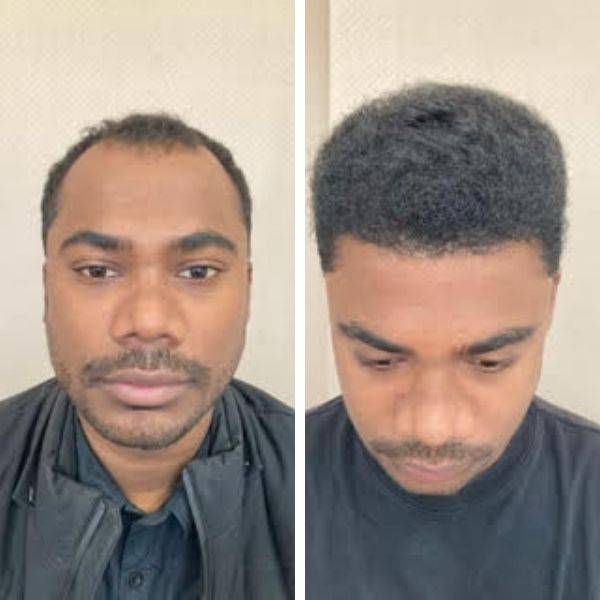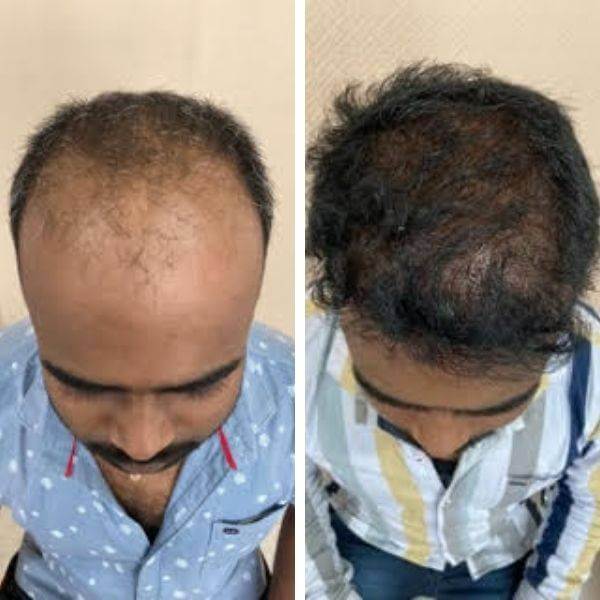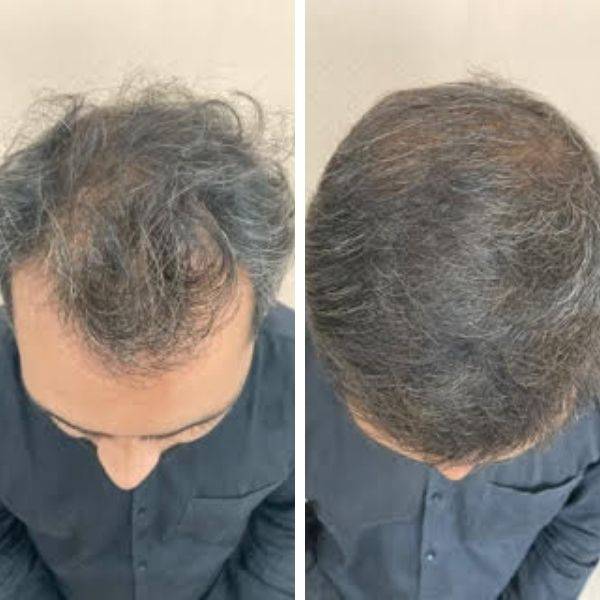 Everything you Need to Know about Hair Transplant
What is Hair Transplant?
hair transplant is redistribution of hair. This means that on your scalp, the area in which the volume of hair is low or there is no hair at all, in that area, the hair follicle is implanted. These hair follicles are extracted from the doner area i.e. from the back of the scalp or from the beard area. This area is also called permanent hair zone because its hair follicles are not affected by DHJ.
Techniques of Hair Transplant
There are two techniques of hair transplant
FUT (follicle )
FUE
FUT vs FUE Technique
A conventional FUT procedure involves the physician removing a big slab of tissue from the donor site of the top of the head and then separating the donor band into specific follicular components before actually implanting them. On the other hand, the follicle components are derived independently and explicitly out from the scalp during an FUE process, which is typically performed to use an automation process. A series of small, shaped perforations or puncture wounds are dispersed throughout the donor site as part of the extraction technique. FUE can also be used to cultivate body hair as a donor area in certain instances. The method used to cultivate donor tresses is critical as it can have a significant effect on both your expertise and the outcome of your transplant.
Follicular Unit Extraction (FUE) is a hair transplant surgical procedure that can provide clients with substantial advantages over conventional "strip method" methods used throughout Follicular Unit Transplantation (FUT) treatments.
Both kinds of tresses transplant treatments involve extracting nutrient-dense follicles from a donor site and implanting them to regions of your hairline that are fading or going bald. As a consequence, your natural hair should start growing back innately and continually.
The technology used to cultivate the donor tresses is what distinguishes an FUE transplant.
FUE HAIR TRANSPLANT IN INDORE
WHAT IS FUE HAIR TRANSPLANT?
FUE hair transplant is a surgical minimal-invasive procedure where healthy Follicular units of 1-4 hairs are removed from an area of good hair growth also called a donor area, the removal is done under local anesthesia. The removed follicles are harvested and grafted to bald or thin hair areas.
As the procedure is performed under local anesthesia, so there is no downtime. There is very limited invasion required, only some entry points are created.
The devices used are Hi-tech and most updated, the punching device extracts complete follicular units along with the glands so that grafting is most effective with least failures.
FUE HAIR TRANSPLANT PROCESS
On the day of hair transplant following steps are done:
The hairline is marked with a marker to get a view of what shape will come up when the transplant is done and hairs are fully grown.

Then we trim the hairs of the whole scalp.

The donor area and recipient area are properly cleaned with betadine. Once the areas are cleaned and sanitized, local anesthesia is injected.

After anesthesia extraction of follicle units is done, the extracted grafts are stored in a special solution. The grafts are planted carefully in the recipient area. Post grafting growth factor cream is applied.
Here are a few of the primary benefits of opting for an FUE technique:
HAIR TRANSPLANT COST IN INDORE
FUE Hair Transplant Cost in Indore
There are various factors that The overall FUE hair transplant cost is usually affected by
Bald area or thin hair area that needs to be treated which decides the number of follicles units required to transplant

What technique the specialist is going for FUT/FUE/Robotic hair transplant

Where is the Donor area
The average range of hair transplant cost per graft varies from 20 rupees to 150 rupees depending on the above parameters. Radiant Skin Clinic offers the most cost-effective and value-for-money hair transplant in Indore for its patients. Dr. Malviya makes sure to optimize the hair transplant cost by using the right technique and the most optimal number of grafts. At Radiant skin Clinics FUE Hair Transplant cost starts from Rs. 35,000/-*.
I personally appreciate attention while being at a dermetologist's. Here you guys are devoted to details and practice individual approach to every client.
It's the best clinic in the town…staff is polite and well behaved.. everything is hygienic.. Dr Abhishek listened my problem patiently and given me the best treatment..i m satisfied with treatment provided…. Must visit for any treatment..
I would highly recommend Dr. Abhishek Malviya for dermal fillers. I got young and fresh skin. THANK YOU SO MUCH for the awesome treatment. Value for money.
Virtual Consultation at 20% off
Opt for an online Consultation from comfort of your home
Book a Consultation

Contact us on Whatsapp
Do's and Dont's Before the Hair Transplant
Avoide coffee or tea at least 2 days before the hair transplant

Eat simple food and avoide oily food 2 days before the hair transplant

Do not drink alcohol for a week before hair transplant

Take medicines prescribed by the doctor before the procedure.

Wash the scalp using the prescribed shampoo. (Number of days will be informed by the doctor)
DO'S AND DON'TS AFTER HAIR TRANSPLANT
A few of the general instructions you need to follow after the hair transplant procedure include
Exposure to dust and sunlight should be avoided for a week or as guided by the specialist
Use of surgical cap is recommended when going out
Avoid wearing a helmet for at least a month
No smoking or alcohol intake for a couple of weeks after the transplant
Avoid touching the recipient area till recommended by the doctor
Wash donor area with drinkable water as suggested by the doctor, mostly you can start washing after a day of transplant
Daily wash the recipient area after 7 days post-procedure.
Strict no to Swimming and gymming activities for almost 6-8 weeks
Timely medication is very critical and wash hair only with prescribed shampoo.
Diet plan is also important to be followed for fast hair growth.
HOW IS THE RECOVERY PROCESS AFTER A HAIR TRANSPLANT?
FUE Hair transplant is a minimally invasive surgical procedure that does not cause any morbidity after the procedure. The patient can quickly be discharged immediately after the procedure and leave the clinic normally.
The recipient and the donor area usually heals in a week; the patient needs to be careful and strictly follow guidelines shared by Dr. Abhishek and the team. When done under the right guidance of an expert like Dr. Abhishek Malviya, the transplant is hassle-free and need not be extra cared for after the recovery phase. The newly grafted hairs adapt natural growth patterns like existing hairs.
Look Your Best
healthy & beautiful skin for life
Women and men who wish to improve the health and appearance of their skin have many excellent options today.
request an appointment
Look Your Best
healthy & beautiful skin for life
Women and men who wish to improve the health and appearance of their skin have many excellent options today.
request an appointment
What is the success rate of hair transplant in Indore at RadiantSkinClinics?
Our expert and experienced hair surgeon, Dr. Abhishek Malviya, performs the hair transplant in Indore at Radiant Skin Clinics using advanced techniques that provide a high success rate.
Radiant Skin Clinics is one of the most renowned hair transplant clinics for hair transplant in Indore, which has been enlisted among the top hair transplant clinics. We clearly inform our patients about how much they can expect from the procedure and how successful it will be according to their conditions.
Dr. Abhishek Malviya's hair transplant clinic provides the best possible hair transplant results with a success rate of 95 – 100 %. We believe in carefully considering every small step in the best interest of the patients and leverage best-in-class technology to deliver the best. Dr. Abhishek Malviya is the most experienced hair transplant surgeon in Indore, and he is well known for his mastery in performing hair transplants with a minimal damage rate of less than 1%. Radiant Skin and laser clinic is always here to serve every patient with a world-class hair transplant in Indore, providing you the maximum possible hair density and extremely natural-looking results.
How a hair transplant can change your life?
Huge numbers of people, irrespective of sex and gender, suffer from baldness. Whereas inherited genetic baldness has been the most frequent cause, it can also be caused by a variety of other attributes such as hormone levels, malnutrition, or anxiety. Not only does the surface of your hair on top be impacted, but so can your eyelids, beard, and body hair. Treatment methods have grown by leaps and bounds over the last few generations, from a technique that abandoned you with such an unusual presentation that anybody could tell you'd do have it done to a specially formulated method that is non – intrusive and practically pain-free. Follicular unit extraction (FUE) employs a small blow device to retrieve fine strands first from the donor area, allowing for high accuracy and absolutely perfect outcomes that really can enhance your life.
ENHANCING LOOKS
Once baldness appears, it affects your looks. It not only affects how you view yourself, but it can also actually impact how others perceive you. Hair loss gives you an appearance elder than you really are. Patchy hair, whether on your head or your cheeks, can make you look untidy, or it may make you feel uncomfortable about yourself.
Hair transplantation can significantly improve your visual impression. Every day, you'll enjoy looking in the mirror and seeing your perception. A transplant can however improve your appearance and keep you feeling more appealing.
BOOSTING UP CONFIDENCE LEVEL
If you do not feel desired, your self-esteem suffers. You start to avoid socializing and talking to strangers. You also may find yourself choosing to ignore events you used to enjoy, even though your hair has nothing to do with them. Your employment status may feel the brunt of your dwindling optimism, which prevents you from conveying your insights.
Furthermore, a hair transplant enhances your public persona and can restore your esteem. It also might raise it to tiers you haven't ever imagined possible.
NATURAL APPEARANCE
The most recent hair transplant techniques have vastly enhanced since the 1970s and 1980s when such treatment was referred to as "plugs." Clients with antiquated hair implants had unusual heads of tresses. FUE aims to collect fine strands with absolute accuracy, resulting in not just a seamless head of hair, but also a healthy, silken hairline. Nobody will ever know you've had to have a treatment; they'll only start noticing your lovely features.
PERMANENT SOLUTION
A transplant provides long-term outcomes. The follicles that had to use first from the "donor site" are known as genetically resilient, which means that even though the donor site suffers from male pattern baldness or other genetic problems, the hair in that region will not decline. Whenever the follicles are decided to move to their new destination, their resilience to damage is maintained. This implies you'll have a lot of hair for your entire life.
Once you have shallow or no tresses, your styling choices are highly restricted. Getting a lot of hair signifies that you must have customization options irrespective of gender. The opportunities are endless. You can keep your hair lengthy, spiky, tied up, or left loose. You'll be able to rearrange your locks accordingly and just really leave an impact if you're heading for a run or walk, heading to the office.
I personally appreciate attention while being at a dermetologist's. Here you guys are devoted to details and practice individual approach to every client.
It's the best clinic in the town…staff is polite and well behaved.. everything is hygienic.. Dr Abhishek listened my problem patiently and given me the best treatment..i m satisfied with treatment provided…. Must visit for any treatment..
What could be the side effects of hair transplant
There are no major or life-altering side effects of hair transplants when done by an experienced specialist. FUE hair transplant is a clinically proven and board-certified procedure to overcome baldness. Dr. Abhishek goes through the patient's history very carefully and then drafts a treatment protocol keeping the patient in mind, there are several tests conducted before the transplant to assure that the right data and insights about the patient's condition are in place before the transplant plan is decided. Here is some minor body reaction after the hair transplantation.
Minimal pain in initial days

In some cases, there can be mild swelling for a couple of days

Hair thinning happens in the initial days of hair transplant, but the hair will regrow in 3 to 6 months

Some patients may not feel the sensation around the transplanted area for a while.