Face lifting and contouring have become very popular. The cosmetic treatments are trends now. People in their late thirties start consulting dermatologists for facial lifts with the help of thread lifting. It is said, a well-defined face helps in presenting oneself confidently in social and official gatherings.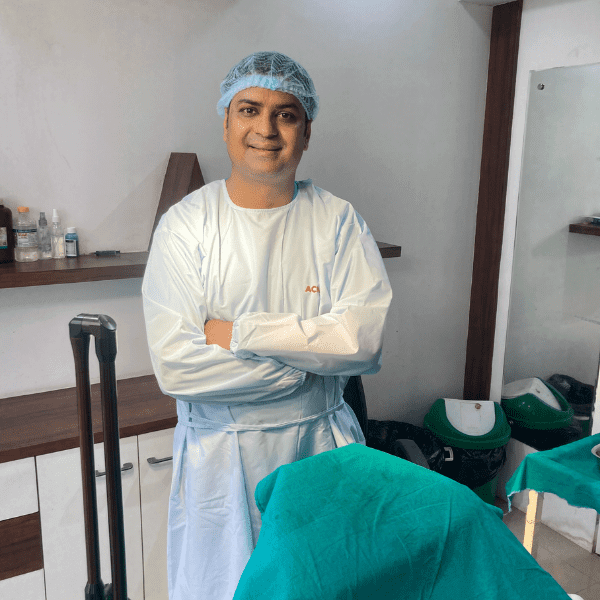 Reasons Why Dr. Abhishek Malviya is the Best for Face Lift Treatment in Indore
Hence, many are opting for a facelift and are also satisfied with the results. If you are looking for facelift treatments with the help of thread lift, then Dr. Abhishek Malviya is the best choice. He, with above 10 years of experience and a 100% success rate, has been named the best skin surgeon in Indore. His personalized method of treating with modern technologies is highly appreciable and granted.
Dr. Malviya examines each patient individually and extensively analyzes each treatment plan to ensure that no aspect is overlooked. After that, he utilizes the most appropriate therapeutic strategy for the current situation. He employs cutting-edge technologies to attain the greatest results.
What is Facial Lifting?
A facelift is a cosmetic surgical operation that makes your face look younger. The operation can minimize drooping or folds of skin on the cheekbones and jawline, as well as other age-related changes in the structure of your face.
A face-lift involves pulling back a flap of skin on each side of the face and surgically altering the tissues beneath the skin to restore the contour of the face to a more healthy shape. Excess skin is removed before the flap is sutured shut.
What is Facial Contouring?
Facial contouring is one of the most rapidly expanding non-invasive and non-surgical facial reshaping methods in the cosmetic surgery business today. It is a highly successful procedure for improving facial characteristics and decreasing the appearance of age indicators. Your skin naturally loses elasticity as you age, causing it to droop and wrinkle. This is most visible in the face, which is why an increasing number of people are pursuing preventative and reactive therapies to greatly boost their appearances.
Why is Face Lifting and Contouring Done?
Due to natural age-related transformations, the look and form of your face vary as you age. Your skin loses elasticity and becomes looser, and fat deposits diminish in certain places of your face while increasing in others. The following are some of the age-related changes in your face that may be decreased with a facelift:
Sagging cheeks
Excessive skin at lower jowls
The skinfold from the sides of your nose towards the corner of your lips becomes deeper.
Excess fats in the neck
Sagging skin
A thread lift is an easy and rapid method for lifting drooping skin on the face or neck that does not need surgery. This method suspends the skin with 'threads' or sutures to offer a modest lift and contour to the face. It is especially beneficial for persons who have bulky features and require contouring and lifting of the face.
Ideal Candidate for Thread Lifting
If you have mild to severe drooping skin on your face or wish to define your jawline but are unwilling to go under the surgery, you should consider thread lifts after consulting with Dr. Abhishek Malviya. Threads can also assist to conceal double chins and jowls.
Virtual Consultation at 20% off
Opt for an online Consultation from comfort of your home
How Does Thread Lift Function?
Polydioxanone threads are used in the thread lift, which is similar to sutures used by doctors in surgery. These threads can stay inside the skin for up to 180 days. When injected into the skin, they not only provide structural protection but also encourage new collagen synthesis and remodeling along their length, allowing the skin to contract in that direction. This collagen production improves blood circulation and helps the skin seem younger and suppler.
This has the effect of slightly drawing the skin back, elevating and tightening the face. Threads battle aging in another method, in addition to elevating the skin, by inducing the body's "healing response" and forcing the body to direct massive surges of collagen to treated regions. This is significant due to the critical function collagen plays in the aging process.
In other words, the facial tissues are rejuvenated on a continuous and gradual basis as a result of this procedure. Patients who get a thread lift to stimulate collagen will see a steady improvement in the tone and firmness of their skin. The body's healing response will be continually triggered while their threads are in place since the body will seek to "heal" the sutured regions and expel the sutures.
Thread Lifting Procedure
Dr. Malviya decides on the number of threads to be utilized during the surgery during the consultation. He will point out the troublesome regions and identify the angles or locations in which the threads should be put before therapy. The treatment region is numbed using a numbing lotion. The threads are then put into the skin. After the treatment, a cooling mask is placed.
How to Prepare Before Face Lift Treatment in Indore?
Before the thread lifting commences, Dr. Malviya will do the following after a few sittings with his clients:
Medical History and Exam
Dr. Malviya will inquire about past and present medical issues, prior surgeries, prior plastic surgeries, complications from previous procedures, smoking history, and drug or alcohol usage. If he has any worries about your ability to undergo surgery, he will undertake a physical exam, obtain current data from your doctor, or schedule a meeting with a specialist.
Medication Review
You must provide the names and dosages of all drugs you use regularly, including prescription pharmaceuticals, over-the-counter medications, herbal remedies, vitamins, and other nutritional supplements.
Facial Exams
Dr. Malviya will photograph your face from various angles, as well as close-ups of certain characteristics. He will also assess your bone structure, facial shape, fat distribution, and skin quality to establish your best face-lift surgery alternatives.
Expectations
Dr. Malviya will enquire about what you expect from the facelift and will ensure you that it doesn't aid in treating fine lines, wrinkles, acne scars, etc.
When can you see the Results?
The effects are seen instantly, but as the threads promote collagen, there is continued improvement and tightness in the skin, which peaks two months after treatment.
Thread lift results can last up to a year following treatment, and in some cases, considerably longer. Regular nutrition and exercise, as well as a healthy lifestyle, all contribute to the treatment's duration.
What are the Advantages of Face Lift Treatment in Indore?
For several patients, the most significant benefit of a thread lift versus a facelift is the significantly shorter recovery period associated with thread lifts. Facelift surgery requires sedation, so the patient must arrange for someone to transport him or her home from the hospital. For at least three days following surgery, most facelift patients will require round-the-clock care from a caregiver. Childcare assistance may also be required if the patient still has children at home. Facelift patients often need to take 1 to 2 weeks off work to recover.
The recovery from a thread lift, on the other hand, is rather simple. Thread lifts can be conducted using local anesthetic rather than general anesthetic, which means that thread lift clients can drive themselves home and care for themselves immediately after their treatment. While some patients may have some discomfort, inflammation, and swelling after having a thread lift and may prefer to take the rest of the day off, the majority may return to work right away. After a thread lift, strong pain killers are rarely required, making it simpler for patients to resume their daily lifestyle. As a result, this technique is suitable for those who have children at home or who have a hectic schedule.
How do we Work to get the Best Result in Face Lift Treatment in Indore?
Dr. Malviya examines each patient individually and extensively analyzes each treatment plan to ensure that no aspect is overlooked. After that, he utilizes the most appropriate therapeutic strategy for the current situation. He employs cutting-edge technologies to attain the greatest results.
The greatest Acne treatment outcomes may be found at Indore's radiant skin clinics. We are pleased to be regarded as one of the best acne treatment institutes in Indore. We have dermatologists with years of expertise as well as medically certified individuals on our staff.
Dr. Abhishek Malviya has given such great services to his patients that they were compelled to give their reviews on him and his treatments. Here are a few of the testimonials of his patients:
Mr. Rudresh writes, "I would highly recommend Dr. Abhishek Malviya for dermal fillers. I got young and fresh skin. Thank you so much for the awesome treatment. Value for Money."
Mr. Aniket writes, "Dr. Abhishek Malviya is the best cosmetologist in India. The cost is a bit high but provides desired results. I met him for laser treatment. It improved the pigmentation of my face and it removed the wrinkles as well. I got all the attention and care from the doctors and staff."
What is the Success Rate of Face Lift Treatment in Indore?
Dr. Abhishek Malviya, a competent skin specialist and surgeon in Indore who treats a wide range of disorders, runs this skin specialist clinic. He adopts novel methods to maximize his chances of achievement. Radiant Skin Clinics provides the most effective thread lift treatment available. It is widely regarded as one of the best skin specialty clinics in the country. We advise our customers on what to expect from the procedure and how effective it will be based on their unique circumstances.
The skin specialist clinic of Dr. Abhishek Malviya has a success percentage of 95–100% in giving the finest possible face lifting and contouring treatments. We think that to provide the finest therapy possible, we must thoroughly analyze each step in the best interests of the patients and use best-in-class technology. Dr. Abhishek Malviya is Indore's most experienced skin specialist, well-known for his ability to cure skin without inflicting harm. Radiant Skin Clinic in Indore is always ready to give comprehensive treatment and the finest outcomes for each patient.