Skin Allergies are very common in the present day due to various reasons. Starting from eczema to hives or Uriticaria, one can suffer a lot.
We have Dr. Abhishek Malviya, the best dermatologist in town with 10+ years of experience. His excellence and expertise in the field have contributed a lot. His personalized treatments with modern technologies have cured a lot of his patients.
Welcome to Radiant Skin Clinic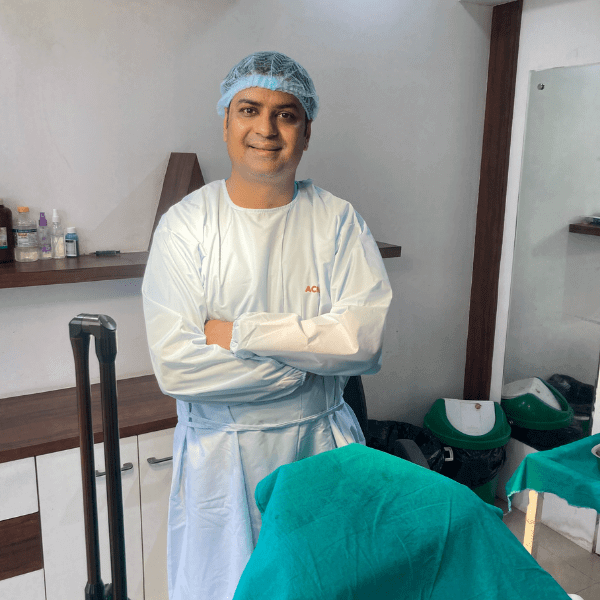 Reasons why Dr. Abhishek Malviya is the Best Dermatologist in Indore
Dr. Abhishek Malviya is an Indore dermatologist, surgeon, and skin expert. His talent has been impressive since the onset of his career. He has always gone out of his way to help others, no matter their age. Dr. Abhishek Malviya is the top skin expert in Indore for the following reasons:
He has been one of the most successful dermatologists and surgeons.
He offers advanced dermatology treatment in Indore.
He provides numerous sittings before proceeding with treatment.
He has experience of above 10 years without a failed treatment
He helps in boosting confidence in patients who are demoralized due to their falling dermatological health.
His history of treating patients has an exponential career graph.
He studies your health history thoroughly to come up with a treatment course, i.e., his treatment course is personalized for every patient.
He has the best facilities for cosmetic surgeries and solutions for reshaping facial organs, extra fats in the body, et cetera.
Why Choose Radiant Skin Clinic if you are Looking for a Dermatologist in Indore?
Dr. Abhishek Malviya's Radiant Skin Clinic has been named one of the top dermatologist clinics in Indore. Radiant Skin Clinics offer quality service and a 100% recovery rate to its patients.
Radiant Skin Clinic provides the following services:
Best Acne Scar Treatment
Best Hair Transplant Service
Expert Skin Consultation and Treatment
Expert Diseases Consultation and Treatment
Best Chemical Peeling Service
Skin Tightening and Anti-Ageing Treatment
Thread Lift and Dermal Fillers
Dermaroller/Dermapen
PRP Therapy Best
Laser Treatment
Ear Lobe Repair and
Ear Piercing
Where can you Find Dr. Malviya's Dermatological Treatment in Indore?
You've picked the greatest dermatologist in town to help you with skin allergies. Dr. Malviya's competence and experience have resulted in a thriving practice in town. In addition to Radiant Skin Clinic, he may be seen in the following locations:
Dewas:

Kothari medical opposite MG Hospital on Wednesdays.

Manawar:

Kailash hospital Chaitanyadham on every 2nd and 4th Sunday

Ratlam:

Arogyam hospital college road near civil hospital on every 1st and 3rd Saturday.
Book an Appointment
To avoid hospital complications, Dr. Abhishek Malviya's Radiant Skin Clinic is located on the third floor of the Krishna Tower, ICICI and Baroda Bank Building, Greater Brijeshwari, Opposite IDA Scheme 140, Pipliyahana Indore. You can book a consultation with Dr. Abhishek Malviya by clicking here
Dr. Abhishek Malviya has given such great services to his patients that they were compelled to give their reviews on him and his treatments. Here are a few of the testimonials of his patients:
Mr. Rudresh writes, "I would highly recommend Dr. Abhishek Malviya for dermal fillers. I got young and fresh skin. Thank you so much for the awesome treatment. Value for Money."
Mr. Aniket writes, "Dr. Abhishek Malviya is the best cosmetologist in India. The cost is a bit high but provides desired results. I met him for laser treatment. It improved the pigmentation of my face and it removed the wrinkles as well. I got all the attention and care from the doctors and staff."
What is Skin Allergy?
A skin allergy occurs when the immune system reacts to something that is normally innocuous, causing the skin to become inflamed. An allergic response is what this is known as. Rashes, itching, burning, redness, pimples, hives, and swelling are all symptoms of an allergic response.
Eczema and Urticaria are the two most common skin allergies we can witness.
What is Eczema?
Eczema is the most prevalent skin disorder, particularly among youngsters. It affects one out of every five babies, but only around one out of every fifty adults. It's currently understood to be caused by the skin barrier's "leakiness," which leads it to dry up and get irritated and inflamed by a variety of environmental conditions. In addition, some young children with eczema have a dietary sensitivity, which can aggravate the condition.
The condition is caused by the inheritance of a defective gene in the skin called filaggrin in around half of the individuals with severe atopic dermatitis. Asthma, allergic rhinitis, and food allergies are frequently associated with eczema. The atopic march is the name given to this sequence of events.
What are the Symptoms of Eczema?
The symptoms of Eczema are:
Itchy skin
Dry skin
Cracked skin
Painful skin
The yellow crust on the skin's surface or little yellowish-white patches.
Leaking puss
Swollen and sore skin
There are frequently times when the symptoms improve, followed by times when they worse. Flare-ups might happen as frequently as twice or three times every month.
Eczema can affect any part of the body, although it is more frequent in children on the hands (particularly the fingers), insides of elbows or backs of knees, and the face and scalp.
What are the Causes of Eczema?
Since the skin is unable to hold much moisture, people with atopic eczema frequently have extremely dry skin. Due to the dryness, the skin is more prone to respond to specific triggers, leading it to become itchy and inflamed.
Because of the genes, you receive from your parents, you may be born with a higher risk of getting atopic eczema.
Your eczema symptoms might be triggered by a variety of factors. These might differ from one individual to the next.
The common triggers are:
Irritants:

Shampoo, dishwashing liquid, and bubble baths are examples of soaps and detergents that can be the cause of eczema.

Allergens:

Eczema is caused by cold and dry weather, humidity, and more specific items such as home dust mites, pet hair, pollen, and molds.

Food allergies:

 Eggs, soy, milk, wheat may cause eczema.
Treatments for Eczema
Atopic eczema treatments can assist to alleviate symptoms. Although there is no treatment, many children's symptoms improve as they grow older.
The primary treatments of eczema are:
Emollients:

 Emollients are hydrating therapies that are applied directly to the skin to prevent water loss and provide a protective layer. They're frequently used to treat dry, scaly skin diseases. They may have a minor anti-inflammatory effect and can help lessen the number of flare-ups you encounter, in addition to helping your skin feel less dry.

Topical Corticosteroid:

 Based on the intensity of your atopic eczema and the regions of skin affected, topical corticosteroids might be given in a variety of dosages. Dr. Abhishek Malviya will prescribe topical corticosteroids if your skin is painful.

Antihistamines:

 Antihistamines are medications that prevent the effects of histamine, a chemical found in the blood. They can assist with the irritation that atopic eczema causes. They might be sedating (causing sleepiness) or non-sedating (not causing drowsiness).

Light Therapy:

 This therapy is for persons who don't respond to topical therapies or who flare up again quickly after treatment. Phototherapy, the most basic kind of light therapy, involves exposing the skin to regulated doses of natural sunshine. Other types employ artificial ultraviolet A (UVA) and narrow spectral ultraviolet B (UVB) alone or in combination with drugs.
Virtual Consultation at 20% off
Opt for an online Consultation from comfort of your home
What is Uriticaria?
Uriticaria or Hives are a kind of skin irritation caused by the immune system's production of histamine. This causes tiny blood vessels to leak, resulting in skin edema. Angioedema is the swelling of the deep layers of the skin. Uriticaria is divided into two types: acute and chronic. Acute uriticaria can arise after consuming a specific meal or coming into touch with a specific trigger.
Non-allergic reasons, such as heat or exertion, as well as drugs, foods, bug bites, or illnesses, can all provoke it. Because specific triggers are seldom the cause of chronic uriticaria, allergy testing is frequently ineffective. Chronic uriticaria can linger for months or even years. Hives are not communicable, even though they are typically irritating and painful.
What are the Causes of Uriticaria?
When large quantities of histamine and other chemicals are generated in your skin, you develop hives. This is referred to as a trigger.
The causes of Uriticaria are:
Cold
Hot and sweaty skin
Certain food
Plants, animals, chemicals, latex
Medicines
Insects
Tight or itchy clothes
Treatment for Uriticaria
Finding and removing the trigger is the best therapy for hives, but this is not a simple process. Antihistamines are often given by a doctor to alleviate symptoms. To prevent hives from appearing in the first place, antihistamines should be used daily.
Antihistamines or a combination of drugs can be used to treat chronic hives. Oral steroids may be used if antihistamines do not offer relief. Omalizumab (Xolair), a biologic medication, is also licensed to treat persistent hives in patients aged 12 and up.
How do we Solve Skin Allergies?
The Radiant Skin Clinic takes pride in what it has to offer. Dr. Abhishek Malviya, a well-known Dermatologist, is available for consultation. Our clinic was named the finest in Indore, and our well-known Skin Clinic was named the best in town.
Our treatment is of the highest quality, and we go out of our way to make our patients feel comfortable. Because our services are fairly priced, customers have more faith in us when they come in for an inspection or treatment.
How do we Work to get the Best Result in Dermatological Treatment in Indore?
Dr. Malviya treats skin allergies by focusing on each patient individually and thoroughly evaluating each treatment plan to ensure that no detail is missed. Then, depending on the scenario, he employs the most appropriate treatment method. To achieve the best outcomes, he uses cutting-edge technology.
The best dermatological treatment outcomes may be found at Indore's radiant skin clinics. We are honored to be acknowledged as one of Indore's top skin treatment centers. On our team, we have dermatologists with years of experience as well as medically qualified personnel.
What is the Success Rate of Skin Allergy Treatment in Indore?
This skin specialist clinic is run by Dr. Abhishek Malviya, an experienced skin expert in Indore who treats a wide range of skin disorders. To increase his chances of success, he employs creative tactics. The most effective skin allergy treatment is provided at Radiant Skin Clinics. It is highly considered as one of the country's top skin specialty clinics. Based on their specific circumstances, we advise our customers on what to expect from the process and how successful it will be.
The skin specialist clinic of Dr. Abhishek Malviya has a 95–100% success rate in providing the finest skin allergy treatment choices. We believe that to deliver the best possible treatment, we must carefully consider each step in the best interests of the patients and employ best-in-class technology. Dr. Abhishek Malviya is Indore's most experienced skin doctor, renowned for his ability to treat skin problems without harming them. Radiant Skin Clinic in Indore is always prepared to provide thorough care and the best possible results for each patient.