Hair fall in women is quite widespread in India owing to pollution, poor food, pregnancy, PCOS, a stressful lifestyle, and a variety of other factors. It is also one of the most overlooked aspects of a person's existence. Hair loss, on the other hand, might reduce your confidence, and interest in interacting with peers. It can develop into persistent depression and be the source of various underlying health problems.
Women experiencing hair loss should open out about their issue and get a comprehensive examination to determine the underlying cause and eliminate it. Dr. Abhishek Malviya of Radiant Skin Clinic is a top dermatologist who can treat women's hair loss with a customized treatment plan. His years of experience are widely regarded, and he has restored confidence in women who have suffered from hair loss. He is a specialist who can investigate the root cause of women hair loss. His consistent and comprehensive therapy would address the problem at its root.
If you are looking for the finest dermatologist in Indore, schedule an appointment with Dr. Abhishek Malviya, the best hair expert in town, at the Radiant Skin Care clinic. He is concerned about his patients. His treatment plan is extremely scientific, utilizing contemporary treatments and technology.
Welcome to Radiant Skin Clinic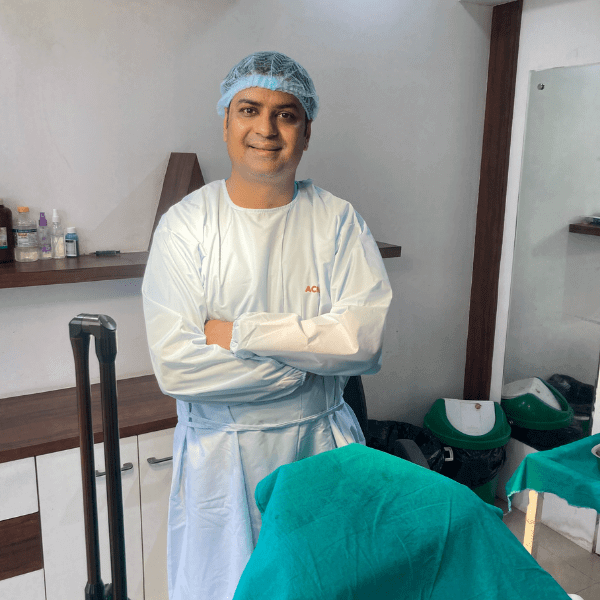 Reasons why Dr. Abhishek Malviya is the Best Hair Specialist in Indore
Dr. Abhishek Malviya, as previously said, is an experienced hair expert in Indore. Because of the way he handles his clients, he has been named the finest hair expert.
He offers personalized treatment, which is patient-specific according to their hair issues.
He is very comprehensive about his treatment procedure.
He has 10+ years of experience, without a failed case.
Not only does he treat his patient's hair issues but also boosts confidence in them. He studies the health history of a patient before proceeding to the treatment.
His advanced facilities bring out the best treatment.
He prefers educating his patients about the disease initially and then proceeds to treatment.
Before treatment starts, Dr. Abhishek Malviya arranges numerous appointments with the patient.
Why Choose Radiant Skin Clinic if you are Looking for a Hair Specialist in Indore?
Radiant Skin Clinics is a popular hair treatment center in Indore, India. We take pleasure in providing customized hair consultations, hair transplant surgeries, and other dermatological treatments to help you achieve healthy hair. We have a team of expert nurses and therapists that assess our hair concerns and provide the best hair care program for you as an industry leader in hair care and consulting.
Our patients receive customized hair care treatments. We have the greatest hair specialist doctor in Indore who can cure any hair problem with the most effective and risk-free hair rejuvenation treatment. We guarantee that you will receive one-of-a-kind treatments that will improve the condition of your hair.
Radiant Skin Clinic's Dr. Abhishek Malviya is well-known for his hair-care expertise. At Radiant Skin Clinic, we provide a wide range of treatments to meet the needs of our clients. Here are a few of them:
Expert Skin Consultations and Treatment
Best Acne Treatment
Skin Tightening and Anti-Ageing Treatment
Best Hair Transplant Service
Best Chemical Peeling Service
Where can you Find Dr. Malviya's Hair Treatment in Indore?
Yes, for your hair concerns, you have selected the greatest hair professional in town. Dr. Malviya's competence has resulted in the town's expanding services. In addition to Radiant Skin Clinic, you can find him at:
Dewas: Kothari medical opposite MG Hospital on Wednesdays.
Manawar: Kailash hospital Chaitanyadham on every 2nd and 4th Sunday
Ratlam: Arogyam hospital college road near civil hospital on every 1st and 3rd Saturday.
Book an Appointment
To avoid the hassles of hospitals you can travel straight to Dr. Abhishek Malviya's office at Radiant Skin Clinic, which is located on the third floor of the Krishna Tower, ICICI and Baroda Bank Building, Greater Brijeshwari, Opposite IDA Scheme 140, Pipliyahana Indore. By clicking here, you can make an appointment with Dr. Abhishek Malviya.
Dr. Abhishek Malviya has given such great services to his patients that they were compelled to give their reviews on him and his treatments. Here are a few of the testimonials of his patients:
Mr. Rudresh writes, "I would highly recommend Dr. Abhishek Malviya for dermal fillers. I got young and fresh skin. Thank you so much for the awesome treatment. Value for Money."
Mr. Aniket writes, "Dr. Abhishek Malviya is the best cosmetologist in India. The cost is a bit high but provides desired results. I met him for laser treatment. It improved the pigmentation of my face and it removed the wrinkles as well. I got all the attention and care from the doctors and staff."
Hair Fall Treatment in Women
Dr. Abhishek Malviya of Radiant Skin Clinic in Indore offers a variety of therapies to his patients, based on their severity and other factors. In Indore and across India, hair loss in women is one of the most serious and rising concerns. Hair loss in women is caused by a variety of factors including stress, pregnancy, PCOS, changes in the environment, climatic conditions, food habits, lifestyle, workloads, and depression. Contact Dr. Abhishek Malviya to resolve the issue.
What Causes Hair Fall in Women?
Various factors cause hair fall in women, which includes:
Hormonal Imbalances:

A woman's menstrual cycle (PCOS) may be disrupted as a result of hormonal abnormalities. In addition, a messed-up thyroid profile causes hair loss in women.

Pregnancy:

Women face hormonal changes during their pregnancy which triggers hair fall.

Menopause:

Most women begin to experience hair fall around adolescence, but it becomes more obvious after menopause.

Diet:

Lack of Vitamin D, Vitamin B12, Iron, and Protein can induce hair fall in women.

Outdoor Effect:

 Women in metro cities, on the other hand, experience higher hair loss than women in rural regions. An increase in allergens, pollutions, dirt, dust, and harmful agents affects hair quality and promotes hair fall in women.

Medications and Treatments:

 Hair fall can be a consequence of some drugs used to treat illnesses such as cancer, arthritis, depression, or heart disease. Chemotherapy for cancer treatment has also been linked to hair fall.

Hair Styles:

Many females choose various hairstyles and hair treatments such as hair straightening, keratin procedures, and so on. If you are susceptible to these procedures, these hairstyles and treatments might cause hair fall and irreversible hair damage.
Whatever the cause, Dr. Abhishek Malviya is a one-stop hair professional who will thoroughly evaluate the problem of female hair loss.
Signs of Hair Fall in Women
Skilled hair expertise cannot overlook the types of hair loss. Hair fall in various forms might show indications of hair loss in females. The following are indicators of hair loss in women:
Alopecia Areata:

Alopecia Areata is an autoimmune disease that damages hair follicles, resulting in hair loss on the scalp or other hair-bearing areas. It is frequently associated with other autoimmune diseases such as thyroid, lupus, vitiligo, and arthritis.

Scarring Alopecia:

Scarring alopecia is a group of hair loss disorders, not a single condition. In this type of irreversible hair loss, hair follicles are damaged and replaced with scar tissue. Even though scarring alopecia is permanent, it can be treated to help prevent further hair loss and scarring. The reason of your scarring alopecia will dictate the treatment that is suggested for you.

Telogen Effluvium:

 It is a disorder in which the individual has abrupt hair loss, resulting in a decrease in hair density.
Treatments of Hair Fall in Women
Dr. Abhishek Malviya will discuss the treatment method based on the history of hair health, medicines, and nutrition. Because each situation is unique, he likes individualized and one-on-one treatment. He will preface his therapies with the greatest of contemporary facilities. Dr. Abhishek Malviya offers hair treatment at Radiant Skin Clinic, which includes:
Minoxidil:

 Minoxidil is a common therapy for women who are experiencing hair loss. The 2% version of this US FDA authorized medicine can be taken twice a day. If you wish to utilize its 5% formulation, you can do so once a day.

Cyproterone Acetate:

 Cyproterone acetate is used to reduce androgen levels and hence prevent hair fall. It can occasionally induce breast discomfort and weight gain owing to water retention. This is a superior treatment choice if the patient has both acne and hair loss.

PRP (Platelet Rich Plasma):

 The patient's blood is taken first, followed by platelets rich in growth factors that are combined with proteins and injected into regions of the scalp with sparse hair.

Mesotherapy:

 Mesotherapy is injecting a mixture of growth factors, peptides, and vitamins into the scalp to rebuild hair follicles and prevent hair loss. It may aid in preventing clumps of hair from falling out.
Virtual Consultation at 20% off
Opt for an online Consultation from comfort of your home
Why do you Need to see a Hair Specialist?
Hair specialists understand hair, its issues, how it works, how it repairs, and so on. Dr. Abhishek Malviya is a dermatologist with a focus on hair care. You may be wondering why you need to see a hair expert. If you notice a little change in your hair, you should consult a hair expert immediately soon. If you have dandruff, frizzy hair, thin hair, itchy scalp, scalp inflammation, hair loss, or bald patches, you should consult a hair specialist.
How do we Solve Hair Issues?
Radiant Skin Clinic is particular about the services it provides. Dr. Abhishek Malviya, our well-known hair specialist, offers the best of his services to those suffering from hair issues and illnesses. We were declared the best clinic in Indore, and our famous hair specialist was rated the best hair specialist in the city.
Our therapy is of the greatest quality, and we provide our patients with a relaxing setting. Our services are reasonably priced, which makes us more trustworthy for consumers who come in for tests and treatment.
How do we Work to get the Best Result in Hair Treatment in Indore?
Dr. Malviya tackles hair problems by focusing on each patient individually and meticulously examining each treatment plan to ensure that no detail is overlooked. He then utilizes the best therapeutic approach for the situation. He employs cutting-edge technologies to obtain the finest outcomes.
Radiant skin clinics in Indore give the best hair treatment outcomes. We are privileged to be regarded as one of the best hair transplant clinics in Indore. We have dermatologists with years of expertise on staff, as well as individuals who have received medical training.
What is the Success Rate of Skin Treatment in Indore?
Our expert and experienced hair surgeon, Dr. Abhishek Malviya, performs the hair transplant in Indore at Radiant Skin Clinics using advanced techniques that provide a high success rate. 
Radiant Skin Clinics is one of the most renowned hair transplant clinics for hair transplant in Indore, which has been enlisted among the top hair transplant clinics. We clearly inform our patients about how much they can expect from the procedure and how successful it will be according to their conditions. 
Dr. Abhishek Malviya's hair transplant clinic provides the best possible hair transplant results with a success rate of 95 – 100 %. We believe in carefully considering every small step in the best interest of the patients and leverage best-in-class technology to deliver the best. Dr. Abhishek Malviya is the most experienced hair transplant surgeon in Indore, and he is well known for his mastery in performing hair transplants with a minimal damage rate of less than 1%. Radiant Skin and laser clinic is always here to serve every patient with a world-class hair transplant in Indore,  providing you the maximum possible hair density and extremely natural-looking results.
What is the Success Rate of Hair Treatment in Indore?
Dr. Abhishek Malviya, an expert hair specialist in Indore who handles a wide range of hair disorders, works in this skin specialist clinic – radiant skin clinic. He utilizes modern methods to guarantee the highest success rate possible. Radiant Skin Clinics offers the best hair treatment service for people who have hair issues. It has been named one of the country's top hair specialist clinics. We make it obvious to our patients, based on their specific circumstances, how much they may rely on the operation and how successful it will be.
Dr. Abhishek Malviya's skin specialist clinic has a 95% – 100% success record in giving the finest possible hair treatment outcomes. To provide the finest possible therapy, we believe in meticulously examining each step in the best interests of the patients and utilizing best-in-class technology. Dr. Abhishek Malviya is by far Indore's most accomplished hair specialist, and he is well-known for his ability to do hair treatments without harming the hair. Radiant Skin Clinic is constantly available in Indore to provide each patient with thorough treatment, ensuring the finest possible results.