Skin glow treatments are now in trend, especially if it is your wedding. The month before your wedding is hectic, stressful, sleep-deprived. These triggers skin issues like acne, rosacea, flare-ups, dark circles, et cetera. The reason why skin specialist Dr. Abhishek Malviya recommends taking care of your skin at least 6 months before your wedding.
Dr. Abhishek Malviya is a skincare specialist who deals with all sorts of skin issues. Dr. Malviya, with experience above 10 years, is always ready to serve his patients regardless of their age. Hence, has been granted as the top dermatologist in Indore.
Welcome to Radiant Skin Clinic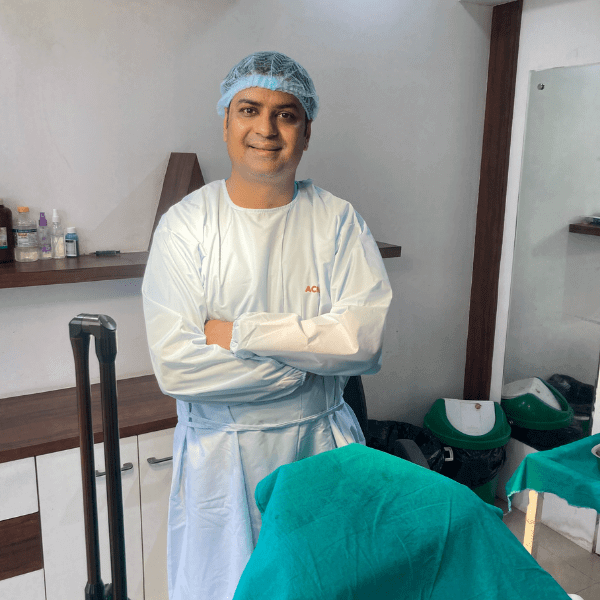 Reasons Why Dr. Abhishek Malviya is the Best Skin Care Specialist in Indore
Dr. Abhishek Malviya is a dermatologist and skin expert in Indore. His brilliance has been evident since the start of his career. He has always gone out of his way to assist others, regardless of their age. Dr. Abhishek Malviya is Indore's leading skin expert for the following reasons:
He has been one of the most successful dermatologists and surgeons.
He offers advanced dermatology treatment in Indore.
He provides numerous sittings before proceeding with treatment.
He educates the patient about the ailment, diagnosis procedure, and treatment.
He helps in boosting confidence in patients who are demoralized due to their falling dermatological health.
He has experience of above 10 years without a failed treatment
He has the best facilities for cosmetic surgeries and solutions for reshaping facial organs, extra fats in the body, et cetera.
He studies your health history thoroughly to come up with a treatment course, i.e., his treatment course is personalized for every patient.
His history of treating patients has an exponential career graph.
Why Choose Radiant Skin Clinic if you are Looking for a Skin Specialist in Indore?
Radiant Skin Clinic, run by Dr. Abhishek Malviya, has been voted one of the best dermatological clinics in Indore. Radiant Skin Clinics provides its patients with high-quality care and a 100% recovery rate.
The following services are offered by Radiant Skin Clinic:
Best Acne Scar Treatment
Best Hair Transplant Service
Expert Skin Consultation and Treatment
Expert Diseases Consultation and Treatment
Best Chemical Peeling Service
Skin Tightening and Anti-Ageing Treatment
Thread Lift and Dermal Fillers
Dermaroller/Dermapen
PRP Therapy Best
Laser Treatment
Ear Lobe Repair and
Ear Piercing
Where can you Find Dr. Malviya's Skin Care Treatment in Indore?
You've chosen the best dermatologist and surgeon in town to assist you with your concerns. Dr. Malviya's expertise and experience have resulted in a successful practice in town. He may be found at the following places, in addition to Radiant Skin Clinic:
Dewas: Kothari medical opposite MG Hospital on Wednesdays.
Manawar: Kailash hospital Chaitanyadham on every 2nd and 4th Sunday
Ratlam: Arogyam hospital college road near civil hospital on every 1st and 3rd Saturday.
Book an Appointment
Dr. Abhishek Malviya's Radiant Skin Clinic is located on the third floor of the Krishna Tower, ICICI and Baroda Bank Building, Greater Brijeshwari, Opposite IDA Scheme 140, Pipliyahana Indore, to avoid hospital issues. You may schedule an appointment with Dr. Abhishek Malviya by clicking here.
Dr. Abhishek Malviya has given such great services to his patients that they were compelled to give their reviews on him and his treatments. Here are a few of the testimonials of his patients:
Mr. Rudresh writes, "I would highly recommend Dr. Abhishek Malviya for dermal fillers. I got young and fresh skin. Thank you so much for the awesome treatment. Value for Money."
Mr. Aniket writes, "Dr. Abhishek Malviya is the best cosmetologist in India. The cost is a bit high but provides desired results. I met him for laser treatment. It improved the pigmentation of my face and it removed the wrinkles as well. I got all the attention and care from the doctors and staff."
Photo Facial
Photo-facial is a laser light therapy that tackles pigment disorders including brown spots, red spots, rosacea, and sun damage. The strong light penetrates the epidermal skin, attracting pigment-producing cells and distributing the uneven pigment. Photo-facials can be utilized on the neck, face, shoulder, chest, back, arms, and legs, among other places. Photo-facial therapy is also beneficial for fractured veins and spider veins.
What Conditions Does Photo-Facial Treats?
There are several conditions which Photo-Facial treat, they are:
Pigmented imperfection
Freckles
Sun Damage
Redness
Rosacea
Spider veins
Brown Spots
Red Spots
How Does Photo-Facial Work?
Photo-facial is a treatment that uses intense pulsed light to target pigment-producing cells beneath the skin's surface. The light energy is transformed to heat energy, which destroys the overactive melanin-producing cells in your epidermal layers, dispersing colored regions. The spots are drawn to the surface, where they gradually change into a coffee-ground-like texture that flakes off to reveal a lovely, glowing complexion beneath.
Who cannot be the Best Candidate for Photo-Facial?
Those who have a higher Fitzpatrick score, a tan, or melasma are not worthy candidates. Dark-colored skin tones can get discolored and melasma patches can become darker because light rays are drawn to pigment.
Virtual Consultation at 20% off
Opt for an online Consultation from comfort of your home
How Many Photo-Facial do you Need?
Before your wedding, to get glowing and flawless skin, you need 3 – 5 sessions. However, Dr. Malviya will be the best to examine your skin and then decide on the number of sessions.
What are the Best Treatment Areas for Photo-Facial?
The best treatment areas for photo-special are:
Face
Neck
Chest
Shoulders
Arms
Leg
Back
Is Photo-Facial a Painful Skin Treatment?
Photo-facials aren't inherently painful, but they can be a little annoying. Patients compare the sensation to that of a rubber band striking across their skin. The laser's light is also fairly bright, which may be bothersome for those who are light-sensitive.
How Long Does the Result Last?
The outcomes of photo-facial treatments improve with time, with the best results appearing three months after the last treatment. The results will last longer if you use sunscreen and take care of your skin. If adequate exfoliation is overlooked throughout daily routines, sunburns and overexposure will bring back existing spots, freckles, and dullness. Every year, a fresh set of treatments is recommended for best outcomes.
During Photo-Facial Treatment
Dr. Malviya will cleanse your skin thoroughly and will apply a cool gel to your skin. This will improve the effectiveness of the light waves. He'll next glide the laser in a grid-like arrangement across the skin, flashing the light every centimeter.
Post-Photo-Facial Treatment
Dr. Malviya will clean the skin again after the treatment and remove the gel. There will most certainly be some redness and puffiness, but there will be no downtime. You can immediately reapply for make-up and resume your normal skincare regimen. Make sure you remain out of the sun for the following week and use sunscreen consistently.
Glowing Skin through Photo-Facial
Photo-facial Skin treatment is one of the best and cheap skin treatments for you before and after your wedding. It will not only freshen up your skin for your wedding but will also improve your skin condition. You can opt for Photo-Facial even after your wedding is done to maintain flawless skin.
Laser Toning
The laser boosts collagen creation during laser toning or faces toning. As a result, fine lines and wrinkles are reduced. Additionally, the skin seems revitalized, with a smoother texture, even skin tone, and a reduction in pore size. Laser toning does not consume too much time. You can resume your work immediately after your session ends. The face can be swelled, red, but it vanishes within hours.
What Conditions Does Laser Toning Treat?
The conditions which laser toning treats are:
Wrinkles
Fie Lines
Pigmentations
Age Spots
Freckles
Acne Scars
Birthmarks
Blemishes
Spider Veins
Seal Blood Vessels
Droopy Skin
Dark Circles
Pucker Marks
Frown Lines
What are the Best Treatment Areas for Photo-Facial?
The best treatment areas for laser toning are:
Face
Neck
Hands
Back
Legs
Is Laser Toning a Painful Skin Treatment?
Laser toning can be painful but the pain is minimal. Dr. Malviya and his experienced team will guide you through the procedure to not feel the pain.
Benefits of Laser Toning
Your routines are quite hectic before your wedding. The skin begins to lose its radiance and luster, resulting in superficial flaws in tone and texture. This is mostly due to cumulative environmental exposures such as UV radiation, pollution and toxic chemicals, cigarette smoke, dust, and other factors that cause oxidative stress and delayed destruction of numerous skin components such as:
Loss of collagen and elastin:

These construct the skin's framework; giving it flexibility and helping it maintain its shape. The skin becomes loose and inelastic as these components degrade slowly, resulting in open pores.

Elevated water loss through the epidermal skin: 

The repetitive environmental damage is akin to smoking a cigarette since it drills little holes into the skin's framework, causing not just elasticity loss but also water loss, resulting in dry and "dull" skin.

Improper skin tone and uneven skin tone: 

Our skin is the body's coat, which is subjected to the greatest amount of environmental assault. As a result, changes occur not only inwardly but also outwardly on the surface, which is why many people seek treatment and skincare from dermatologists.
Therefore, the benefits of laser toning are:
No Blemishes:

Acne scars and imperfections that developed on our skin over the horrible acne trip have grown even more irritating. These scars and imperfections fade significantly with laser toning. For this treatment, Q-switched laser beams are typically employed. The process involves the use of laser beams to penetrate the skin's deepest layers to erase deep-seated scars and imperfections. The process of laser toning entails the heating of specific skin layers rather than the direct destruction of skin layers.

No Wrinkles:

Laser toning is specifically designed to combat wrinkles, and you should notice a noticeable reduction in fine lines and wrinkles after undergoing laser toning treatment. Laser beams that enter the inner layers of your skin encourage your skin to manufacture more collagen, which gives your skin flexibility and softness. Collagen synthesis improves your appearance by smoothing out wrinkles and fine lines.

Even Skin Tone:

Uneven skin tone and discoloration are nightmares for many people. Your skin will restore its even-toned texture and color if you choose laser toning therapy. Your skin does not restore light after this operation; instead, light is reflected, leaving you with glowing, even-toned skin.

Restores Skin:

Laser skin toning is a full-service solution for skin restoration and rejuvenation. It gives your skin a more youthful and appealing appearance. Your skin also seems more supple, silky, and firm, giving you a more youthful shine. As a result, you become free of flaws and your self-confidence skyrockets.
How Much Time is needed for Laser Toning Treatment?
Laser toning takes 20 to 30 minutes timing per session. However, it needs a minimum of 8 – 10 sessions for best results.
Glowing Skin through Laser Toning
The rejuvenation of the skin surface gives the skin a beautiful glow. Fewer skin flaws improve the natural beauty of your skin while also enhancing and highlighting the sharp features of your face. Skin that is tight and radiant is associated with youth.
Considering the aforementioned benefits, laser toning appears to be the ideal beauty package in and of itself. Furthermore, nonsurgical therapies are always preferable. Laser toning allows you to enjoy the luxury of beautiful skin.
How do we Work to get the Best Result in Skin Care Treatment in Indore?
Dr. Malviya examines each patient separately and thoroughly examines each treatment plan to ensure that no detail is ignored. Then, depending on the situation, he employs the most appropriate therapeutic strategy. To achieve the best outcomes, he uses snipping technology.
In Indore's radiant skin clinics, the best skincare results can be discovered. We are honored to be acknowledged as one of Indore's top skin treatment centers. On our team, we have dermatologists with years of experience as well as medically qualified personnel.
What is the Success Rate of Skin Care Treatment in Indore?
This skin specialist clinic is managed by Dr. Abhishek Malviya, a professional skin specialist and surgeon in Indore who treats a wide spectrum of illnesses. To increase his chances of success, he employs creative tactics. The most effective skincare treatment is available at Radiant Skin Clinics. It is highly considered as one of the country's best skin specialty clinics. Based on their specific circumstances, we advise our customers on what to expect from the process and how effective it will be.
Dr. Abhishek Malviya's skin specialist clinic has a success rate of 95–100% in providing the best possible skincare treatments. We believe that to deliver the best possible treatment, we must carefully consider each step in the best interests of the patients and employ best-in-class technology. Dr. Abhishek Malviya is Indore's most experienced skin doctor, renowned for his ability to treat skin problems without harming them. Radiant Skin Clinic in Indore is always prepared to provide thorough care and the best possible results for each patient.