Hair loss and thinning hair are common problems in both men and women. Approximately 50 million men and 30 million women did lose some or all of their hair. It is more common after the age of 50 or as a result of stress. If you are one of them, you must visit a hair specialist who will treat your issue from the core. There are hundreds of different hair loss treatments, each with varying degrees of dependability and success. Platelet-rich plasma is one of these treatments (PRP).
It is natural to lose confidence due to excessive hair fall. Also, it triggers depression, anxiety for not being able to feel oneself. PRP therapy is one such therapy that will make you feel that you can heal yourself. Similarly, it will uplift your confidence and make you beautiful inside-out.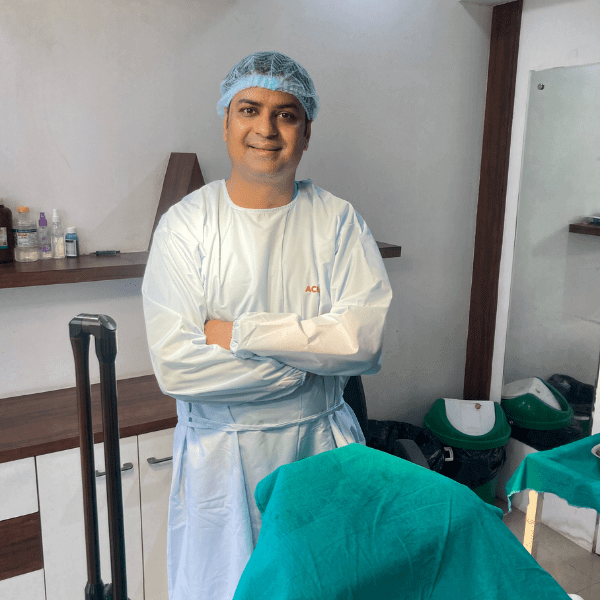 Reasons Why Dr. Abhishek Malviya is The Best for PRP Hair Treatment in Indore
Dr. Abhishek Malviya is Indore's most experienced PRP Therapist, and he is well-known for his ability to do PRP hair Treatment without causing any injury. If you are looking for PRP therapy, Dr. Abhishek Malviya, the best hair specialist in Indore for PRP hair treatment, who practices at Radiant Skin Clinic is the right choice for you. Because of his personalized approach to treatment, he has been named the best hair specialist in Indore.
Radiant Skin Clinics provides the finest PRP Therapy available. Dr. Abhishek treats patients using advanced technology. With over ten years of experience, he has successfully treated patients with PRP hair treatment for hair loss and hair thinning problems. His customized PRP treatment will also restore your confidence.
Dr. Abhishek employs innovative procedures to ensure the maximum possible outcome from the PRP hair therapy. It has established a reputation as one of the top PRP Therapy centers in the country. Based on their unique circumstances, we advise our customers how much they may expect from the therapy and how successful it will be.
What is PRP Therapy?
PRP therapy for hair loss and hair thinning is a three-step medical procedure that involves drawing blood, processing it, and injecting it into the scalp. It heals the bodily tissues, including the follicles out of which your hair grows. PRP is obtained from your blood using a centrifuge-like process that separates the component and increases the concentration of cellular proteins that aid recovery.
Process of PRP Hair Treatment
PRP therapy consists of three steps. Most PRP Hair treatments necessitate three sessions spaced four to six weeks apart. Also, after every 4–6 months, maintenance treatments are required.
Following are the Steps involved in PRP hair Treatment :
Step 1: Your blood is extracted from your arm and centrifuged.
Step 2: Your blood will be divided into three layers after around 10 minutes in the centrifuge:
platelet-poor plasma
platelet-rich plasma
red blood cells
Step 3: The platelet-rich plasma is pulled into a syringe and injected into regions of the scalp that require enhanced hair growth.
These procedures of PRP hair treatment are tricky, and our esteemed hair specialist, Dr. Abhishek Malviya has mastered this skill and has served thousands of patients without failure.
Book an Appointment
With Best Dermatologist in Indore
To avoid the complexities of the hospitals, you can directly come to Dr. Abhishek Malviya's Clinic at Pipliyahana, Indore.
Book your Consultation
Why PRP Hair Therapy is Popular for Hair Loss and Hair Thinning
PRP is flourishing worldwide, here are reasons why it is so popular for hair loss and hair thinning
High Profile Therapy:
PRP therapy injections gained popularity as sportsmen began adopting this possible treatment to address sports-related ailments. Top players like Tiger Woods, Hines Ward, and others have stated that PRP therapy treatments have helped them heal faster and get back into the game faster.
Convenient Resource:
Each patient has his or her unique supply of blood that can be used for this form of medical treatment. Platelets are blood cells that are the driving force behind your body's formation of blood clots. PRP treatment, which is composed of proteins that govern new development and help your body to mend, relies on these platelets to speed up the healing process, which is conveniently found within our bodies.
Natural Healing:
PRP treatment injections include a high concentration of removed platelets rich in plasma, which increases the number of reparative cells that flood the target region. PRP injections make sense since they help to provide the body with more of its natural resources in a concentrated environment, which helps to alleviate pain, edema, stiffness, hair growth, skin inflammation, and improve recovery.
Precise Treatment:
PRP treatment injections can be carefully put by a board-certified dermatologist Dr. Malviya, using guided fluoroscopy or ultrasound technology to identify the issue and begin the process of regenerating new growth or healing. Platelet-rich plasma is obtained and injected into damaged or wounded skin, hair loss, skin irritation, and so on.
Quick Procedure:
PRP injections often take less than 30 minutes. This short and simple approach allows patients to resume work or other standard daily activities shortly following the treatment. There would be some little swelling or pain at the injection site, but it will subside after a few days.
Low-Risk Factor:
One of the most significant advantages of this form of treatment is the absence of the need for general anesthesia. To ensure that the procedure is as painless as possible, a local anesthetic will be utilized. Another advantageous component of PRP therapy treatment is the absence of risk considerations. Using a patient's blood supply for its healing component of platelets reduces the danger of infection and rejection.
Benefits of PRP Hair Treatment of Hair Loss and Hair Thinning
There are several benefits of PRP therapy for hair loss, some of them are as follows:
Hair growth
PRP therapy helps reduce hair loss by injecting platelet-rich plasma into the scalp. Dr. Abhishek Malviya has been using this treatment against hair loss for a long time. He has been by far the best one to use this method without any failure.
Tissue Healing:
PRP is also used to heal tissues. The PRP method has been flourishing worldwide due to its vast rich in healing tissue injuries.
Bone Healing:
PRP has been experimented to heal bone injuries. The medications have been successful so far.
Reduction of Inflammation:
Doctors use PRP Therapy to treat inflammation in patients with Osteoarthritis and rheumatoid arthritis. Also, this inflammation can cause joint discomfort and stiffness.
Virtual Consultation at 20% off
Opt for an online Consultation from comfort of your home
How do we Execute PRP Treatment in Indore at Radiant Skin Clinics
RadiantSkinClinics is one of the most popular clinics for PRP treatment in Indore. Our well-known PRP Hair Treatmnet Specialist, Dr. Abhishek Malviya, provides the best of his services to individuals suffering from hair loss and hair thinning. Also, our staff is well experienced,  professional and medically trained.
We create a comfortable environment for our patients and provide  highest quality PRP therapy. Our services are competitively priced, which increases the trustworthiness of customers who come in for testing and treatment.
Dr. Malviya tackles PRP Therapy by concentrating on each patient as an individual and painstakingly reviewing each treatment plan to ensure that no aspect is ignored. He then employs the most appropriate therapy method for the issue. To get the best results, he utilizes modern technology.
The greatest PRP Therapy results are obtained at Radiant Skin Clinics in Indore. We are honored to be recognized as one of the top PRP Therapy centers in Indore.
Dr. Abhishek Malviya has given such great services to his patients that they were compelled to give their reviews on him and his treatments. Here are a few of the testimonials of his patients:
Mr. Rudresh writes, "I would highly recommend Dr. Abhishek Malviya for dermal fillers. I got young and fresh skin. Thank you so much for the awesome treatment. Value for Money."
Mr. Aniket writes, "Dr. Abhishek Malviya is the best cosmetologist in India. The cost is a bit high but provides desired results. I met him for laser treatment. It improved the pigmentation of my face and it removed the wrinkles as well. I got all the attention and care from the doctors and staff."
What is the Success Rate of PRP Therapy in Indore?
Dr. Abhishek Malviya's Radiant Skin Clinic has a success rate of 95–100% in providing the best possible PRP Hair Treatment in Indore. We believe in painstakingly examining each step in the best interests of the patients and employing best-in-class technology and give the greatest therapy possible, . Also, Radiant Skin Clinics in Indore is always accessible to assist each patient with comprehensive treatment and the best outcomes possible.