Getting aged too fast is very prevalent in present days due to numerous environmental conditions. The consequences of ageing are not only visible in organs like kidney, liver, heart, but are also visible in epidermal skin. There are many over-the-counter creams available in the market which promises to stop to skin-lock your age. However, they are chemical induced harmful creams which can even cause deadly health conditions like cancer. The best is to follow up with a dermatologist and pursue skin treatment.
Dr. Abhishek Malviya is the top-notch dermatologist in Indore who treats his patients regardless of their age. His personalized treatment with the help of modern technologies is talk of the town. He has earned appreciations not only from high ranked personals, but also from his patients.
Welcome to Radiant Skin Clinic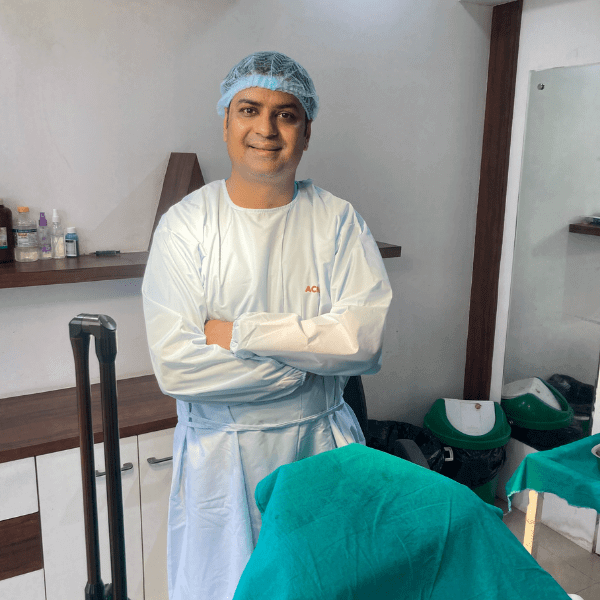 Reasons why Dr. Abhishek Malviya is the Best Anti Aging Treatments in Indore
Dr. Abhishek Malviya is a dermatologist, surgeon, and skin expert who practices in Indore. Since the beginning of his career, his performance has been exceptional. He has always gone above to assist others, regardless of their age. Dr. Abhishek Malviya is Indore's leading skin specialist for the following reasons:
He has been one of the most successful dermatologists and surgeons.
He offers advanced dermatology treatment in Indore.
He provides numerous sittings before proceeding with treatment.
He has experience of above 10 years without a failed treatment
He helps in boosting confidence in patients who are demoralized due to their falling dermatological health.
His history of treating patients has an exponential career graph.
He studies your health history thoroughly to come up with a treatment course, i.e., his treatment course is personalized for every patient.
He has the best facilities for cosmetic surgeries and solutions for reshaping facial organs, extra fats in the body, et cetera.
Anti-Aging Treatment in Radiant Skin Clinic
Vampire Facial
You've definitely heard about the celebrity-endorsed dermatological trend known as the vampire facial. The current system is significantly less terrifying than it appears, and it is available to anyone who isn't celebrities. The vampire facial, also known as exfoliation with PRP, is a skin condition in which platelets are extracted from your blood and then applied to your skin. This method offers a number of advantages, including a healthy epidermis, and is quickly gaining popularity.
What is Vampire Facial?
In a vampire facial, micro-needling and platelet-rich plasma are employed (PRP). Microneedling is a technique that uses small needles to pierce the epidermis. These needles come in size varying from.5 mm to 2.5 mm. Ensure that the needles are the only epidermis and that they feel like tiny specks. The pricks injure the skin, prompting it to heal by producing elastin and collagen, allowing the PRP to penetrate deeper.
PRP is applied directly to your epidermal once the micro-needling procedure is completed. PRP is a concentrated platelet-rich protein plasma generated from bodily fluid. PRP has a lot of signaling pathways in it, which helps with tissue repair and regeneration.
Procedure of Vampire Facial
In a medical practice, micro-needling with PRP is undertaken. The initial blood draw, which is actually rather simple, is the first step. The plasma and platelets in your blood are then separated from the RBCs by centrifugation.
To alleviate any discomfort from the needling, a subcutaneous tranquillizing ointment is applied to the skin before the micro-needling portion of the therapy begins.
After the tranquillizing lotion has been applied and the micro-needling has been completed, the PRP is applied topically. Allow the PRP to remain on your skin for the remainder of the day to achieve the best results. Patients will have dry, red, sensitive skin for the first few days of treatment, similar to light sunburn.
Advantages of Vampire Facial
The vampire facial provides a number of benefits, including:
Stops Ageing
Enhances Skin Tone and Texture
Increase Skin Cells
Reduces Fine Line and Wrinkles
Best Candidates for Vampire Facial?
Almost everyone is capable of having Vampire Facial therapy. However, people with the following health issues should avoid Vampire Facial:
Hepatitis C
HIV AIDS
Blood Cancer
Cardiovascular issues
Skin Cancer
How Long Does Vampire Facial Last?
Vampire Facial lasts up to 18 months from the therapy period.
Thread Lift
A thread lift is a non-surgical treatment for raising drooping skin on the face or neck that is simple and quick. This treatment lifts and contours the face by suspending the skin with 'threads' or sutures. It is especially effective for people with aging signs.
Ideal Candidate for Thread Lifting
Thread lifts should be considered after speaking with Dr. Abhishek Malviya if you have ageing indicators on your face but are unwilling to have surgery. Threads can also help to hide jowls and double chins.
Virtual Consultation at 20% off
Opt for an online Consultation from comfort of your home
How Does Thread Lift Function?
The thread lift, which is comparable to sutures used by surgeons in surgery, uses polydioxanone threads. These threads can last up to 180 days under the skin. When implanted into the skin, they not only provide structural protection but also induce new collagen production and reformation along their length, allowing the skin to flex in that direction. Collagen production makes the skin appear younger and suppler by improving blood circulation.
This has the impression of lifting and tightening the face by slightly dragging the skin back. In addition to raising the skin, threads combat aging by activating the body's "healing response" and driving the body to direct large surges of collagen to treated areas. This is noteworthy since collagen is so important in the aging process.
In other words, as a result of this therapy, the face tissues are renewed on a continual and gradual basis. Clients who have a thread lift to promote collagen will notice a gradual improvement in their skin's tone and firmness. Because the body will want to "heal" the sutured regions and expel the sutures, the body's healing reaction will be repeatedly stimulated while their threads are in place.
Thread Lifting Procedure
During the consultation, Dr. Malviya determines the amount of threads to be used during the surgery. Before therapy, he will point out the problematic areas and determine the angles or positions where the threads should be placed. A numbing lotion is used to numb the treatment area. After that, the threads are inserted into the skin. A cooling mask is applied after the therapy.
How to Prepare Before Thread Lifting?
After a few sittings with his customers, Dr. Malviya will do the following before starting the thread lifting:
Medical History and Exam
Dr. Malviya will question about past and current medical difficulties, prior treatments, prior plastic surgeries, previous operation complications, smoking background, and drug or alcohol use. If he has any concerns about your capacity to undergo surgery, he will do a physical examination, collect current data from your doctor, or arrange for a consultation with a specialist.
Medication Review
All drugs you use on a regular basis, including prescription pharmaceuticals, over-the-counter medications, herbal treatments, vitamins, and other nutritional supplements, must be listed with their names and dosages.
Facial Exams
Dr. Malviya will take photos of your face from different angles, as well as close-ups of specific features. In order to determine your optimal face-lift surgery options, he will analyze your bone structure, facial shape, fat distribution, and skin quality.
Expectations
Dr. Malviya will ask you what you hope to get from the thread lift and will reassure you that it won't help with fine lines, wrinkles, acne scars, or anything else.
When can you see the Results?
The effects are immediate, but because the threads promote collagen, the skin continues to strengthen and tighten, peaking two months following treatment.
The effects of a thread lift can persist for up to a year, and in some circumstances, much longer. The duration of treatment is influenced by regular eating and exercise, as well as a healthy lifestyle.
Advantage of Thread Lift
A thread lift is easy to recover from. Thread lifts can be performed with a local anesthetic rather than a general anesthesia, allowing thread lift patients to drive themselves home and care for themselves immediately after their procedure. While some patients may have some soreness, irritation, and swelling following a thread lift and may opt to take the rest of the day off, the majority of patients can return to work immediately. Strong pain relievers are rarely needed after a thread lift, making it easier for patients to get back to their regular routine. As a result, this strategy is appropriate for individuals with children at home or a busy schedule.
Collagen Induction Therapy
Collagen Induction Therapy is a restorative aesthetic medicine therapy that slows down the aging process of the skin. Most men and women want to keep their youthful appearance as they become older without using bo-to-x or fillers. By increasing your own collagen production using growth factors and other biologic choices, these anti-aging facials can brighten skin, eliminate dark spots, smooth fine wrinkles, and improve your skin's overall look. This is a non-invasive method of focusing on natural anti-aging without the use of toxins, fillers, or surgery!
How Does the Treatment Work?
During this anti-aging facial, Dr. Malviya utilizes a device with small needles to induce regulated micro-injuries to the skin in order to encourage Collagen and Elastin synthesis. The skin's healing process leads in a stronger dermis, smoother wrinkles, and fewer noticeable blemishes and scars. The needles generate segments and sub in the skin's surface. These channels aid in the absorption of therapeutic gels, lotions, and skincare products by the skin.
During your Micro-needling facial, PRP and other regenerative alternatives such as Growth Factors and exosomes help to boost collagen synthesis.
Benefits of Collagen Induction Therapy
The benefits of collagen induction therapy are:
Enhances topical serum transdermal administration.
Reduces fine lines and wrinkles
Improves skin tone and texture
Decreases stretch marks
Tightens, lifts and thickens the skins
Decreases pore sizes
How do we Work to get the Best Result in Anti-Ageing Treatment in Indore?
Dr. Malviya evaluates each patient separately and thoroughly studies each treatment plan to ensure that no detail is ignored. Then, depending on the scenario, he employs the most appropriate treatment method. To achieve the best outcomes, he uses cutting-edge technology.
In Indore's radiant skin clinics, the best anti-ageing treatment results may be discovered. We are honored to be acknowledged as one of Indore's top acne treatment centers. On our team, we have dermatologists with years of experience as well as medically qualified personnel.
What is the Success Rate of Anti-Ageing Treatment in Indore?
This skin specialist clinic is managed by Dr. Abhishek Malviya, a professional skin specialist and surgeon in Indore who treats a wide spectrum of illnesses. To increase his chances of success, he employs creative tactics. The most effective anti-ageing treatment is provided at Radiant Skin Clinics. It is highly considered as one of the country's top skin specialty clinics. Based on their specific circumstances, we advise our customers on what to expect from the process and how successful it will be.
Dr. Abhishek Malviya's skin specialist clinic has a success rate of 95–100% in providing the best available anti-ageing therapies. We believe that in order to deliver the best possible treatment, we must carefully consider each step in the best interests of the patients and employ best-in-class technology. Dr. Abhishek Malviya is Indore's most experienced skin doctor, renowned for his ability to treat skin problems without harming it. Radiant Skin Clinic in Indore is always prepared to provide thorough care and the best possible results for each patient.