Birthmarks in kids are very prevalent. At times, the parents do not want the birthmark to stay. This is because the location of the birthmark may be very awkward. For example, on the nose, cheeks, eyes, or forehead. The parents might think about how their kids will deal with the societal norms of beauty. At times, birthmarks can also be found on the genitals of the kids. Hence, the parents prefer removing it at an early age.
We have Dr. Abhishek Malviya, from The Radiant Skin Clinic, who has been removing birthmarks for a decade now. He is a well-known pediatric dermatologist in Indore with the experience of more than ten years. His excellence in this field has garnered his patients' trust and faith along with a 95-100% of success rate.
Welcome to Radiant Skin Clinic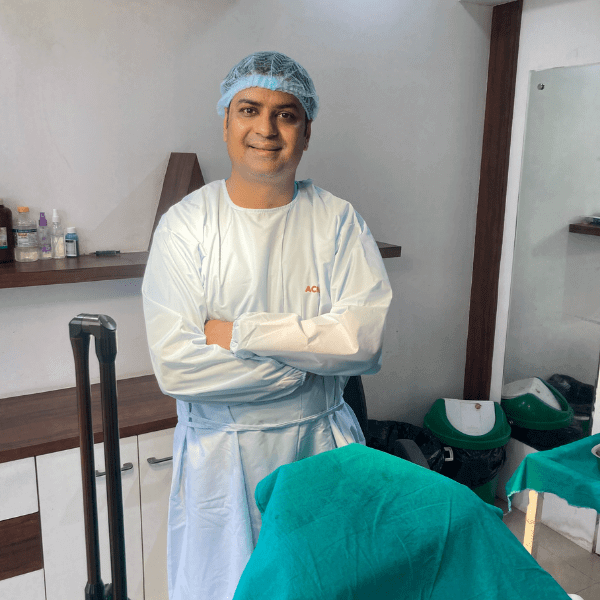 Reasons why Dr. Abhishek Malviya is the Best Dermatologist in Indore
Dr. Abhishek Malviya is an Indore dermatologist, surgeon, and skin expert. His talent has been impressive since the onset of his career. He has always gone out of his way to help others, no matter their age. Dr. Abhishek Malviya is the top skin expert in Indore for the following reasons:
  He has been one of the most successful dermatologists and surgeons.
  He offers advanced dermatology treatment in Indore.
  He provides numerous sittings before proceeding with treatment.
  He has experience of above 10 years without a failed treatment
  He helps in boosting confidence in patients who are demoralized due to their falling dermatological health.
 His history of treating patients has an exponential career graph.
 He studies your health history thoroughly to come up with a treatment course, i.e., his treatment course is personalized for every patient.
 He has the best facilities for cosmetic surgeries and solutions for reshaping facial organs, extra fats in the body, et cetera.
Why Choose Radiant Skin Clinic if you are Looking for a Dermatologist in Indore?
Dr. Abhishek Malviya's Radiant Skin Clinic has been named one of the top dermatologist clinics in Indore. Radiant Skin Clinics offer quality service and a 100% recovery rate to its patients.
Radiant Skin Clinic provides the following services:
Best Acne Scar Treatment
Best Hair Transplant Service
Expert Skin Consultation and Treatment
Expert Diseases Consultation and Treatment
Best Chemical Peeling Service
Skin Tightening and Anti-Ageing Treatment
Thread Lift and Dermal Fillers
Dermaroller/Dermapen
PRP Therapy Best
Laser Treatment
Ear Lobe Repair and
Ear Piercing
Where can you Find Dr. Malviya's Dermatological Treatment in Indore?
You've picked the greatest dermatologist in town to help your baby with scalp infection. Dr. Malviya's competence and experience have resulted in a thriving practice in town. In addition to Radiant Skin Clinic, he may be seen in the following locations:
 Dewas: Kothari medical opposite MG Hospital on Wednesdays.
Manawar: Kailash hospital Chaitanyadham on every 2nd and 4th Sunday
Ratlam: Arogyam hospital college road near civil hospital on every 1st and 3rd Saturday.
Book an Appointment
To avoid hospital complications, Dr. Abhishek Malviya's Radiant Skin Clinic is located on the third floor of the Krishna Tower, ICICI and Baroda Bank Building, Greater Brijeshwari, Opposite IDA Scheme 140, Pipliyahana Indore. You can book a consultation with Dr. Abhishek Malviya by clicking here.
Dr. Abhishek Malviya has given such great services to his patients that they were compelled to give their reviews on him and his treatments. Here are a few of the testimonials of his patients:
Mr. Rudresh writes, "I would highly recommend Dr. Abhishek Malviya for dermal fillers. I got young and fresh skin. Thank you so much for the awesome treatment. Value for Money."
Mr. Aniket writes, "Dr. Abhishek Malviya is the best cosmetologist in India. The cost is a bit high but provides desired results. I met him for laser treatment. It improved the pigmentation of my face and it removed the wrinkles as well. I got all the attention and care from the doctors and staff."
Birthmark in Children
Birthmarks are reddish, black, or elevated patches on the skin that appear immediately after delivery or at the time of birth. We don't understand what triggered birthmarks; they're generally made up of improperly developing capillaries, and the majority of them are minor and benign. Many of them vanish overage. A birthmark that is huge and unattractive, or that creates a health concern, may require medical attention.
Birthmarks: What They Are and What They Aren't
Birthmarks may be seen on any part of the body and occur in a variety of forms and sizes. Birthmarks come in a variety of shapes and sizes.
Hemangiomas
These birthmarks, which are usually red, puffy, and rough, appear on the skull within a few months after delivery. They usually diminish with time, although they may have to be excised if they become huge and close to the eyes, jaws, or auricle.
Moles
Moles are black, flattened, or protruding patches that must be located somewhere on the body and vary in diameter between tiny to huge. Skin cancer can grow from moles that are evident at birth, but this is uncommon in children.
Spots in Mongolia
The backs of dark-skinned newborns often are commonly affected by these blue or purple patches. They also tend to vanish in a few years.
Bites of the Stork
These little pink or crimson spots, often known as salmon blotches, are commonly spotted on a baby's face or neck. They normally vanish with age.
Stains from Port Wine
Planar, wine-colored birthmarks can appear wherever and are frequently huge. They don't disappear; in contrast, some of them may become deeper or hemorrhage.
Birthmarks and Their Treatment
All sorts of birthmarks are evaluated and treated by Dr. Abhishek Malviya. Until they have an impact on a kid's look or wellbeing, the majority of them do not require therapy. A huge port-wine mark on the forehead, for instance, can be ugly, and a hemangioma near the eye might obstruct eyesight. These birthmarks on infants may be treated well before they are discharged from the hospital.
To reduce suffering and damage and get the best possible outcomes, we frequently utilize a mix of therapies and may collaborate with plastic surgeons and other medical professionals.
Laser Therapy:

 By destroying capillaries or melanin just beneath the epidermis, laser treatment may effectively eliminate or diminish birthmarks.

Medication:

 To diminish or erase a birthmark, medications might be incorporated intravenously into the region or given orally to limit blood supply to the lesion (a technique known as embolization).

Surgery:

 The birthmark can be removed by surgical therapy.
If your baby or kid has a birthmark that might threaten their health or looks, we'll take care of it with medical competence and personal compassion.
What is the Purpose of Treatment for my kid?
Birthmark removal can be beneficial for young kids in early childhood, well before potential psychological or physiological difficulties arise. Marks on the face may lead school-aged youngsters to lack confidence and deal with low self. Birthmarks can sometimes create issues if they push on vital structures such as the eyes or nostrils.
Before the therapy
Before the therapy, you will be given a complete description of your baby's therapy during the initial appointment. If you are unsure about any of it, see your physician.
During the procedure
The laser causes discomfort equivalent to little elastic band flips on the flesh. Most people can handle it, but youngsters may necessitate anesthetic gel or moderate drowsiness.
If necessary, anesthetic ointment or moderate sedative may be administered to freeze the region. General anesthesia may be necessary for highly apprehensive kids or when the treatment area is big, and the procedure will be performed in an operating room. Your youngster will be unconscious under mild general anesthesia if that's the scenario. They will not experience any discomfort during the treatment and will have no recollection of it after that.
At-home care
The targeted region may be painful, puffy, red, or scarred after therapy. Healthcare practitioners will instruct you on what to do if it occurs as you leave. Mild pain relievers, including cold packs and paracetamol, may be required for your youngster.
If the region boils, antibacterial medication or a specific covering may be required to speed up the healing process.
How do we Solve Birthmark Issues?
The Radiant Skin Clinic takes pride in what it has to offer. Dr. Abhishek Malviya, a well-known Dermatologist, is available for consultation. Our clinic was named the finest in Indore, and our well-known Skin Clinic was named the best in town.
Our treatment is of the highest quality, and we go out of our way to make our patients feel comfortable. Because our services are fairly priced, customers have more faith in us when they come in for an inspection or treatment.
How do we Work to get the Best Result in Dermatological Treatment in Indore?
Dr. Malviya proceeds with birthmark removal by focusing on each patient individually and thoroughly evaluating each treatment plan to ensure that no detail is missed. Then, depending on the scenario, he employs the most appropriate treatment method. To achieve the best outcomes, he uses cutting-edge technology.
The best dermatological treatment outcomes may be found at Indore's radiant skin clinics. We are honored to be acknowledged as one of Indore's top skin treatment centers. On our team, we have dermatologists with years of experience as well as medically qualified personnel.
Virtual Consultation at 20% off
Opt for an online Consultation from comfort of your home
What is the Success Rate of Birthmark Removal in Indore?
This skin specialist clinic is run by Dr. Abhishek Malviya, an experienced skin expert in Indore who treats a wide range of skin disorders even removes birthmarks in children. To increase his chances of success, he employs creative tactics. The most effective birthmark removal therapy is provided at Radiant Skin Clinics. It is highly considered as one of the country's top skin specialty clinics. Based on their specific circumstances, we advise our customers on what to expect from the process and how successful it will be.
The skin specialist clinic of Dr. Abhishek Malviya has a 95–100% success rate in providing the finest birthmark removal therapy choices. We believe that to deliver the best possible treatment, we must carefully consider each step in the best interests of the patients and employ best-in-class technology. Dr. Abhishek Malviya is Indore's most experienced skin doctor, renowned for his ability to treat skin problems without harming them. Radiant Skin Clinic in Indore is always prepared to provide thorough care and the best possible results for each patient.