Stretch marks are widespread skin lesions that have both physical and psychological consequences. The occurrence is due to factors like pregnancy. Early adolescence, puberty, weight gain, steroid intake, et cetera. Stretch marks generally occur at the arms, buttock, lower abdomen, and breast.
Dr. Abhishek Malviya from Radiant Skin Clinic, with above 10 years of expertise has been treating clients with acute and chronic stretch marks. The results are tremendous according to his clients. He is one of the top surgeons and dermatologists in Indore. His personalized treatment has cured many of his clients.
Welcome to Radiant Skin Clinic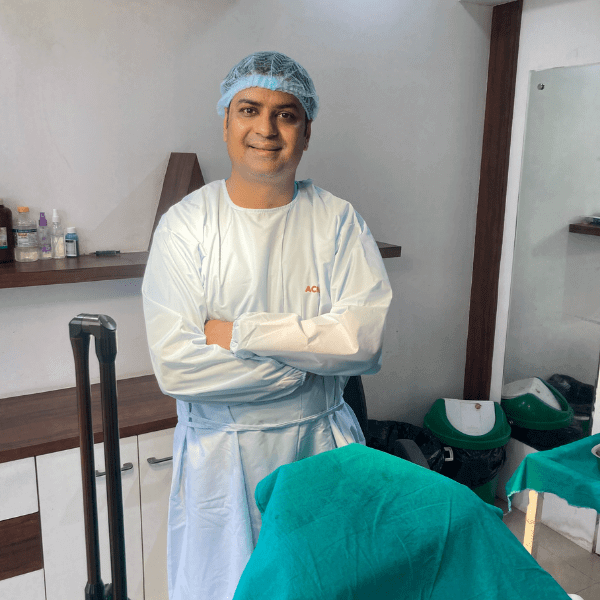 Reasons why Dr. Abhishek Malviya is the Best Skin Care Specialist in Indore
Dr. Abhishek Malviya is a dermatologist, surgeon, and skin expert who practices in Indore. Since the beginning of his career, his talent has been exceptional. He has always gone above and above to assist people, regardless of their age. Dr. Abhishek Malviya is Indore's leading skin specialist for the following reasons:
He has been one of the most successful dermatologists and surgeons.
He offers advanced dermatology treatment in Indore.
He provides numerous sittings before proceeding with treatment.
He has experience of above 10 years without a failed treatment
He helps in boosting confidence in patients who are demoralized due to their falling dermatological health.
His history of treating patients has an exponential career graph.
He studies your health history thoroughly to come up with a treatment course, i.e., his treatment course is personalized for every patient.
He has the best facilities for cosmetic surgeries and solutions for reshaping facial organs, extra fats in the body, et cetera.
Why Choose Radiant Skin Clinic if you are Looking for a Dermatologist in Indore?
Dr. Abhishek Malviya's Radiant Skin Clinic has been named one of the top dermatologist clinics in Indore. Radiant Skin Clinics offer quality service and a 100% recovery rate to its patients.
Radiant Skin Clinic provides the following services:
Best Acne Scar Treatment
Best Hair Transplant Service
Expert Skin Consultation and Treatment
Expert Diseases Consultation and Treatment
Best Chemical Peeling Service
Skin Tightening and Anti-Ageing Treatment
Thread Lift and Dermal Fillers
Dermaroller/Dermapen
PRP Therapy Best
Laser Treatment
Ear Lobe Repair and
Ear Piercing
Where can you Find Dr. Malviya's Dermatological Treatment in Indore?
You've picked the greatest skin specialist in town to help you with your stretch marks. Dr. Malviya's competence and experience have resulted in a thriving practice in town. In addition to Radiant Skin Clinic, he may be seen in the following locations:
Dewas:

Kothari medical opposite MG Hospital on Wednesdays.

Manawar:

Kailash hospital Chaitanyadham on every 2nd and 4th Sunday

Ratlam:

Arogyam hospital college road near civil hospital on every 1st and 3rd Saturday.
Book an Appointment
To avoid hospital complications, Dr. Abhishek Malviya's Radiant Skin Clinic is located on the third floor of the Krishna Tower, ICICI and Baroda Bank Building, Greater Brijeshwari, Opposite IDA Scheme 140, Pipliyahana Indore. You can book a consultation with Dr. Abhishek Malviya by clicking here
Dr. Abhishek Malviya has given such great services to his patients that they were compelled to give their reviews on him and his treatments. Here are a few of the testimonials of his patients:
Mr. Rudresh writes, "I would highly recommend Dr. Abhishek Malviya for dermal fillers. I got young and fresh skin. Thank you so much for the awesome treatment. Value for Money."
Mr. Aniket writes, "Dr. Abhishek Malviya is the best cosmetologist in India. The cost is a bit high but provides desired results. I met him for laser treatment. It improved the pigmentation of my face and it removed the wrinkles as well. I got all the attention and care from the doctors and staff."
What is Stretch Mark?
Stretch marks are scars that appear when our skin expands or shrinks rapidly. Collagen and elastin, which sustain our skin, burst as a result of the sudden shift. Stretch marks may form when the skin recovers.
These tiny bands do not appear on everyone's skin. Hormone levels that fluctuate appear to have a role. If you have a family history of stretch marks, you may be at a higher risk.
What are the Causes of Stretch Marks?
Collagen is the main protein that makes up the connective tissues of human skin. The regular generation of collagen is disrupted and damaged by overstretching the skin. Stretch marks are the outcome of this procedure. Stretch marks arise on the skin for a variety of reasons, including:
Pregnancy:

 Pregnancy causes rapid weight gain which induces stretch marks. The hormonal changes also add to the stretch mark production process. The stretch marks usually can be seen during the third trimester of pregnancy. In a few cases, it can also be seen in the later stages of the second trimester.

Weight gain:

 Hormonal changes can cause puberty both in boys and girls which leads to weight gain. Stretch marks in arms are common.

Cushing's and Marfan syndrome:

 These two medical conditions lead to stretch marks in the body.

Steroid intake:

 Various steroid intakes can lead to stretch marks as steroids affect the hormone.
Now that we know what are Stretch marks and the causes behind the occurrence, let us move on to how we can treat them.
Symptoms of Psoriasis
The symptoms of psoriasis vary from person to person and are determined by the kind of psoriasis. Psoriasis can range in size from a few flakes on the skull or elbow to the entire body.
The following are the most prevalent symptoms of plaque psoriasis:
Patches of elevated, irritated skin that looks red on fair skin and brown or purple on dark skin.
Red regions have whitish-silver scales or plaques, whereas purple and brown patches have gray scales.
Cracked or bloody skin
Sore patches
Sensitive and itchy patches
Causes of Psoriasis
Psoriasis is caused by various reasons, including:
Compromised immune system
Genetics
What are the Areas of Stretch Marks?
Stretch marks generally appear in:
Arms
Lower Abdomen
Breast
Buttock
Treating Stretch Marks with Medicines, Laser (MNRF), and PRP Therapy
Medicines
Topical Medication is used to treat stretch marks.
Retinoid cream Is a vitamin A-derived topical medicine. Applying retinoids to your skin may enhance the look of your skin, especially if your stretch marks are still new. The ointment aids in the rebuilding of collagen in your skin, making the markings blend in with the rest of your skin.
Retinoid creams should be avoided if you are pregnant as that affects the baby directly.
Dr. Abhishek Malviya will be advising you on the topical therapy before proceeding with the treatment.
MNRF Treatment
RF Microneedling is a cutting-edge therapy that enhances the texture of the skin. It rejuvenates your skin and dramatically reduces stretch marks, acne scars, wrinkles, open pores, sagging, and dullness by rejuvenating it.
RF Microneedling (MNRF) is a less invasive procedure that combines traditional micro-needling with the use of radiofrequency impulses to rejuvenate the look of your skin. The RF pulse injected deep into the dermis reduces skin tightness and removes stretch marks by promoting the production of both collagen and elastin. There is minimal downtime since the method does little harm to the skin's upper layers.
Virtual Consultation at 20% off
Opt for an online Consultation from comfort of your home
Can you Treat Stretch Marks with Microneedling?
If you've tried and failed to get rid of stretch marks with other solutions, you might want to consider micro-needling. Dr. Malviya performs this technique, also known as skin needling or derma rolling, to treat a variety of skin disorders. It may also be used to cure stretch marks, and clinical tests have shown that it works well.
What are the Effects of Microneedling on Stretch Marks?
Microneedling is a procedure that includes the insertion of small needles into the skin. During the skin-pricking technique, your skin produces more collagen to heal the minuscule wounds made by the needles.
The theory is that the freshly manufactured collagen will assist to smooth out the look of your skin by filling in stretch marks. Skin needling can be used for a variety of reasons:
Stretch Marks
Acne scars
Hair loss
Wrinkles
Melasma
Surgical Marks
Sagging Marks
Large Pores
Burn Scars
Stretch marks that are sunken rather than raised respond well to micro-needling. This is related to the ability to stimulate collagen production. If you have raised stretch marks, you already have increased collagen in the region.
Side Effects of Micro-Needling
Minor side effects are to be expected with this treatment initially. These include redness, bruising, and inflammation. Symptoms, on the other hand, will fade after a few days.
For the first several days following your micro-needling procedure, avoid direct sunlight and hard exercise. Avoid alcohol-based skin moisturizers since they might increase undesirable effects.
The intensity of micro-needling side effects is influenced in part by how well you prepare for the procedure. Tanning or prolonged contact with the sun might irritate your skin, worsening the problem. It's also a good idea to stay hydrated the day before and throughout your treatment to reduce the chances of bruising and irritation.
Is Microneedling Convenient?
Microneedling is supposed to be faster than more invasive skin treatments. Many patients prefer to return to work the day after their treatment, depending on their side effects. If you wish to hide any bruising or redness, a light powder might help.
How to Improve Microneedling Results with Aftercare?
After you've had Microneedling heal your stretch marks, Dr. Abhishek Malviya will provide you with the necessary aftercare instructions. The following are some broad approaches to improve your results:
Vitamin C
Niacinamide
Epidermal growth factors
HA
Types of MNRF Treatment
There are three major types of MNRF Treatment:
Unipolar:

 The most basic of the three treatments is the unipolar/monopolar RF device, which employs a single electrode and a grounding pad on the skin. This RF approach allows for greater penetration of the dermis but at the price of the patient's agony and suffering.

Bipolar:

 Bipolar RF is an alternative to unipolar/monopolar RF in that it can transmit a more concentrated current to the dermis with less discomfort due to the requirement of using less energy to have the same thermal effect.

Fractional:

 Fractional RF uses a variety of electrodes to produce thermal wound zones between portions of unaffected zones, which promotes dermal remodeling and provides a source of reservoir cells to facilitate healing. Fractional RF uses micro-needles to deliver electrical current to a specified depth within the dermis, which reduces epidermal damage.
Which MNRF Treatments Show the Best Result?
Bipolar fractional micro-needle and fractional bipolar RF appear to provide the best outcomes for stretch mark resolution.
A meaningful change in aesthetic appearance can be predicted in between 25% and 75% of afflicted skin with these treatments.
Three to four therapy sessions with one to two passes and three months following treatment are necessary to fully appreciate these effects.
With this procedure, the radiation penetrates the dermis (middle layer of the skin), resolving a range of skin disorders while also enhancing the overall look.
Benefits of MNRF Treatment
Below are the benefits of MNRF treatment:
Skin Support:

 Our skin is built to repair itself, but as we age and are exposed to more pollutants, our skin's ability to do so deteriorates. Radiofrequency is a treatment that employs controlled energy to target and heal the underlying skin's support system. It strengthens this support system, even more, giving you a more youthful and bright appearance.

Delays Aging Procedure:

 While aging cannot be stopped, it is possible to slow it down. MNRF does this by reducing wrinkles and fine lines, which are most visible around the eyes and neck.

Tightens the Skin:

 By encouraging the development of collagen and elastin, mild skin heating helps to tighten the skin.

Improves Skin Texture:

The technique aids in the lightening of scars and pigmentation produced by several skin conditions, including acne. As a consequence, the skin's texture vastly improves.
The procedure of MNRF Treatment
At Dr. Abhishek Malviya's Radiant Skin Clinic, Microneedling with Radiofrequency is a standard process in which Dr. Malviya evaluates your stretch marks and then schedules you for the treatment, which comprises the following procedures:
The scars area is cleaned thoroughly.
On the affected area, a topical anesthetic is given.
Following that, the derma roller is pushed on your skin. The needles puncture the surface of your skin and deliver radiofrequency radiation.
PRP Therapy
White blood cells, red blood cells, and platelets make up the liquid component of the blood, which comprises three types of cells: white blood cells, red blood cells, and platelets. White blood cells are the ones in charge of battling infections. The red cells are important for the color of blood as well as for transporting nutrients to the various organs. Platelets are small cell fragments that aid in blood coagulation. Platelets are also high in totipotent cells, which may differentiate into any form of cell. When the body is harmed by injury, infection, trauma, or other factors, these substances become concentrated in the afflicted area and are generated in huge quantities to aid in the healing of the individual.
The Procedure of PRP Therapy
Isolate and prepare the region to be treated. To get platelet-rich plasma, blood is spun to eliminate other cells. RPR is injected underneath the skin's surface layers. Growth factors are released into the connective tissue area as a result of this. Collagen is created over time, causing the skin to tighten and the stretch marks to fade away.
If necessary, the injection can be reapplied on the uppermost layer. It may also be combined with thrombin to create a gel, which can then be utilized in the same way. It helps to get rid of the markings entirely by using it on both the underlying and surface layers.
Reason Why PRP Therapy is Used
PRP is gaining popularity throughout the world, and Dr. Abhishek Malviya, a leading dermatologist in Indore, is effectively using it to cure patients. The following are some of the reasons why it is used for treatment:
High-Profile Therapy:

PRP therapy injections have grown in popularity as athletes have begun to use them to heal sports-related injuries. Top athletes such as Tiger Woods, Hines Ward, and others have indicated that PRP therapy treatments have helped them heal faster and return to play sooner.
Convenient Resource:

Since each patient has a unique quantity that may be used for this type of medical therapy. Platelets are blood cells that are responsible for the production of blood clots in your body. PRP therapy, which is made up of proteins that assist your body repair by governing new development, relies on platelets to speed up the healing process. Platelets are readily available in our bodies.
Natural Healing:

PRP therapy injections include a high quantity of plasma-rich platelets, which boosts the number of reparative cells flooding the target area. PRP injections make sense since they assist the body get more of its natural resources in a concentrated setting, which can aid with pain, edema, stiffness, hair growth, skin irritation, and recuperation.
Precise Treatment: 

Dr. Malviya, a board-certified dermatologist, can use guided fluoroscopy or ultrasound technology to diagnose the problem and begin the process of generating new growth or healing using PRP therapy injections. Platelet-rich plasma is collected and injected into damaged or injured skin, as well as hair loss, skin irritation, and other conditions.
How do we Solve Stretch Mark Issues?
The Radiant Skin Clinic takes pride in what it has to offer. Dr. Abhishek Malviya, a well-known dermatologist, provides his patients with the best care possible. Our clinic was named the finest in Indore, and our well-known Skin Clinic was named the best in town.
Our treatment is of the highest quality, and we go out of our way to make our patients feel comfortable. Because our services are fairly priced, customers have more faith in us when they come in for an inspection or treatment.
How do we Work to get the Best Result in Stretch Mark Treatment in Indore?
Dr. Malviya treats stretch marks by focusing on each patient individually and thoroughly evaluating each treatment plan to ensure that no detail is missed. Then, depending on the scenario, he employs the most appropriate treatment method. To achieve the best outcomes, he uses cutting-edge technology.
The best dermatological treatment outcomes may be found at Indore's radiant skin clinics. We are honored to be acknowledged as one of Indore's premier treatment centers. On our team, we have dermatologists with years of experience as well as medically qualified personnel.
What is the Success Rate of Stretch Mark Treatment in Indore?
his skin specialist clinic is managed by Dr. Abhishek Malviya, an experienced skin expert in Indore who treats a wide range of skin ailments. To increase his chances of success, he employs creative tactics. The most effective stretch mark treatment is provided at Radiant Skin Clinics. It is highly considered as one of the country's top skin specialty clinics. Based on their specific circumstances, we advise our customers on what to expect from the process and how successful it will be.
The skin expert clinic of Dr. Abhishek Malviya has a 95–100% success rate in providing the finest stretch mark treatment alternatives. We believe that to deliver the best possible treatment, we must carefully consider each step in the best interests of the patients and employ best-in-class technology. Dr. Abhishek Malviya is Indore's most experienced skin doctor, renowned for his ability to treat skin problems without harming them. Radiant Skin Clinic in Indore is always prepared to provide thorough care and the best possible results for each patient.