Hair fall in men is very common in India due to pollution, poor diet, and hectic schedule much more. It is also one of the most neglected parts of one's life. Whereas, hair loss can lower your confidence, enthusiasm, interest in socializing with your peer. It might lead to chronic depression, and can also be a cause of other underlying health conditions.
Men Facing hair fall must open up about their problem and opt for a thorough checkup to find out the underlying condition and uproot it. Dr. Abhishek Malviya from Radiant Skin Clinic is one the best dermatologist who would cure the hair fall issue in men with a personalized treatment procedure. His years of experience are highly trusted and have brought back the confidence in men who faced hair fall. He is an expert who can examine the core cause of hair fall in men. His regular and thorough treatment would solve the issue from the core.
If you are searching for the best dermatologist in Indore, visit the Radiant Skin Care clinic, and make an appointment with Dr. Abhishek Malviya, the best hair specialist in the town. He is compassionate about his patients. His course of treatment is highly scientific and follows modern therapy and machinery.
Welcome to Radiant Skin Clinic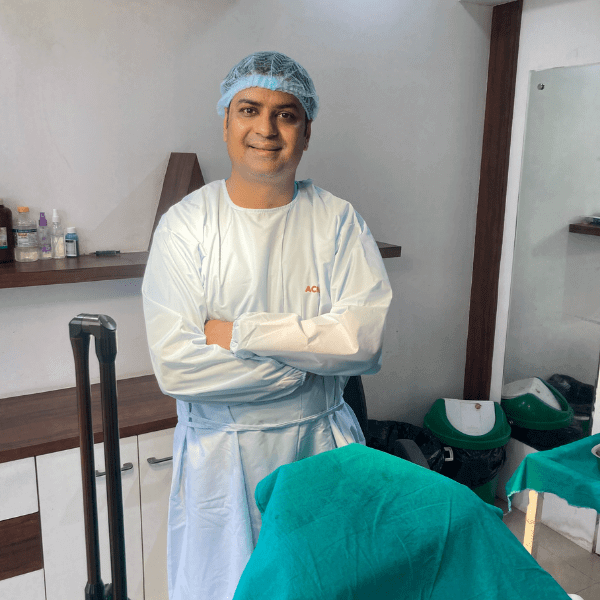 Reasons why Dr. Abhishek Malviya is the Best Hair Specialist in Indore
As already said, Dr. Abhishek Malviya is an experienced hair specialist in Indore. He has been granted the best hair specialist because of the way he treats.
He has 10+ years of experience, without a failed case.
Not only he treat his patient's hair issues but also boosts confidence in them. He studies the health history of a patient before proceeding to the treatment.
His advanced facilities bring out the best treatment.
He prefers educating his patients about the disease initially and then proceeds to treatment.
Before treatment starts, Dr. Abhishek Malviya arranges numerous appointments with the patient.
He offers personalized treatment, which is patient-specific according to their hair issues.
He is very comprehensive about his treatment procedure.
Why Choose Radiant Skin Clinic if you are Looking for a Hair Specialist in Indore?
Radiant Skin Clinics is a well-known hair treatment facility in Indore, India. We take pride in offering personalized hair consultations, hair transplant procedures, and other dermatological treatments to assist you in achieving healthy hair. As an industry leader in hair care and consultation, we have a team of experienced nurses and therapists that analyze our hair issues and give the finest hair care program for you.
Individualized hair care treatments are available to our patients. We have the best hair specialist doctor in Indore who provides the most effective and risk-free hair rejuvenation procedure to treat any hair issue. We promise you will receive one-of-a-kind treatments that will improve your hair.
Dr. Abhishek Malviya of Radiant Skin Clinic is well-known for his expertise in hair care.
At Radiant Skin Clinic, we provide a variety of treatments to our clients' specific requirements. Some of these include:
Best Hair Transplant Service
Expert Skin Consultations and Treatment
Best Chemical Peeling Service
Best Acne Treatment
Skin Tightening and Anti-Ageing Treatment
Where can you Find Dr. Malviya's Hair Treatment in Indore?
Yes, you have chosen the best hair specialist in the town for your hair issues. Dr. Malviya's expertise has resulted in his flourishing services in the town. Apart from Radiant Skin Clinic, you can also find him in:
Dewas: Kothari medical opposite MG Hospital on Wednesdays.
Manawar: Kailash hospital Chaitanyadham on every 2nd and 4th Sunday
Ratlam: Arogyam hospital college road near civil hospital on every 1st and 3rd Saturday.
Book an Appointment
To escape the complications of hospitals, you may go straight to Dr. Abhishek Malviya's office at Radiant Skin Clinic, which is located on the third floor of the Krishna Tower, ICICI and Baroda Bank Building, Greater Brijeshwari, Opposite IDA Scheme 140, Pipliyahana Indore. You may request an appointment with Dr. Abhishek Malviya by clicking here
Dr. Abhishek Malviya has given such great services to his patients that they were compelled to give their reviews on him and his treatments. Here are a few of the testimonials of his patients:
Mr. Rudresh writes, "I would highly recommend Dr. Abhishek Malviya for dermal fillers. I got young and fresh skin. Thank you so much for the awesome treatment. Value for Money."
Mr. Aniket writes, "Dr. Abhishek Malviya is the best cosmetologist in India. The cost is a bit high but provides desired results. I met him for laser treatment. It improved the pigmentation of my face and it removed the wrinkles as well. I got all the attention and care from the doctors and staff."
Hair Fall Treatment in Men
In Radiant Skin Clinic, Indore, Dr. Abhishek Malviya provides various kinds of treatments to his patients, depending on the severity and other conditions. Hair fall in men is one of the most concerning and emerging issues in Indore and across India. Stress, change of the environment, climatic conditions, food habit, lifestyle, workloads, and depression is few reasons of hair fall in men. To uproot the problem, contact Dr. Abhishek Malviya.
How do we Treat These Issues?
There are tons of factors that cause hair fall in men, which includes:
Male Hormone:

 Male hormones are one of the major reasons against baldness in men.

Lack of Protein Intake:

 Protein is one of the best supplements for healthy hair in men. The lack of protein intake can lead to hair fall in men.

Outdoor Effect:

 Comparatively, men from metro cities face more hair fall than the men in rural areas. It is due to an increase in allergens, pollutions, dirt, dust, and unhealthy agents which affect the hair quality and causes hair fall in men.

Genetic Causes:

 It is very common and prevalent. Men having a bald family member, also get it due to genetics. Whatever the reason is, Dr. Abhishek Malviya is a one-stop hair specialist who will examine deeply to solve the hair fall issue in men.
Sings of Hair Fall in Men
An expert hair specialist cannot miss out on the forms of hair fall. Forms of hair fall can indicate the signs of hair fall in men. Below are the signs of hair fall in men:
Androgenetic Alopecia (Patterned Baldness):

The most prevalent kind of hair loss in males is male pattern baldness, commonly known as androgenic alopecia. Genetics, or having a family history of baldness, is one reason for male pattern baldness. Male pattern baldness has been linked to male sex hormones known as androgens, according to research. Androgens perform a variety of tasks, including controlling hair growth.

Alopecia Areata: 

Sudden hair loss that begins with one or more overlapping circular bald spots. Alopecia areata is caused by the immune system attacking hair follicles and can be triggered by extreme stress. The most noticeable sign is hair loss. Treatment may involve topical scalp treatment to address any underlying problems.

Scarring Alopecia:

Scarring alopecia is a collection of hair loss diseases, not a single illness. The hair follicles are destroyed and replaced with scar tissue in this kind of permanent hair loss. Although scarring alopecia is irreversible, it can be treated to help prevent additional hair loss and scarring. The treatment that is prescribed for you will be determined by the cause of your scarring alopecia.
Treatments of Hair Fall in Men
Depending on the history of hair health, medications, diet, Dr. Abhishek Malviya will discuss the treatment procedure. He prefers personalized and one to one treatment as all cases are different. With his best of modern facilities, he will precede his treatments. Dr. Abhishek Malviya, in Radiant Skin Clinic, provides hair treatment which includes:
Minoxidil:

 Minoxidil extends the hair development phase by boosting scalp microcirculation and opening Potassium Receptors. It is available in two formulations: foam and lotion, as well as strengths of 2%, 5%, and 10%. It is possible to have scalp irritation when using it, however, this may be prevented by using an alcohol-free formulation. Two contraindications include allergic reactions and headaches

Finasteride:

 Finasteride is another well-known drug for treating male pattern baldness and improving hair quality. Dihydrotestosterone (DHT) is thought to be the cause of hair fall in men. Finasteride is a 5-alpha reductase inhibitor that prevents testosterone from being converted into Dihydrotestosterone (DHT) in the hair follicle, therefore decreasing hair loss.

Low-Level Laser Therapy:

 Low-level laser therapy is a well-known and well-accepted non-invasive hair fall treatment that increases blood flow and produces excellent outcomes. The Hairmax Comb is an FDA-approved device that energizes hair follicles, reverses hair fall, rejuvenates hair, and promotes hair growth. It also helps to improve hair texture and fight frizz, lacklustre hair.

Mesotherapy:

 Mesotherapy includes injecting a mixture of growth factors, peptides, and vitamins into the scalp to stimulate hair follicles and prevent hair loss.

Hair Transplantation:

 Hair transplantation is a surgical procedure used to restore the hairline in which healthy hair follicles from one region of the body (donor site) are extracted and transplanted to parts of the scalp with sparse hair and bald patches (recipient side).
Virtual Consultation at 20% off
Opt for an online Consultation from comfort of your home
How do we Hair Issues?
Radiant Skin Clinic is picky about the treatments they offer. Dr. Abhishek Malviya, our famous hair specialist, provides the best of his services to cure people with hair problems and diseases. We were awarded the finest clinic, and our renowned hair specialist was named the best hair specialist in Indore.
Our therapy is of the highest quality, and we provide a comfortable environment for our patients. Our services are affordable, which makes us more dependable for customers who come in for exams and treatment.
How do we Work to get the Best Result in Hair Treatment in Indore?
Dr. Malviya addresses hair issues by specifically concentrating on each patient and thoroughly evaluating each treatment plan to ensure that no aspect is neglected. He then employs the most appropriate therapy method. He uses modern technology to achieve the best results.
The greatest hair treatment outcomes are provided by radiant skin clinics in Indore. We are honored to be considered as one of the top hair transplant clinics in Indore. We have dermatologists with years of experience as well as medically trained employees.
What is the Success Rate of Hair Treatment in Indore?
n this skin specialist clinic – radiant skin clinic, we have Dr. Abhishek Malviya, an expert hair specialist in Indore who treats a wide range of hair issues. He employs cutting-edge procedures to ensure the greatest possible success rate. Radiant Skin Clinics provides the finest hair treatment service for hair problems. It has been recognized as one of the top hair specialist clinics in the country. Based on their unique circumstances, we make it clear to our clients how much they may expect from the operation and how effective it will be.
Dr. Abhishek Malviya's skin specialist clinic has a success rate of 95 – 100 per cent in providing the best possible hair treatment results. To give the greatest therapy possible, we believe in thoroughly reviewing each step in the best interests of the patients and employing best-in-class technology. Dr. Abhishek Malviya is by far the most talented hair expert in Indore, and he is highly renowned for his ability to do hair treatments without causing any harm to the hair. Radiant Skin Clinic is always accessible in Indore to give each patient thorough treatment, assuring the best outcomes.